A Black Lives Matter activist was hospitalized after police in Tampa, Florida, were seen kneeling on her shoulder in a video shared on social media.
Protesters said Jae Passmore had been leaving a demonstration in downtown Tampa on Wednesday night when she was detained by police.
In a video shared on Instagram, Passmore is seen pinned to the ground by several officers as protesters shout at them to free her.
"Stop! Get your knee off her neck!" a protester can be heard repeatedly yelling. Another is heard screaming: "Get off of her like that!"
In a caption alongside the video, the person who posted it, identified only as Lara, wrote that police emerged from unmarked vehicles and "brutalized" Passmore. It added that Passmore remained on the ground for almost 20 minutes afterward and was then taken to hospital.
Passmore's attorney Gretchen Cothron told Newsweek Passmore was treated at hospital and released, but was back in hospital as of Thursday.
"At some point, undercover TPD [Tampa Police Department officers] rushed from vehicles and tackled Jae," Cothron said.
"An officer can be seen in a video kneeling on Jae's neck as people yelled for him to get off. TPD refused to allow medics on scene to tend to Jae, and left her curled up on the ground for over 12 minutes prior to an ambulance arriving.
"Jae was taken to the hospital and treated. Jae was released on her own recognizance from the hospital late last night, and was not booked into jail."
Cothron added that the incident is "especially horrendous" as Passmore is still recovering from injuries sustained after a pickup truck driver drove over a meridian and hit her during a protest on June 21. No arrests have been made in connection with that incident.
"TPD were well aware that Ms. Passmore suffered a concussion, pelvic injuries, and an ankle injury (and was in a wheelchair for weeks) following a white supremacist running her down in Tampa on June 21," she said. "This means that TPD's tackling and kneeling on Ms. Passmore's head and body are especially horrendous."
However, the the Tampa Police Department has subsequently released bodycam footage that shows officers kneeled on Passmore's shoulder rather than her neck.
A spokesperson for the Tampa Police Department told Newsweek that Passmore was transported to St. Joseph Hospital after she complained of hip pain.
"At the hospital, Passmore was issued a notice to appear in court for the battery charge and the resist arrest without violence charge," the spokesperson said.
The police spokesman said "two groups gathered downtown to express their First Amendment Rights" at around 7 p.m.
"The 'Tampa People's Protest' group gathered on the steps of City Hall, with approximately 40 people in attendance. At the same time, a 'Back the Blue' group gathered on Franklin Street, near police headquarters, with roughly 20 people attending," the spokesman said.
According to police, a verbal confrontation took place as the two groups approached each other on Franklin Street. During this encounter, Passmore allegedly pushed someone from behind. He and a witness reported the incident to police, the spokesman said.
"Officers watched the defendant and later made contact with her, on Kennedy Blvd, away from the large group," the spokesman said.
"Officers attempted to place her into custody, at which time she began to resist arrest by pulling away from the arresting officers. The defendant then fell onto the ground as she was being taken into custody. Handcuffs were placed on her as she continued to resist.
"While on scene, the original battery victim made a positive identification of Passmore as the person who struck him."
Cothron told Newsweek: "According to the arrest report affidavit, one of the bikers accused Jae of hitting him in the back of the head with an open palm, but that clearly did not occur per the videos.
"She was also charged with resisting arrest because police said she went limp and refused to walk to a patrol car. That said, from the videos it is clear that TPD rushed her and tackled her, and she did not resist."
The Tampa Bay Activist Network wrote on Instagram that Passmore "did nothing wrong," but was denied medical attention and left on the ground after being tackled by officers.
Alongside a video showing police officers refusing to answer their questions, they wrote: "As an activist was walking to her car with a group of people, she was targeted and tackled to the ground while she lay there for 20 minutes needing medical attention. She did nothing wrong.
"This video is the aftermath. Notice how TPD stand there while our comrade is on the ground. Not answering any questions. Not letting us know she is okay. The lack of humanity is disgusting. The targeting is not okay."
Kai Robinson told The Tampa Bay Times that he was leaving a protest with Passmore when police jumped out of unmarked police cars and tackled her to the ground.
The 22-year-old said officers appeared to target Passmore, but he and other protesters don't know why. "They specifically wanted Jae, they went for Jae and they didn't even look at anybody else," Robinson told the newspaper.
According to The Times, Passmore has been a prominent presence at Black Lives Matter protests in Tampa in the months following the killing of George Floyd in May.
Floyd, a Black man, died after a white Minneapolis police officer was captured on camera kneeling on his neck for more than eight minutes while he gasped that he couldn't breathe.
His death, and the killings of other Black people by police, triggered nationwide protests against police brutality and racism in cities and towns across the U.S. with demonstrators calling for reform and police departments to be defunded.
This article has been updated with comments from the Tampa Police Department and Jae Passmore's attorney.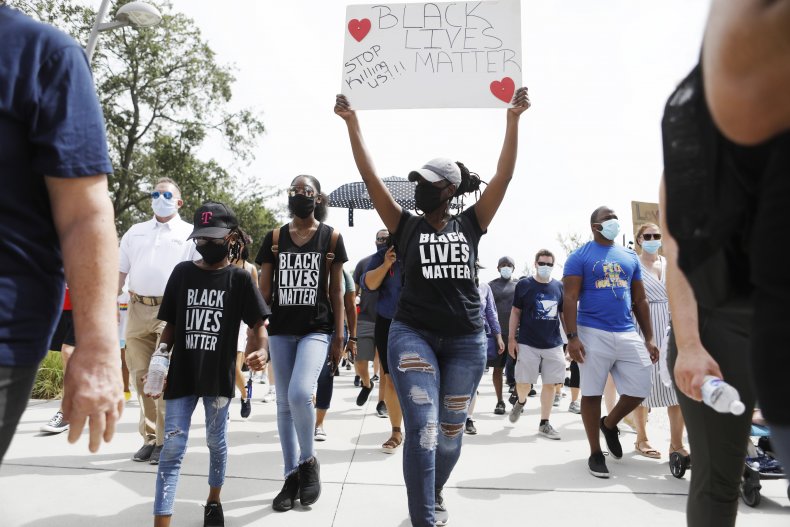 Correction: The headline of this article originally stated police kneeled on Jae Passmore's neck. Subsequent bodycam footage released by the Tampa Police Department shows police kneeled on Passmore's shoulder. The headline has been changed with the bodycam footage embedded in the story.