The New York Police Department (NYPD) used facial recognition technology in its search for a prominent Black Lives Matter activist, according to a report.
Derrick Ingram, the 28-year-old co-founder of the nonviolent activist group Warriors In The Garden, turned himself into police on August 8 after more than 50 NYPD officers surrounded his apartment building in Manhattan for more than five hours the previous day.
Police shut down the street, deployed drones, police dogs and two helicopters, and had sharpshooters pointing at the windows of his apartment, according to a statement from Warriors In The Garden. Ingram was unarmed at the time, CNN reported.
"NYPD arrived to his door stating they had a warrant for his arrest and he needed to open the door immediately, he asked for the warrant to be slid under the door then they quickly shifted their words to 'We're working on getting one,' the statement read.
An NYPD spokesperson told CNN that police were seeking Ingram in connection to an alleged "assault on a police officer" during a protest in Manhattan on June 14.
According to the spokesperson, Sgt. Jessica McRorie, a struggle broke out between Ingram and an NYPD officer as they tried to prevent the activist from crossing a police line. Ingram then allegedly "placed a handheld megaphone directly against the officer's ear, activated the megaphone and yelled, causing pain and protracted impairment of hearing," McRorie said.
A video shared by FreedomNewsTV shows an officer standing outside Ingram's apartment holding a report from the NYPD's Facial Identification Section. Subsequently, the police department confirmed to Gothamist, in response to a series of questions, that facial recognition was used during their investigation into Ingram.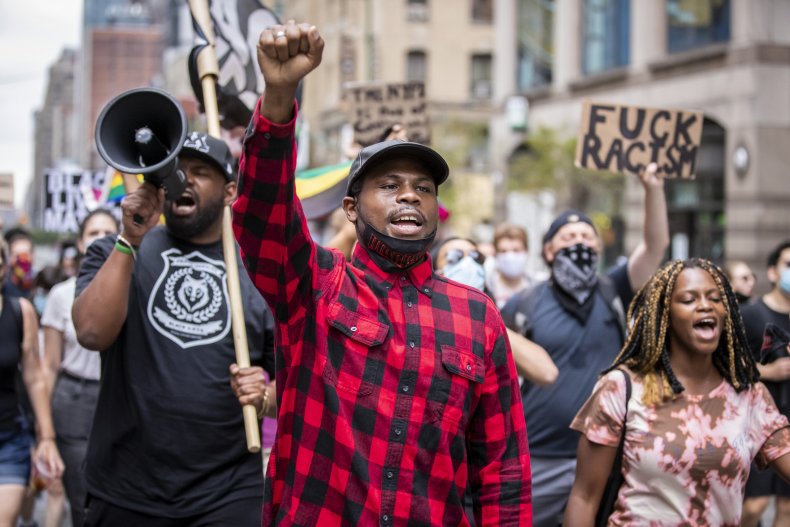 "The NYPD uses facial recognition as a limited investigative tool, comparing a still image from a surveillance video to a pool of lawfully possessed arrest photos," the spokesperson told Gothamist. "No one has ever been arrested solely on the basis of a computer match."
According to Gothamist, the photo of Ingram that the NYPD had appeared to have been taken from his Instagram page. If so, this would fall under the category of either a surveillance video or an arrest photo.
"We're being specifically targeted with this technology because of what we're protesting and because we're trying to deconstruct a system that they're a part of," Ingram told Gothamist. "It's a waste of taxpayer money and dollars that could be reallocated to people struggling throughout this city."