Black Lives Matter Calls on Biden to Immediately Lift 'Cruel' Cuba Embargo
Black Lives Matter (BLM) has released a statement condemning the U.S. government's "inhumane" treatment of Cubans and urged President Joe Biden to lift the decades-old embargo against Cuba.
Rare anti-government protests erupted across the island over the weekend, as thousands of Cubans took to the streets to express their anger over shortages of food and medicines, power outages and the slow pace of COVID-19 vaccinations and to call for an end to the communist dictatorship.
It came as Cuba suffers through its worst economic crisis in decades, made worse by the coronavirus pandemic and tightening of U.S. sanctions in recent years. President Donald Trump's administration largely rolled back the opening up of economic and diplomatic relations with Cuba during Barack Obama's presidency, tightening the decades-old embargo and imposing new measures.
In a statement posted on BLM's Instagram page late Wednesday, the organization said: "Black Lives Matter condemns the U.S. federal government's inhumane treatment of Cubans, and urges it to immediately lift the economic embargo."
It described the embargo as a "cruel and inhumane policy" that is at the heart of Cuba's current crisis. It was instituted with "the explicit intention of destabilizing the country and undermining Cubans' right to choose their own government," the statement said.
It added: "Since 1962, the United States has forced pain and suffering on the people of Cuba by cutting off food, medicine and supplies, costing the tiny island nation an estimated $130 billion."
That loss has made it "harder for Cuba to acquire medical equipment needed to develop its own COVID-19 vaccines and equipment for food production," BLM continued.
"This comes in spite of the country's strong medical care and history of lending doctors and nurses to disasters around the world."
BLM's statement continues by saying the Cuban people are "being punished" by the U.S. government because the nation has maintained its commitment to "sovereignty and self-determination."
"United States leaders have tried to crush this revolution for decades," it added. "Instead of international amity, respect, and goodwill, the U.S. government has only instigated suffering for the country's 11 million people—of which 4 million are Black and Brown."
Cuba has"historically demonstrated solidarity with oppressed peoples of African descent," BLM added. "Now we look to President Biden to end the embargo, something President Barack Obama called for in 2016. This embargo is a blatant human rights violation and it must come to an end."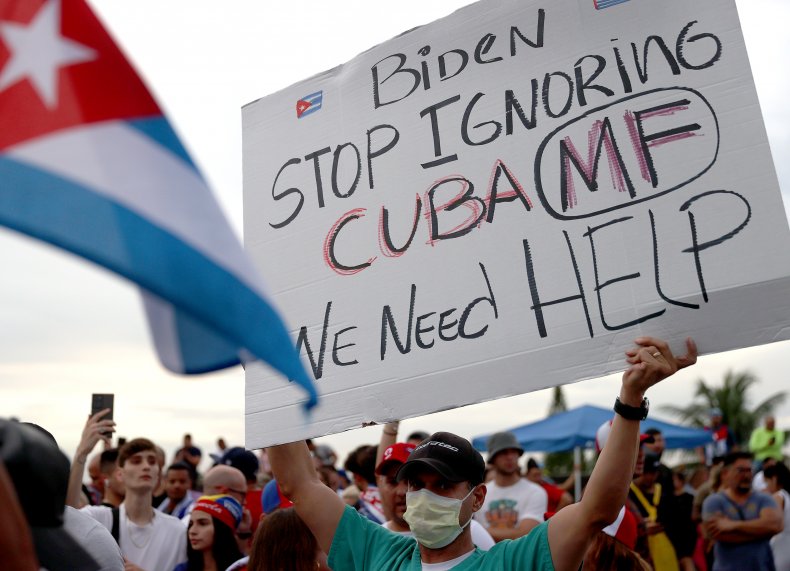 Cuban President Miguel Díaz-Canel also blamed the U.S. government, as well as social media, for the weekend demonstrations in cities across Cuba. But in a televised address on Wednesday, he conceded for the first time that government shortcomings in handling shortages and other problems played a role.
Biden has expressed support for Cuban protesters, but has left Trump-era restrictions against Cuba in place despite promising to ease them during his presidential campaign.
"We stand with the Cuban people and their clarion call for freedom and relief from the tragic grip of the pandemic and from the decades of repression and economic suffering to which they have been subjected by Cuba's authoritarian regime," Biden said in a statement on Monday.
Sen. Bernie Sanders tweeted on Monday night that it was "long past time to end the unilateral U.S. embargo on Cuba, which has only hurt, not helped, the Cuban people."