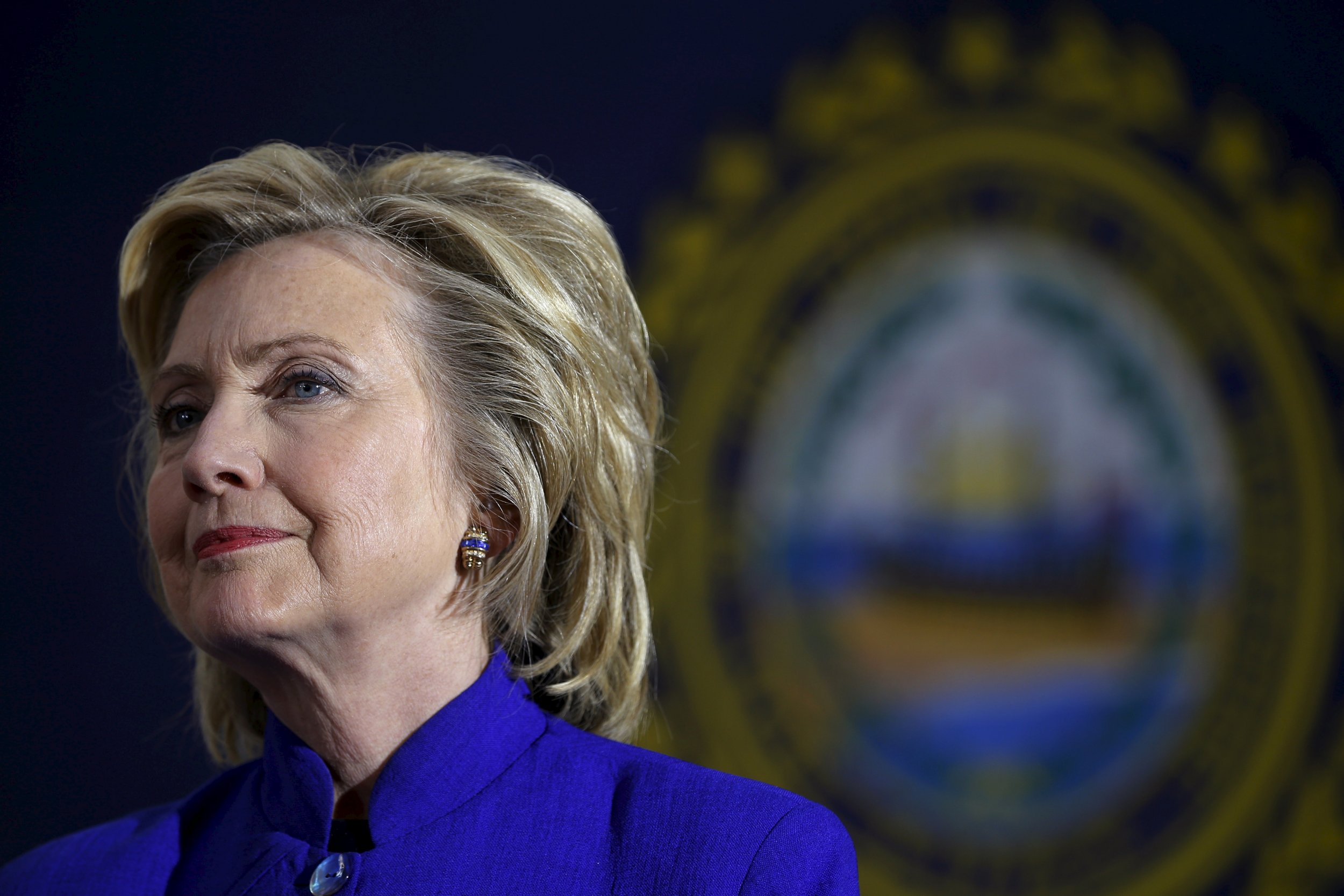 After an August 11 rally in New Hampshire, Hillary Clinton, the front-runner for the Democratic presidential nomination, met with activists from the grass-roots Black Lives Matter movement. A video of the exchange surfaced August 17 on YouTube. In the clip, three activists press Clinton on her plans to address violence against blacks by law enforcement. Clinton discussed the ways in which she could help support the movement, which led to some disagreement, as the two sides appeared to talk past each other.
"Once you say...this country has not recovered from its original sin, which is true...the next question is...What do you want me to do about it? What am I supposed to do about it? That's what I'm trying to put together, in a way that I can explain it and I can sell it. Because in politics, if you can't explain it and you can't sell it, then it stays on the shelf."
"This is—and has always been—a white problem of violence," one organizer said. "There's not much that we can do to stop the violence against us." In a conversation marked by interruptions and palpable tension, Clinton responded with her own views.
"Well, if that is your position, then I will talk only to white people about how we are going to deal with the very real problems," she said.
"What you just said is a form of victim blaming," the organizer argued.
Comparing the Black Lives Matter activists with their civil rights predecessors, Clinton went on to say that legal action is the most effective method to solve the problem in the short term. "I don't believe," she said, "you change hearts. I believe you change laws, you change allocation of resources, you change the way systems operate. You're not going to change every heart. You're not."
Clinton didn't make clear what specific reforms she might pursue as president, nor did the activists ask her to advance a specific policy agenda. She went on to argue that improving economic opportunities for "people who deserve to have them"—to "live up to their own God-given potential...to have a decent school, to have a decent house, to have a decent future"— would be an important part of the equation. The second part of the two-part video can be viewed here:
The organizers' exchange with Clinton underscores how the Black Lives Matter movement has affected the 2016 presidential campaign. Activists have used the upcoming election to drum up support from voters and candidates for reforming law enforcement practices and changing federal drug policies, among other issues.
Here's how some other major candidates have responded to the movement.
Bernie Sanders
Sanders was interrupted at a rally in Seattle by Black Lives Matter protesters, who forced him to give up the microphone and asked the crowd to "hold him accountable" for not doing enough to address police violence against blacks. Sanders, who has been involved with the civil rights movement going back to his college days, left the stage.
The Sanders campaign apologized to Black Lives Matter, but Sanders himself later retracted the apology, which was emailed out by a campaign staffer, by saying it wasn't necessary.
In an interview with The New York Times Magazine published Tuesday, Sanders was asked about the hashtag "BernieSoBlack"—a Twitter meme that comments on Sanders's past civil rights activism and history representing the mostly white state of Vermont—and steered the conversation in a more serious direction:
"As a nation, we have to move away from a situation where black women are dragged out of their cars, thrown to the ground, assaulted and then die in jail three days later for the crime of not signaling a lane change," the candidate said, referring to Sandra Bland.
Sanders's official campaign website attempts to differentiate his position from Clinton's by emphasizing the experience of victims. Under the tag "racial justice," the site reads, "We must pursue policies that transform this country into a nation that affirms the value of its people of color. That starts with addressing the four central types of violence waged against black and brown Americans: physical, political, legal, and economic."
Under the first category (physical), the site lists a number of shooting victims, including Eric Garner and Michael Brown. "People are angry and they have a right to be angry," the site says. Sanders's website includes specific policy proposals, such as mandating that police reports on deaths that occur while a person is in police custody (such as the documents from the Ferguson, Missouri, grand jury decision on the Brown shooting) be made publicly available. Sanders also advocates getting rid of for-profit prisons and mandating body cameras for police officers.
Scott Walker
The reason that Black Lives Matter activists have hit the campaign trail—and do things like interrupting Sanders or meeting with Clinton—is to try to force the issue of police violence into the national discussion.
During the first Republican presidential debate, moderators from Fox News posed the issue to Wisconsin Governor Walker, who framed it in terms of law enforcement practices and procedures:
"It's about training. It's about making sure that law enforcement professionals...have the proper training, particularly when it comes to the use of force...and that we protect and stand up and support those men and women who are doing their jobs in law enforcement, and for the very few who don't, that there are consequences, to show that we treat everyone the same here in America."
However, Fox cut to a commercial immediately after Walker's response, and no other candidates had the opportunity to address the issue during the debate.
Jeb Bush
Critics of Black Lives Matter say that it promotes racial exceptionalism—valuing black lives over others. Last week, Newsweek covered a protest at a Jeb Bush rally in Nevada that saw "Black lives matter" chants countered with chants of "All lives matter." During a visit to New Hampshire in July, Bush defended Martin O'Malley, a Democratic candidate, for saying "All lives matter" during a campaign speech. Bush argued that O'Malley should not have apologized for the comment after being pressured by activists, and criticized what he views as a national climate of political correctness.
"Political correctness" is one of the more divisive issues affecting the Black Lives Matter movement. The "All lives matter" crowd argues that the movement detracts from attention to other issues, like black-on-black violence, but most Black Lives Matter activists regard this kind of response as tone-deaf because it draws attention away from racial biases in the police system.
Like Clinton, Bush has come out in favor of improving educational opportunities for minorities when answering questions about police violence against unarmed African-Americans.
Ben Carson
Carson also said that it was "silly" for O'Malley to apologize for saying "All lives matter." He has cited this as an example of political correctness run amok.
In the middle of the following NBC interview, Carson expresses his support for body cameras, which supporters say hold police accountable by automatically filming encounters that could lead to the use of force.
In the interview, Carson also said that "we need to look at the whole picture" rather than addressing only white-on-black violence. Carson talks about the Black Lives Matter movement by placing it in the context of other social problems facing many African-Americans, like black-on-black crime. In a Fox News segment, Carson told a reporter that "what we need to be talking about is how do we solve the problem—in the black community—of murder."
Donald Trump
The loudest of the GOP presidential candidates hasn't stepped into the fray on this issue to the same extent that he has on others, like immigration. Trump told Meet the Press that he could understand why African-Americans might not trust the police in today's climate, but he also took a "law and order" stance.
"We have to give power back to the police because we have to have law and order," he told the program's Chuck Todd.
"You're always going to have mistakes made," Trump added. "And you're always going to have bad apples. But you can't let that stop the fact that police have to regain some control of this tremendous crime wave and killing wave that's happening in this country."
Trump's go-to example of the supposed "crime wave" was a series of riots in Baltimore that took place earlier this year after the death of Freddie Gray, a 25-year-old black man who went into a coma after suffering head and neck injuries in a police vehicle. Trump's response framed the discussion around a major theme of his campaign: the perception that the U.S. is falling apart.
Marco Rubio
In an August 13 interview, Rubio expressed sympathy for the Black Lives Matter movement to Fox News. Though he said the issues being raised by protesters might not have governmental solutions, he acknowledged the prevalence of racial profiling by police.
"We do need to face this. It is a serious problem in this country.... Because you have a significant percentage of our population that feels that they are locked out of the promise of this country, and the result is the anxiety and the frustration that you're now seeing expressed," he said.
About the protesters themselves, Rubio said, "I don't know if this group has a detailed policy agenda, but it is a legitimate issue."