Black Lives Matter and LGBTQ Pride Banners Removed From U.S. Embassy in South Korea
The U.S. Embassy in Seoul, South Korea, took down a Black Lives Matter banner and an LGBTQ Pride flag abruptly on Monday, replacing them with a banner commemorating the 70th anniversary of the start of the Korean War.
A spokesperson for the embassy told The Washington Post that U.S. Ambassador Harry Harris decided to remove the BLM banner after he had it displayed for two days. The spokesperson said Harris decided to remove the BLM flag out of concern that it could cause a "misperception" that taxpayer dollars were being directed to the organization.
"The ambassador decided to put the Black Lives Banner up to communicate a message of solidarity with Americans concerned with racism, especially racial violence against African Americans," the spokesperson told the Post. "He wanted to highlight the enduring American values of racial equality, freedom of speech and the right to peacefully protest."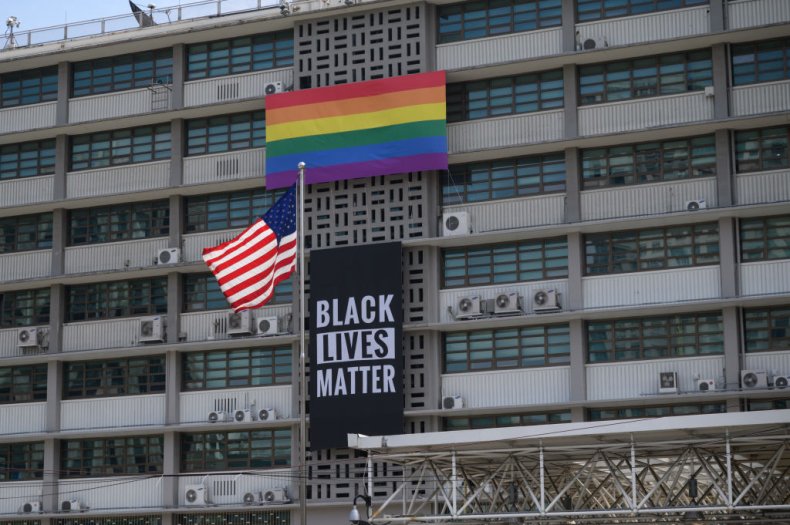 The spokesperson said the ambassador had later decided to take down the banner "to avoid the misperception that American taxpayer dollars were spent to benefit such organizations. He directed that the banner be removed."
The spokesperson later forwarded the same statement to Newsweek when reached for comment, and the State Department did not respond to Newsweek's request for comment.
The spokesperson's remarks came after other media outlets reported that the order to remove the BLM flag came from the Trump administration. Newsweek could not verify those reports.
When speaking to the Post, Harris' spokesperson told the newspaper that the ambassador made the decision.
"This in no way lessens the principles and ideals expressed by raising the banner, and the embassy will look for other ways to convey fundamental American values in these times of difficulty at home," the spokesperson said.
Although the BLM banner was removed from the building, as of early Monday afternoon an image of it was still the first photo displayed on the embassy's website. A similar image of the LGBTQ pride flag hanging on the embassy also remained on the website.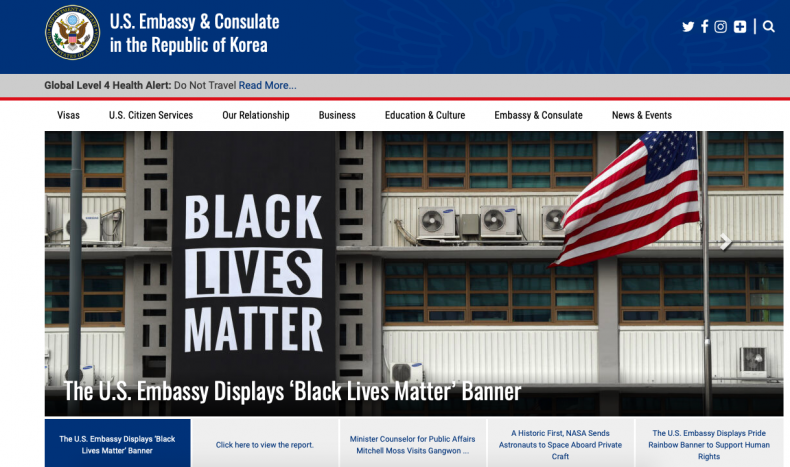 An embassy Facebook post from Saturday also includes the image of the BLM banner. It says: "The U.S. Embassy stands in solidarity with fellow Americans grieving and peacefully protesting to demand positive change. Our #BlackLivesMatter banner shows our support for the fight against racial injustice and police brutality as we strive to be a more inclusive & just society."
A similar message regarding the LGBTQ pride flag was posted by the embassy to Facebook on May 31. "The U.S. Embassy is displaying a rainbow banner on our Chancery in support of fundamental freedoms and human rights for all. #PRIDE2020 #LGBTI #EqualProtection," the post says.
This article has been updated to note that a spokesperson for the U.S. embassy in Seoul forwarded a statement to Newsweek.