Black Lives Matter Mural Painted on St. Louis Artist's Building Removed by City Contractor
A Black Lives Matter mural painted on the side of a downtown St. Louis building that is owned by artist Katherine Bernhardt was whitewashed this week by a nonprofit organization the city contracted with for graffiti removal, according to the St. Louis Post-Dispatch.
The mural featured an image of former NFL quarterback Colin Kaepernick, the iconic St. Louis Gateway Arch; it also paid tribute to the late George Floyd and the Black Lives Matter movement.
Bernhardt, who bought the building to store her art and painted the mural on sections of plywood used to cover the windows, said she wanted to do something to support the movement against racial injustice.
"I wanted to paint something to show support of the movement going on right now," she said.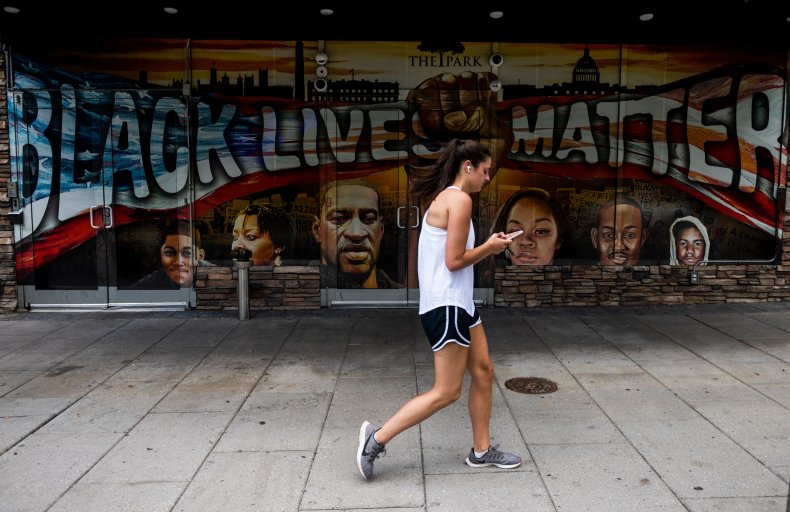 However, last month, officials received a graffiti complaint on the building through the city's Citizens' Service Bureau. The complaint was forwarded to Brightside St. Louis, a not-for-profit that is also a division of the St. Louis Department of Parks, Recreation, and Forestry.
Mary Lou Green, executive director for Brightside St. Louis, told Newsweek they were informed about the issue were also told that the building was private property.
"The way our process works is if it's private property, we send a letter to the property owner informing them that we've been told there's graffiti on the property, and we'd be happy to help them remove that graffiti," Green said. "They just need to let us know one way or another."
If there is no response to the letter, the property is put on a list and is scheduled a few weeks later for graffiti removal.
Green said sent a letter to Bernhardt's address in New York on June 23, but there was no response.
Bernhardt told the St. Louis Post-Dispatch that she never received a letter about plans to remove the mural.
When there wasn't a response from Bernhardt, a graffiti removal crew was sent out to the address last weekend and the mural was covered up.
"We were responding to a complaint about graffiti on the property," Green said. "The property owner never said, 'hey, we don't want you to remove this,'"
Bernhardt's sister Elizabeth told the St. Louis Post-Dispatch that the family had received letters from a neighboring property threatening to paint over the mural, and she checked on the property on Sunday.
"I don't even know what to say," Bernhardt said. "I was going to eventually take it down and save it. This whole thing is disgusting."
Green said she has spoken with Bernhardt and profusely apologized for the incident.
"We never meant to remove a mural that she intentionally put there, but we have a process we have to follow," Green said.
Newsweek contacted Mayor Lyda Krewson's office, but they declined to comment on the story.