Who Is Oluwatoyin Salau? Florida Black Lives Matter Protester Found Dead After Tweeting About Sexual Assault
A missing Black Lives Matter protester has been found dead days after she tweeted about being sexually assaulted.
Oluwatoyin "Toyin" Salau, 19, who was last seen in Tallahassee, Florida on June 6, was found dead along with another missing woman—75-year-old Victoria Sims—the Tallahassee Police Department said Monday.
Their names were released with the permission of their families in accordance with Marsy's Law, the department said in a news release.
The deaths are being investigated as homicides, police said. A suspect in the case, identified as 49-year-old Aaron Glee Jr., has been taken into custody.
In an earlier news release, the Tallahassee Police Department said investigators following up on a missing persons case had arrived in the 2100 block of Monday Road on Saturday night.
"During the course of the investigation, two deceased people were located in the area," police said.
The news came after the police department's Special Victims Unit appealed for information on Salau's whereabouts on June 9.
Salau was last seen on June 6 in the area of Orange Avenue and Wahnish Way in Tallahassee, the appeal said.
That day, she posted several tweets revealing that she had been sexually assaulted at an address near Richview Road and Park Avenue in the early hours of that morning.
Salau said the man offered to give her a ride back to a church where she had sought refuge in "to escape unjust living conditions."
"He came disguised as a man of God and ended up picking me up from nearby Saxon Street," she tweeted. "I trusted the holy spirit to keep me safe."
Salau said she called police after the assault happened and also tweeted that he "lives in a gray painted duplex apartment style house" and "drives a white clean Silverado Chevrolet truck."
Several people replied to Salau on Twitter asking if she was safe and offering help, but she he never responded.
Salau had spoken at recent Black Lives Matter protests against police brutality and racism. She was also vocal about the issue on Twitter, writing on May 31: "If you're Black trying to silence other black voices please stay tf home there is no negotiating with racism. No Justice no justice no peace."
On Monday, as news of her death started to circulate, #JusticeForToyin started trending on Twitter as users flooded the platform with tributes.
"Rest In Peace, Oluwatoyin Salau. I'm sorry that your life was so painful in your last days on earth. You were trying to change America for Black lives. Thank you," Bernice King, the daughter of civil rights leader Martin Luther King Jr. wrote.
"We need #JusticeForToyin,@TallyPD," she added.
Actress Lexi Underwood tweeted: "I've said this before and I'm going to say it again, THE LEAST PROTECTED PERSON IN AMERICA IS THE BLACK WOMAN. THE MOST NEGLECTED PERSON IN AMERICA IS THE BLACK WOMAN. THE MOST DISRESPECTED PERSON IN AMERICA IS THE BLACK WOMAN. #JusticeForToyin."
A petition started on Monday calling for justice for Salau has amassed more than 18,000 signatures in a few hours.
"Oluwatoyin "Toyin" Salau was a 19 year old activist who attended all the BLM protests regularly," the petition said.
"Toyin was a strong minded, passionate soul who was brave enough to fight against racial injustice and then came out to speak about her abuser and has now been found dead. She reached out for help and she is one of the many black women that have been failed by the system. We demand justice for Toyin and we need answers."
Anyone with information about the case is urged to call investigators at 850-891-4200 or Crime Stoppers at 850-574-TIPS.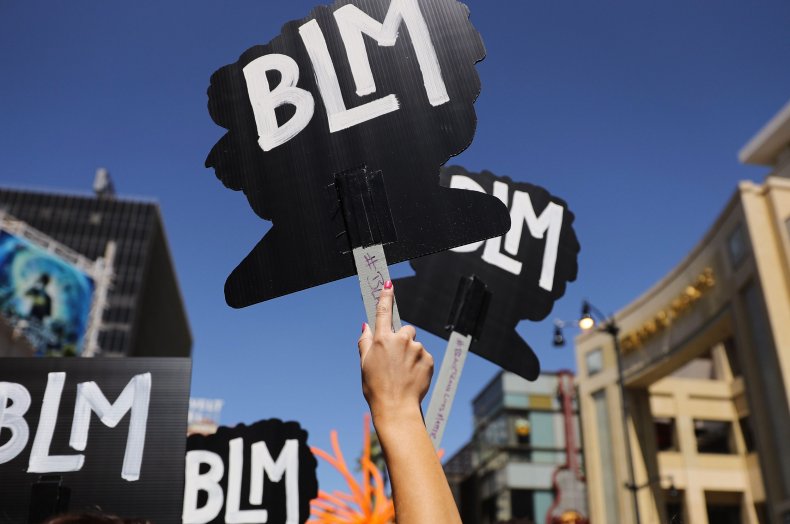 Who Is Oluwatoyin Salau? Florida Black Lives Matter Protester Found Dead After Tweeting About Sexual Assault | U.S.