Black Lives Matter Protesters Demand Firing of Colorado Cop Who Wanted to 'Kill Them All'
Black Lives Matter protesters in Colorado on Saturday held a rally calling for the firing of Colorado Springs police officer after commented "kill them all" on Facebook.
According to CBS 4 News in Denver, Sgt. Keith Wrede of the Colorado Springs Police Department (CSPD), used a fake Facebook account to respond to news coverage of the ongoing protests, commenting "KILL THEM ALL" and "KILL EM ALL."
In photos of the protest, taken by The Gazette, Colorado Springs residents can be seen marching through the streets, calling for Wrede's termination. The protesters held up several other signs, that read, "Terminate Wrede BLM," "Fire SGT KILL EM ALL Keith Wrede," and "I can't breathe," which references the death of George Floyd.
"It is a violation of the community that he is still serving on the police department," said Jasmine Marchman, Colorado Springs Oversight co-founder, according to The Gazette.
The protests come shortly after CSPD Chief Vince Niski announced that Wrede would be placed on a temporary suspension and was reassigned to a new position within the department.
In a statement sent to the Colorado Springs community, CSPD Chief Vince Niski called Wrede's comments "inappropriate, unprofessional, and unacceptable," but he asked the community to think deeper about the calls for his firing and not to base their decisions off of a single incident.
"The only thing I would ask of our community is to not condemn every officer that wears our badge because of one individual's action. Please remember officers are human too and make mistakes. Throughout his 20-year career, Sergeant Wrede has professionally served this community. While his statements were harmful and reprehensible, I cannot deprive the community of a good police officer and his services because of an isolated incident of an error in judgment," Niski wrote in his letter. "I also want to reaffirm that the regrettable comments made are not reflective of our department's character or expectations of how we serve, or talk about, our community."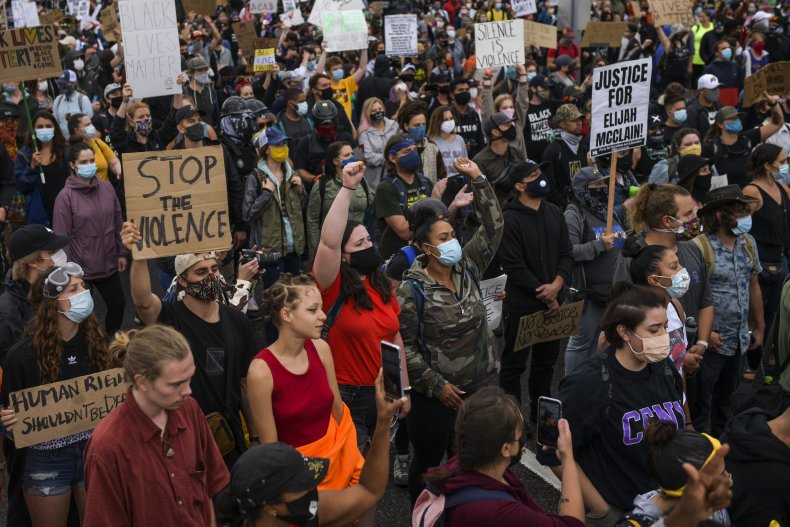 Despite Niski's decision to not fire Wrede, protesters took to the streets on Saturday, August 15, holding signs that said, "Fire Them All" and urging the department to terminate Wrede.
According to CBS 4 News, Wrede's comments on his fake Facebook page came on June 30, as a group of protesters blocked off Interstate 25, in support of the Black Lives Matter movement.
"During that live stream on KRDO's Facebook, the comments 'KILL THEM ALL' and 'KILL EM ALL' were made by someone named 'Steven Eric.' A few days later, on July 3, 2020, the CSPD Public Affairs Office was contacted by KRDO, who brought these comments to our attention and stated they received a tip that 'Steven Eric' was a pseudonym, and the account actually belonged to CSPD Sergeant Keith Wrede," Niski wrote in his letter. "Based on preliminary information in the early stages of the investigation, we believed Sergeant Wrede was the individual who made the comments. Although we were able to quickly determine Sergeant Wrede's involvement, he was still afforded due process as required by law."
Newsweek reached out to the Colorado Springs Police Department for comment but did not receive a response in time for publication.