'Murderer!': Black Lives Matter Protesters Crash Wedding of Cop Tied to Stephon Clark Shooting
Video emerged Saturday showing Black Lives Matter protesters crashing the wedding day of a police officer who shot and killed Stephon Clark in his own backyard in March.
A small group of Black Lives Matter protesters confronted Terrence Mercadal and a group of his groomsmen on his wedding day, blasting him as a "murderer" before one of the visually stunned groomsmen stands up and kicks the BLM "allies" out of the room. Mercadal and fellow Sacramento police officer Jared Robinet were identified after the incident by a civil rights attorney as the two officers who fired 10 shots apiece at Clark, killing him in his grandmother's backyard on March 18.
The Sacramento Police Department said in March they were responding to a report of cars being broken into in the area, and a police helicopter alerted officers to the location in Clark's grandmother's backyard. Police fired 20 shots at Clark as he jumped over a fence, with eight hitting and killing him. Police said they mistook his cellphone for a firearm, but Clark was unarmed.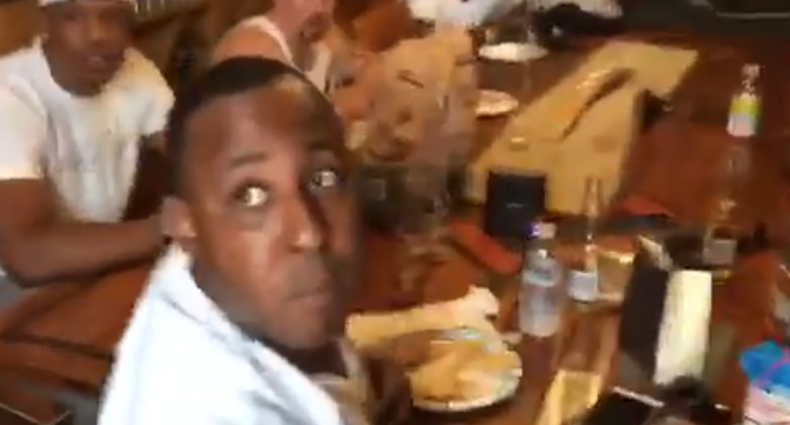 "I just wanted to know if you started planning your wedding before you killed Stephon Clark or after?" a woman is heard saying in the brief recording posted to Black Lives Matter Sacramento's Facebook page. "How you been sleeping since March 18? And I know this is supposed to be the happiest day of your life, he will not have that option."
BLM Sacramento founder Tanya Faison told KOVR-TV she supported the action taken at the wedding venue about an hour outside of Sacramento on Saturday. Faison added that officers involved in the shooting of unarmed black men "need to be approached in spaces where they're a little more vulnerable."
The Facebook page for the BLM Sacramento described the event: "Officer Terrence Mercadal Confronted for Killing Stephon Clark August 5th 2018 - Today Officer Terrence Mercadal, one of the police that murdered Stephon Clark was confronted by some allies at his wedding. YES! Officer Mercadal not only is back at work but carrying on with his life getting married. Here is video of the confrontation."
The Sacramento Police Department declined to identify the officer in the video due to security concerns. In the weeks after the March shooting, a representative from the law office of John Burris in Oakland identified the two officers whose names were withheld from the public by the department. Sacramento Police spokeswoman Officer Linda Matthew told The Sacramento Bee the officers had each received "numerous" threats at the time. BLM told CBS 13 they had been planning the confrontation for weeks since finding his wedding website online.
Faison told KOVR-TV she did not believe the confrontation Saturday went too far. "We're not violent, we're not gonna give to them what they brought to our community, we're not gonna hurt anyone but we are gonna make them uncomfortable, and they should because someone is dead...he's gonna remember this day for the rest of his life."