'Black Lives Matter' Story Removed From 5th-Grade Books in Florida School District
A Florida school district has removed a "Black Lives Matter" passage from textbooks for fifth-grade students.
Sarasota County Schools told parents that the text "contained content that may be controversial and in conflict with" the state's ban on critical race theory, WFLA reported Tuesday.
Critical race theory (CRT) is an academic framework for examining how race and racism intersect with culture, law and politics. The theory gained prominence in 2020 amid a nationwide reckoning on issues of racial injustice.
The state's Department of Education announced the ban in June as it adopted new rules that class instruction can't "suppress or distort significant historical events" and that teachers shouldn't share personal views or try to "persuade" students to a particular point of view.
Florida Republican Governor Ron DeSantis supported the ban. He said at the time that he wanted to prevent instructors and administrators from "teaching kids to hate their country."
A school official said it was discovered that a small portion of the text in a vocabulary exercise for fifth graders had information that, "according to the instructional planning requirements from the state," was aligned with CRT.
WFLA reported the exercise was titled "Personal Narrative" and told the story of a father and child attending a "Black Lives Matter" demonstration in June 2020. Some of the vocabulary words included in the passage were "dissent," "redemption" and "anecdotes."
Those same words now appear in a new passage about friends marching in protest during the Civil Rights Movement in 1963.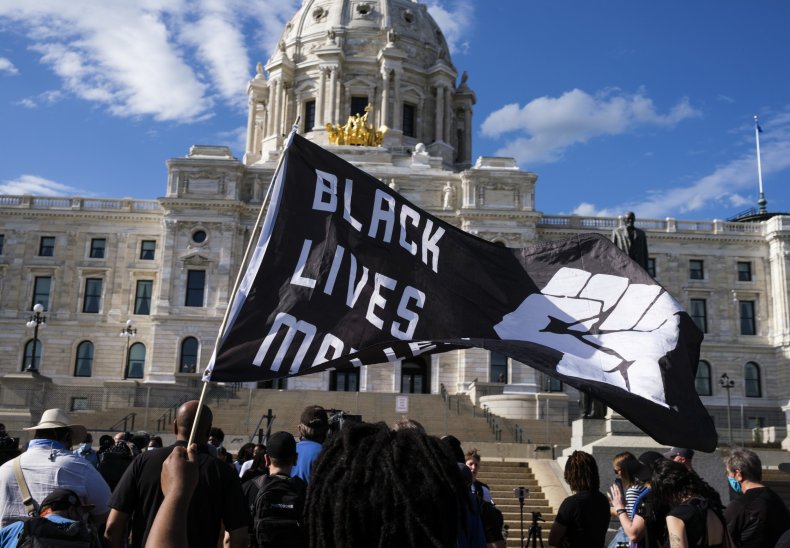 Lawmakers in several Republican-led states have sought to ban teachers from discussing CRT in schools. According to the Brookings Institute, eight states as of August—Arizona, Idaho, Iowa, New Hampshire, Oklahoma, Tennessee, Texas and South Carolina—had passed anti-CRT legislation.
The Brookings Institute noted that with the exception of Idaho, none of the states' legislation mentions the theory by name. Instead, they largely ban discussions about conscious and unconscious bias, privilege, discrimination and oppression.
Civil rights attorney Ben Crump slammed the school's removal of the Black Lives Matter narrative as "unacceptable."
"Banning the teaching of important milestones in our nation's history is a DETRIMENT to our children and does them a HUGE disservice," Crump tweeted in response to a news segment on the situation. "By replacing the story set during the 2020 protests, it is clear that this district is attempting to alter our nation's history. Unacceptable!"
Newsweek reached out to the Florida Department of Education and Sarasota County Schools for comment but didn't receive a response before publication.