Black Mamba Vs Feisty Mongoose Filmed in Tense Standoff
A tense standoff between a black mamba and a feisty slender mongoose has been caught on film in South Africa.
Warren Friedman spotted the black mamba in a tree on his property, which borders a nature reserve.
He said he often sees black mambas around—one even crawled inside his letterbox, giving his wife, Shirley, a big surprise when she opened it and came face-to-face with the snake.
Black mambas are one of the deadliest species of snake in the world. Their venom, if untreated, has a fatality rate of 100 percent.
However, they are also an incredibly shy species of snake and will avoid humans and try to flee when threatened. Generally they only attack humans if there is no other option.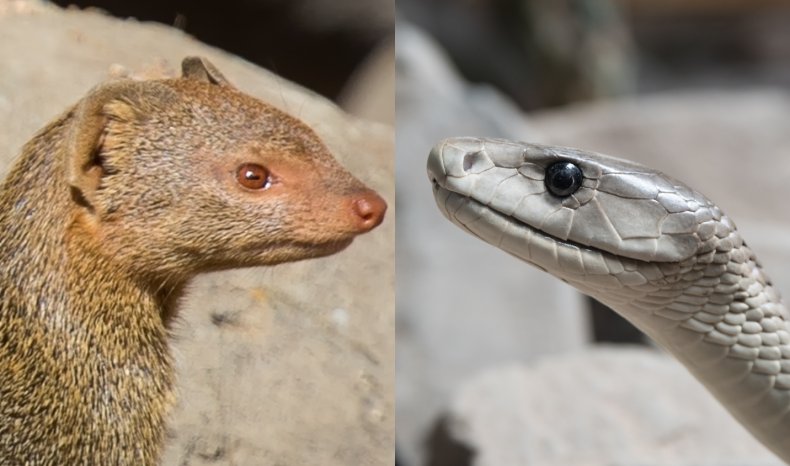 Friedman told Newsweek he often sees slender mongooses catch and kill snakes, especially night adders. But they also target black mambas, he said.
"This particular slender mongoose is fairly tame and we've named her Glenda," Friedman said. "She has a child that is still maturing and learning the ropes of snake catching from mom. So, I was sorry to have Glenda's prey removed, but having an inexperienced youngster with her caused me to rather be safe than sorry and remove the snakes, even if temporarily.
"Mongooses kill snakes and eat them. We have banded mongooses, water mongooses and the slender mongooses. All will attack snakes but the slender, despite its small size, is a master at killing the reptiles.
"As stated, this particular slender mongoose is a female with a youngster in tow and as I've previously seen a mamba turn the tables on a different slender mongoose, I didn't want a similar thing to happen to 'our' Glenda. I definitely didn't want the mambas killed as we need them to eat baby dassies [a small, furry mammal] and any rats that might want to take up residence."
Friedman contacted snake catcher Nick Evans, who is based in KwaZulu-Natal and works to educate people about amphibians and reptiles.
Evans can be seen catching the black mamba in Friedman's footage. The snake measured around 4.5 feet and weighed 1.7lbs and was released nearby.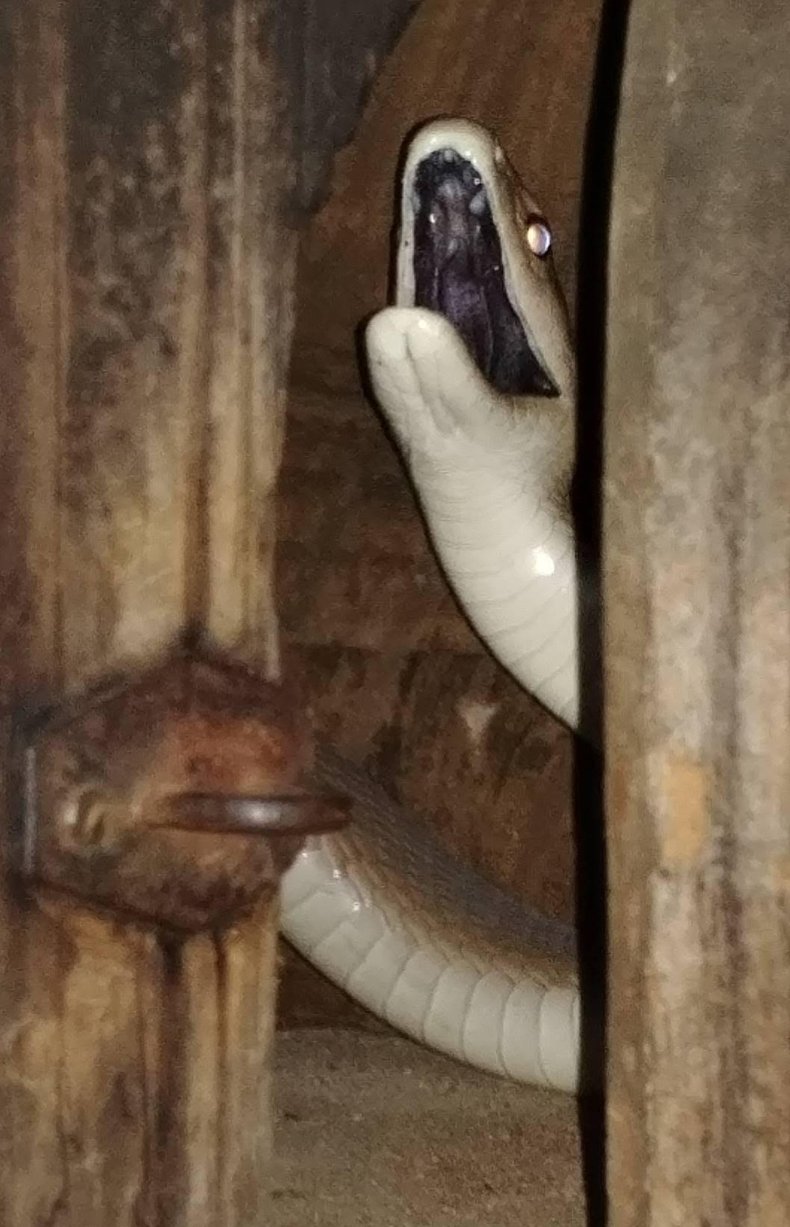 "This mamba was a young male, probably attracted to the female mamba that Nick caught here two days later, also being harassed by Glenda and [her] kid," Friedman said.
The female black mamba was far larger, at eight feet, and regularly visits Friedman's property to feed on the wild mammals that live around his home.
"This is the third time Nick has caught her within a few hundred meters of our place ... It would also seem to indicate some territorial presence. I've seen her quite often."
Friedman said he only interferes with the snakes and mongooses if it is absolutely necessary. He said the snakes are a natural predator for many other nuisance animals in the area, so are important to the ecosystem.
Sometimes, however, they get a little too close for comfort.
"My neighbor discovered a small mamba in their bathroom and another time they spotted a young mamba sneaking into the house through an open door. Being in the house they felt it safest to have them removed ... We had to have the one in the letter box removed for obvious reasons.
"Remarkably in Durban, a city of 3.5 million people with a very healthy black mamba population, there are just a few bites—mostly inflicted when a reckless human attacks the snake which strikes purely in self-defense. Mambas do not hunt humans."