Black Man Defending Confederate Monument Compared to 'Chappelle's Show' Character
A clip of a black man defending a confederate monument in Albertville, Alabama, has gone viral, with many likening the man to a famous Dave Chappelle character: Clayton Bigsby, a blind white supremacist who is Black.
In the 2003 sketch, Chappelle plays Clayton Bigsby, a Black white-supremacist, who was raised in an all-white house for the blind, unaware of his skin color. Being blind, he was told that he was white and grew up to become a prominent yet reclusive white supremacist. By the end of the sketch, Bigsby and his supporters find out that he is a Black man. It's one of the first and most famous segments from Chappelle's Show, and people online were quick to reference it after seeing a recent local news story about the pro-confederate protest in Alabama.
The WHNT news story features an interview with Daniel Sims about the organization Say Their Names, who are trying to get confederate symbols removed from outside the Marshall County courthouse. Sims, who is Black, is a member of the group Sons of Confederate Veterans, who are fighting for the monument to stay at the courthouse.
"Regardless how the next person feels, I'm not gonna take my flag down. If I got anything to do with it, ain't no monument gonna come down," Sims told WHNT, while wearing a Confederate flag cap and a shirt with the flag embroidered on it.
Similar to Chappelle's character, Sims was reportedly raised in a predominantly white environment, being adopted when he was young. He said that he felt a strong connection to the monument, through his family. "My whole family's white, went to all white schools, grew up in all white neighborhood. My grandfather was white, and he's the main one who fought in this war here, and he taught me everything I know," Sims told WHNT.
Sims added that he would be furious if the monument was taken down. "It may make my blood boil, if they just come up here and feel like they can tear it down. I don't see me still living if they do that right there," he said. "That monument ain't hurting nobody. That monument ain't killing a soul. It ain't talking bad to nobody. It ain't even racist."
Many people on Twitter called the Chappelle's Show sketch "genius," noting that it came up with the idea for Clayton Bigsby 17 years before this news story aired. One person on Twitter also made reference to "The Sunken Place" from Jordan Peele's 2017 film Get Out. In the Oscar-winning movie, the Sunken Place is a void where Black people's consciousnesses go as a result of a sci-fi-seeming medical procedure in which white people take control of their bodies.
Sims declined Newsweek's request for comment.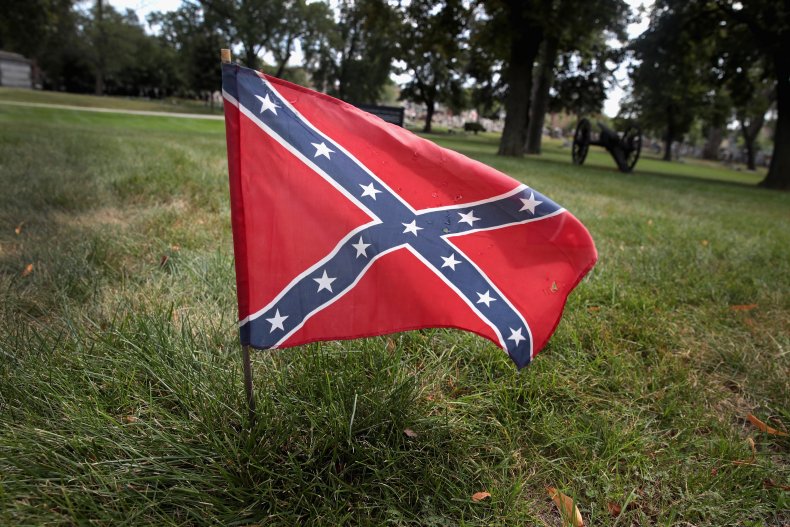 Updated 8/13 1:24 p.m. EST: This story has been updated to reflect that Sims declined to comment.