Black Man Files Complaint Against Restaurant After Server Says Racial Slur
A Colorado man says he is fighting for accountability after enduring racial discrimination at a restaurant.
Shawn Bauck, 25, said he and his girlfriend were in Estes Park in March when they decided to grab food at Cousin Pat's Pub and Grill.
Bauck told Newsweek that their server started making derogatory comments about Black people, including using the N-word.
The woman, who is white, told him that although he seemed educated, most Black people were "thugs, wife beaters and gangsters."
Bauck said the woman also justified racism by a friend who is a police officer based on his encounters with Black people.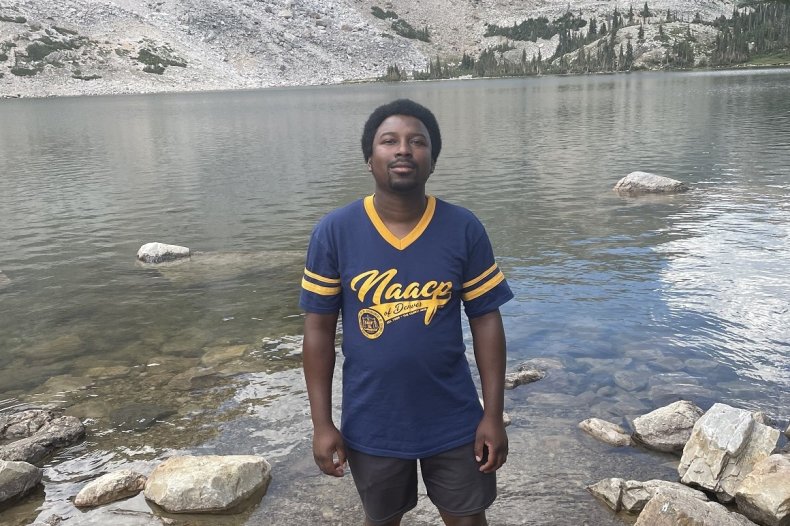 "It seemed normal and then suddenly she just decided to delve into how she has a friend who is a racist cop in Aurora, Colorado," said Bauck, an environment studies major at the University of Colorado.
"She's like, yeah, my friend is a racist cop but it makes sense that he's racist, just to be around Black people all day, like gangsters, thugs and wifebeaters... I'm like, whoa, you can't say any of that."
After the woman used the N-word, Bauck said he approached the establishment's owner, Patrick Beard.
"This dude is sitting so close, like no more than five meters away," Bauck said. "I walk over to him and say, 'Hey, your waitress just went off on this whole racist rant at me and said the N word to me.'
"And he turns around and smirks at me and says, 'Oh, well, I have to know the context of that.'"
Bauck said the owner's reaction prompted him to file a complaint with the Colorado Civil Rights Division (CCRD).
"There's no reason why your waitress should ever be hurling racial slurs at customers," he said. "Instead of handling the situation properly like he had to do by law, he decided to defend his employee."
An attorney for Cousin Pat's Pub and Grill told Denver7 that Bauck and his attorney had "mischaracterized" the conversation with the server.
"The owner of Cousin Pat's did not hear or participate in the conversation," the statement said. "The server who spoke with Mr. Bauck is no longer employed by Cousin Pat's. The server insisted that the conversation did not evolve into an attack or discrimination against Mr. Bauck."
Bauck told Newsweek that he has learned that the server voluntarily quit her job months after his visit, and her departure had nothing to do with his complaint.
And in a recent letter to the CCRD, Bauck's attorney Jason Flores-Williams condemned the restaurant's response.
"There is no context where a black person goes to a restaurant, the server uses the 'N word,' and the use of this racial epithet is somehow justified," Flores-Williams wrote. "There is no context where a Black person goes to a restaurant, the server says that Black people are thugs and gangsters, but that this is somehow justified.
"There is no context in which a Black person lodges a complaint of racial discrimination with a business owner in Colorado—the owner chooses to do nothing—that does not implicate the Colorado Anti-Discrimination Act ("CADA") and civil rights laws that have been enacted to remedy a long history of invidious discrimination of people of color in restaurants and public accommodations in the United States."
Bauck added that he was disappointed that he had to take such action in 2021.
But he says he feels it is important so people understand that they have recourse if their civil rights are violated. "They do have a voice and they can fight back," he said.
He said he plans to sue the restaurant owner "for everything he's got."
"I want his establishment permanently closed, and unable to do business in Colorado ever again," Bauck said. "I want this to serve as an example that there are consequences for ignoring people's civil rights."
Last month, he set up a GoFundMe page to collect donations towards his legal expenses.
"If anybody wants to donate to help me keep up the fight for justice, that'd be greatly appreciated," he said.
Cousin Pat's Pub and Grill and the Colorado Civil Rights Division have been contacted for comment.