Black Man Pinned Down by Minneapolis Cop, Yelling 'I Cannot Breathe,' Later Dies in Hospital
A video of a black man complaining that he "cannot breathe" while a white police officer in Minneapolis, Minnesota, pins him down with a knee on his neck has circulated widely online, and the FBI and the state's Bureau of Criminal Apprehension have been called in to investigate the Monday evening detention. The man died shortly later after being taken to a nearby hospital.
"I can't breathe, officer," the man yelled in the clip as the white police officer holds him down. "I cannot breathe. I cannot breathe."
"You're a tough guy? A tough guy, huh?" the officer can be heard saying as another officer stands nearby.
"How long you gotta hold him down?" a bystander can be heard asking with concern in the viral clip. "He is human bro," another bystander says.
"The BCA would like to speak with anyone who captured video of or witnessed the incident. Those persons are asked to contact the BCA at 651-793-7000," the Minnesota Bureau of Criminal Apprehension said in a statement emailed to Newsweek.
"The name of the deceased person will be released by the Hennepin County Medical Examiner's Office once formal identification and a preliminary autopsy are completed and family notifications have taken place," the bureau added. "The names of the officers involved will be released once initial interviews with incident participants and witnesses have taken place."
The Minneapolis Police Department did not respond to Newsweek's request for comment by publication.
"Officers were advised that the suspect was sitting on top of a blue car and appeared to be under the influence," the police said in a statement, CBS News reported. "Two officers arrived and located the suspect, a male believed to be in his 40s, in his car. He was ordered to step from his car."
John Elder, a spokesperson of the police department, said that the man initially cooperated with officers but later "resisted," the Star Tribune reported. "At no point were weapons of any kind used," he said.
Elder later said that the FBI had been called in to investigate as new information became available.
"We try to put out information as quickly as possible, information that we wholly believe to be honest and true." he said, according to the Tribune. "And as we're looking a little further we're realizing there's more to this ... As we started digging into this and seeing more we realized that the FBI needed to aid in this investigation. We called and they readily agreed."
Minneapolis Mayor Jacob Frey gave a news conference Tuesday morning, during which he voiced serious concern and asserted that the man should not have died.
"What I saw was wrong at every level. This does not reflect the values that [Police] Chief Arradondo has worked tirelessly to instill. It does not represent the training we invested in or the measures we've taken to ensure accountability," Frey said.
"Being black in America should not be a death sentence," he added.
The mayor said that the officers' had body cameras that were "on and active," noting that he has viewed that footage in addition to the video uploaded online. All of the body camera footage has been given to the Bureau of Criminal Apprehension, which generally investigates incidents where individuals die in police custody.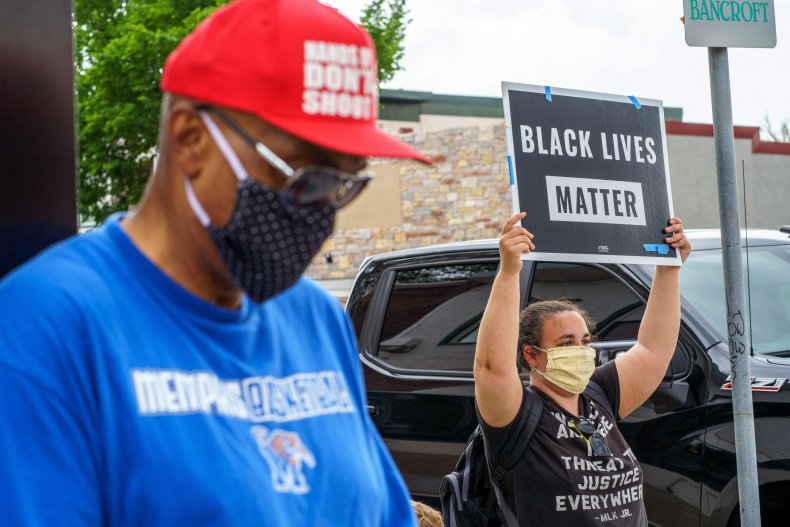 "Our community continues to be traumatized again, and again and again. We must demand answers," Councilwoman Andrea Jenkins wrote in a statement, local NBC affiliate KARE 11 reported. "I have spoken with the mayor and have a call in to the chief. I vow to be as transparent and forthright with the community. We were already in the midst of developing a summer safety strategy for this neighborhood but immediate action is required now."
Senator Amy Klobuchar, a Democrat who represents Minnesota, issued a Tuesday statement about the incident as well.
"We heard his repeated calls for help. We heard him say over and over again that he could not breathe. And now we have seen yet another horrifying and gut wrenching instance of an African American many dying," Klobuchar, who previously sought the Democratic party's presidential nomination and is under consideration to be presumptive Democratic nominee Joe Biden's running mate, said.
"There must be a complete and thorough outside investigation into what occurred, and those involved in this incident must be held accountable," she added. "Justice must be served for this man and his family, justice must be served for our community, and justice must be served for our country."
This article has been updated to include a statement by Senator Amy Klobuchar of Minnesota, as well as a statement from the BCA.