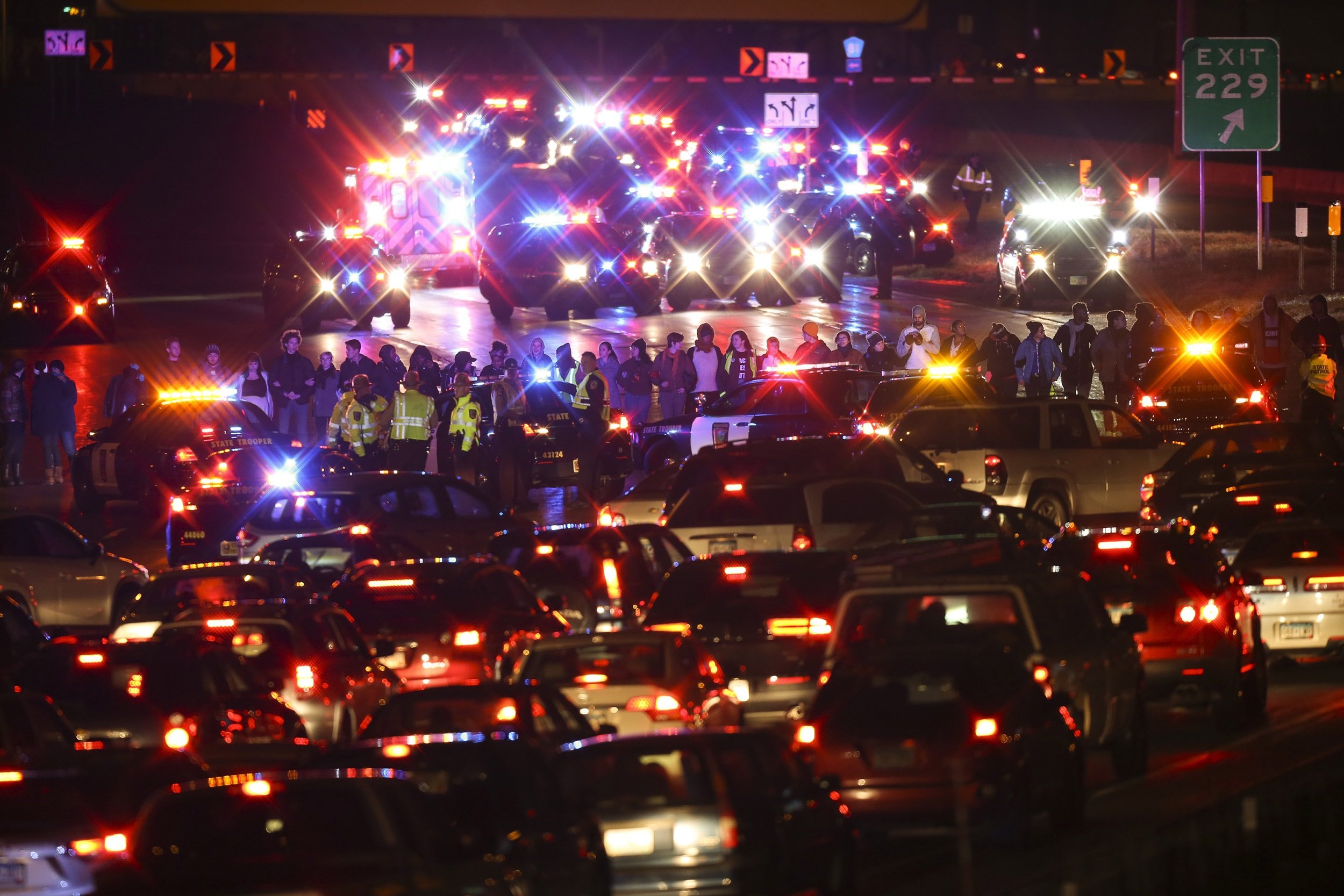 Updated | Jamar Clark, the 24-year-old black man who was shot over the weekend allegedly by a police officer in Minneapolis, died on Monday night, the Minnesota Bureau of Criminal Apprehension (BCA) said Tuesday in a statement.
The BCA is conducting an ongoing independent investigation of the incident, at the request of the Minneapolis Police Department.
Authorities went more than two days without identifying Clark or explaining his condition at the hospital. Family members and the Minneapolis chapters of Black Lives Matter and the NAACP were left to identify him.
Around 1 a.m. local time on Sunday, two Minneapolis police officers responded to a request for assistance from paramedics who reported an individual was disrupting their ability to assist an assault victim at the scene, the BCA said. An altercation ensued between the officers and the individual, later identified as Clark. During the struggle, an officer discharged his weapon and struck him. Clark was transported to Hennepin County Medical Center.
The two officers were placed on standard paid administrative leave. Their identities will be released once authorities interview them as part of the ongoing investigation, BCA Superintendent Drew Evans told reporters at an afternoon press conference on Tuesday.
BCA agents continue to speak to witnesses and gather video footage from the scene. But none of the videos obtained capture the event in its entirety, and there weren't any dashboard nor police body cameras from the scene, Evans said.
"The video will not be released at this time, as it would impact the integrity of the investigation that is ongoing," he told reporters. He encouraged witnesses to call the BCA with information or video footage from the incident.
Several witnesses said the suspect was in handcuffs when he was shot. But police say a preliminary investigation shows the suspect wasn't cuffed at the time. Evans confirmed earlier that there were handcuffs at the shooting scene.
No weapons were found at the scene, he said.
Minneapolis Mayor Betsy Hodges has called on the U.S. Department of Justice's Civil Rights Division and the U.S. Attorney for Minnesota to open an investigation into the police-involved shooting.
Since Sunday afternoon, activists have protested the shooting, first marching from the site of the incident to the police station, occupying the entrance of the 4th Precinct, then blocking a highway on Monday night.
They refuse to leave the premises of the police station until video footage of the shooting is released.
Clark's body has been taken to the Hennepin County Medical Examiner's Office for an autopsy.
This story has been updated to include information from the BCA's afternoon press conference.