Black Man's Death in Police Custody Sparks Protest in Rochester, New York
Daniel Prude died in March after police in Rochester, New York placed a hood over his head and pressed his face into the ground for two minutes. On Wednesday, Prude's family showed video of Prude's death during a news conference.
On the video, which was obtained by Prude's family via a request for public records, Prude can be seen naked. As he follows the requests of officers to get on the ground and place his hands behind his back, Prude begins to shout. Officers place a hood over Prude's head. After complaints that Prude is still attempting to spit, an officer holds Prude's head against the street. Another places a knee in Prude's back.
"How did you see him and not directly say, 'The man is defenseless, buck naked on the ground. He's cuffed up already. Come on,'" said Joe Prude, Daniel Prude's brother during Wednesday's news conference. "How many more brothers gotta die for society to understand that this needs to stop?"
Newsweek reached out to the office of Rochester Mayor Lovely Warren for comment.
Prude, a Black man from Chicago, was visiting family in Rochester when he was apprehended by officers. Police were contacted after Prude's family believed he was suffering a mental health crisis.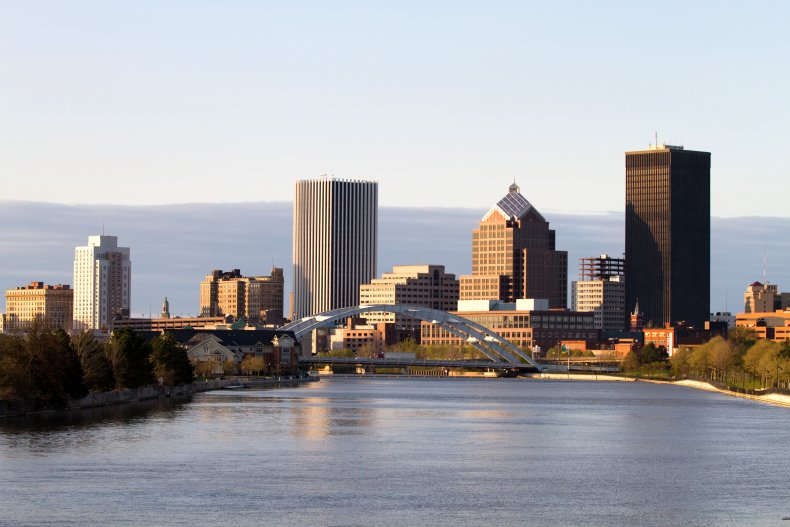 "When I placed a call and I tell this particular officer that comes to my door my brother ain't a threat to nobody but him damn self, don't kill my damn brother," said Joe Prude. "And not even 15 minutes later they come back, told me my brother's dead."
Daniel Prude remained on life support for 7 days before dying in March. According to an autopsy report, Daniel Prude's death was ruled a homicide caused in part by "complications of asphyxia in the setting of physical restraint."
At least five protesters over Robert Prude's death were arrested on Wednesday, including organizers for the local Black Lives Matter movement, after attempting to enter a news conference held by Rochester city leaders. In a separate incident, officers used pepper balls and pepper spray against a crowd of approximately 100 protesters that had collected outside the Public Safety Building.
Chief La'Ron D. Singletary said Wednesday that "from day one" he ordered both an internal and criminal investigation into Daniel Prude's death. However, Singletary said that the officers involved in the incident had not been suspended "as of yet."
The New York Civil Liberties Union called for an investigation into the officers involved with Daniel Prude's death.
"Members of the Rochester community have a right to know what other reckless, violent behavior these officers have carried out, both on camera and off, and how that has affected the lives of others," said Genesee Valley Region Chapter Director Iman Abid in a Wednesday statement.
In July, New York Governor Andrew Cuomo issued an executive order calling for the New York Attorney General's office to investigate any case where a police officer is involved in the death of a civilian.
According to a Wednesday statement from New York Attorney General Letitia James, the Special Investigations and Prosecutions Unit of her office is already involved in an active investigation of Daniel Prude's death.
This is a developing news story and will be updated as more information becomes available.