Police Are Three Times More Likely to Kill Black Men, Study Finds: 'Not a Problem Confined to a Single Region'
Police violence and homicide have persistently and disproportionately affected black communities for decades. A new study claims the proportion of black Americans killed by police is significantly higher than previous research suggested.
Across the country, black men are over three times more likely to be killed by police than white men, according to a study published Thursday in the American Journal of Public Health. In an analysis of all male homicides between 2012 and 2018, 8 percent occurred at the hands of police, researchers found.
Of nearly 6,300 reported deaths during the six-year count, almost 1,800 were black, researchers found. Police killings remained highest among black men across the United States, though the risk varies dramatically by region: In some Midwestern cities, rates of black men killed by police are eight times higher. Interestingly, nearly two-thirds of the reported killings were concentrated in suburbs and rural areas, lead author Frank Edwards said.
"It's not a problem confined to a single region or type of place," he told Newsweek. "There are places where the risk is much, much higher, but across the country, there's nowhere the risk [of black men being killed by police] isn't at least double."
While coverage of police violence is often centralized in cities and large urban areas, police killings in rural communities account for 10 percent of all homicides, though underreporting by law enforcement and local media can obscure those numbers. Rural police departments are less professionalized than those in larger areas, Edwards said, and thus less likely to be subjected to investigations or lawsuits that would force the departments to revise their use-of-force policies.
"Police operate completely differently in different places," he said. "How police operate is often determined by the race of the person they're interacting with and the racial compositions of the places they work in."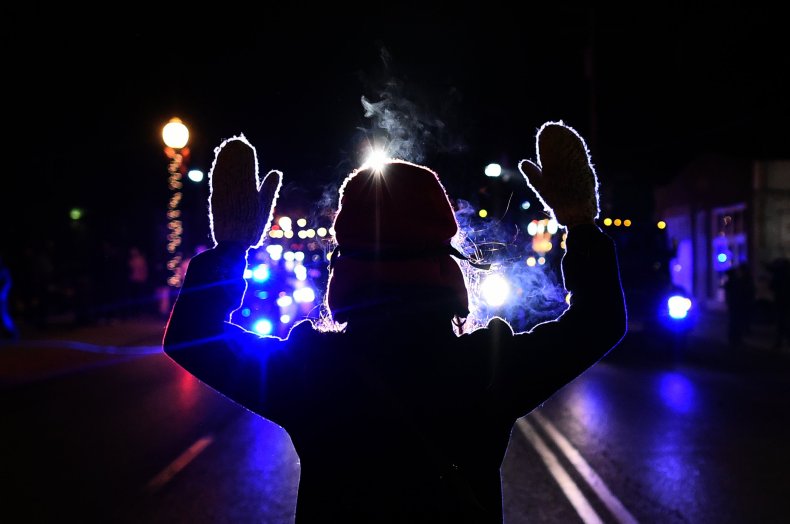 While the data marked significant increases in the rate at which black men are killed by police and the share of police homicides in general, Edwards said he thinks of the findings as "conservative estimates." Police departments aren't legally required to report police killings, and all data collected in the Bureau of Justice Statistics' Arrest-Related Deaths, one of the preeminent sources of crime statistics, are voluntarily provided and often exclude potentially significant factors relating to the victims' death, like race and possession of a weapon.
"If I'm a police department, I have no incentive to report those numbers," he said. "Actually, it's against my best interest to do so. It could actively harm my work and department to report those numbers."
In their book Arresting Citizenship, political scientists Amy Lerman and Vesla Weaver argue that police violence strips people of their citizenship. Residents of an area who view the government as a hostile institution working against them are less likely to vote and feel a sense of community belonging. Fear of police also keeps parents from participating in their children's schooling as a symptom of system avoidance: People avoid institutions they assume work closely with police.
Highly publicized police killings and subsequent distrust discourage black citizens from calling 911 to report violent crimes. A 2016 study led by sociologist Matt Desmond found that following the brutal 2004 beating of Frank Jude Jr., an unarmed black man, at the hands of Milwaukee police, 911 calls declined more than 54 percent in predominantly black neighborhoods.
"Police misconduct can powerfully suppress one of the most basic forms of civic engagement: calling 911 for matters of personal and public safety," the authors wrote.
Edwards said the distrust in police following police killings can end up feeding crime. Instilling fear and distrust in communities makes them less likely to report crimes—and more likely to suffer from unpoliced criminal activity.
"Indirectly, police violence may be contributing to more general community violence," he said. "When the community doesn't trust police, they become more dangerous."