'Black Mirror' Season 6: Will Aaron Paul Star in a 'USS Callister' Sequel?
"USS Callister" is arguably one of the best episodes in Black Mirror, and it ended in such a way that a sequel is certainly possible.
Now it seems that the Netflix anthology series could head back on board the spaceship in its sixth season, which is reportedly currently in production.
A number of actors have been said to be joining Black Mirror Season 6, one of whom is Aaron Paul who previously appeared in none other than, "USS Callister."
'Black Mirror' Season 6: Will Aaron Paul Star in a 'USS Callister' Sequel?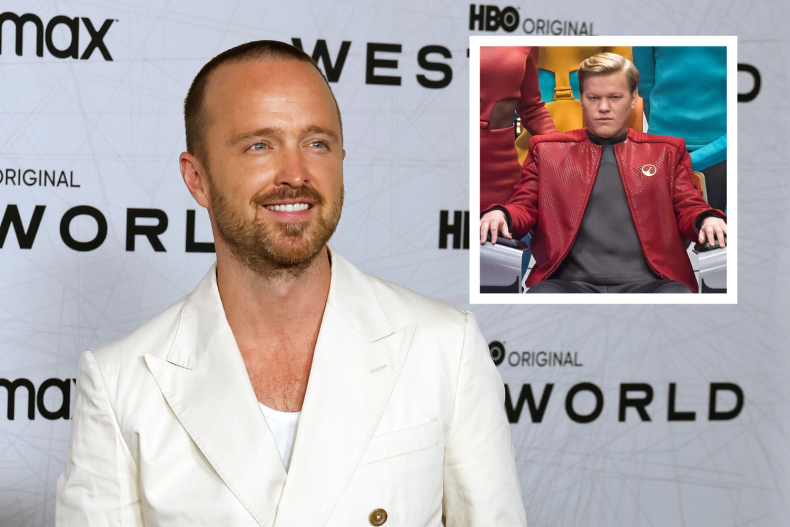 According to a report from Variety, Paul has signed on to appear in Black Mirror Season 6 alongside Zazie Beetz, Paapa Essiedu, Josh Hartnett, Kate Mara, Danny Ramirez, Clara Rugaard, Auden Thornton and Anjana Vasan.
The alleged cast members are said to be appearing in three episodes, but Variety reported that the new season will have more episodes, with other actors expected to appear in the rest.
Netflix representatives declined to comment when asked by Newsweek.
USS Callister followed Robert Daly (Jesse Plemons), a reclusive tech genius who created a virtual reality game based on his favorite series: Space Fleet.
Daly is the master of his own universe quite literally, because he designed the game to make himself the hero of the story.
The twist is that Daly peopled his spaceship with clones of his co-workers in the real world, choosing to clone them as punishment for perceived slights and forcing their clones to take part in the game against their will.
In the end, the crew of the USS Callister mutinied against their captain and tried to escape the game by blackmailing the real-life version of Cristin Milioti's character Nanette Cole to help them.
After defeating their overlord it seemed as if the crew of the USS Callister were free, except in the closing moments of the episode a player named "Gamer691" got in touch with the crew. This character is voiced by none other than Paul.
Given Paul's background with Black Mirror it's entirely possible that he is returning to the franchise in order to reprise his role as Gamer691 in a "USS Callister" sequel.
Since the episode ended with the crew of the spaceship choosing to explore the infinite universe of the game they are stuck in, it could be argued that a sequel may be on the cards.
However, it is also entirely possible that rather than reappear in his previous role the actor may instead be playing a new character.
As yet, Netflix has not confirmed the plotlines for Black Mirror Season 6 and the show often keeps story details a secret up until new episodes are released. A release date for Black Mirror Season 6 has also not yet been revealed.
Black Mirror Seasons 1-5 and Black Mirror: Bandersnatch are available to watch on Netflix now.
Update 07/15/22, 7:35 a.m. ET: This article was updated to include Netflix's response for comment.