Black Mississippi Mayor Tears Up As He Signs Order To Remove State Flag
A Mississippi mayor was overcome with tears Tuesday as he signed an executive order removing the state's flag, which contains the Confederate battle emblem, from all city-owned buildings.
Laurel Mayor Johnny Magee, who has served in the post for eight years, is a native Mississippian and a lifelong resident of the city. He grew up in the civil rights era and told those gathered at the time of the signing that he has "lived through some things with this flag."
"I don't apologize for being emotional," Magee said according to WLOX News. "I have lived through some things with this flag and as they told Dr. [Martin Luther] King [Jr.] to wait. Time for waiting is over."
While signing the order, Magee added that the Mississippi state flag has served as a painful reminder of his past. "It's also been used by some as an image of hatred, divisiveness and violence, none of which in any way represents the ideals and principles of our great nation, our proud state, or our vibrant city," Magee added.
At one point, Magee stopped speaking for nearly a minute as he tried not to cry, The Laurel Leader Call reported.
"There comes a point in time in the annals of history when it becomes necessary to redefine who a people are, and what a collection of these people represent," Magee said during the signing, according to the Leader Call. "It is the opinion of the mayor of this city that now is such a time."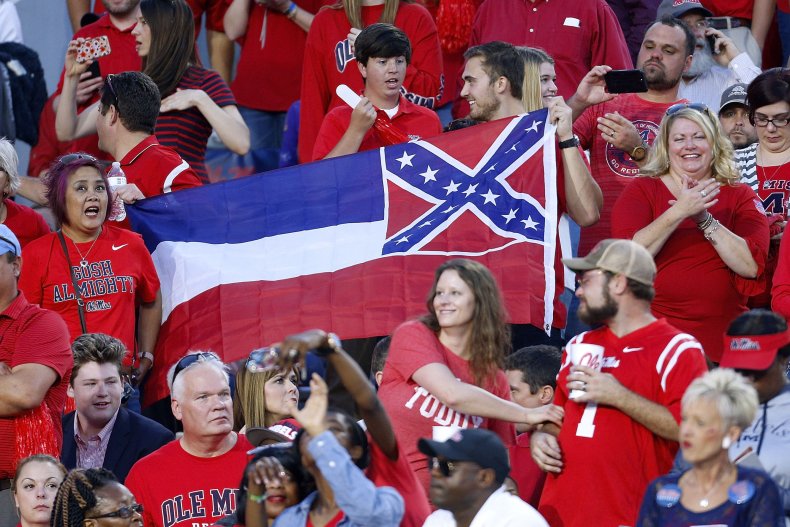 Speaking to Newsweek Thursday, Magee said that his emotion is tied to the long history he has with the city of a little over 18,000 people.
"I was born here in Laurel, I grew up here in Laurel, went to school here, and all the time of my growing up here, there was this flag and there was this attitude," Magee said. "And so, when I was doing the executive order, all these thoughts and all these feelings just came rushing back and I began to reminisce about some of the things I endured here in Laurel and I had gone from that position to be in a position of the mayor, to be able to take that flag down and I wanted to do it to bring the people of Laurel together."
Magee said he has wanted the state flag to be changed "since 1972, at least. When the schools were 'integrated.' We had a Black high school that was closed and we had to go the all-white high school and trucks were riding around the parking lot with [Confederate] flags in the back and I knew then that I wanted a change."
Magee added that the executive order first began as an "idea," and after talking to different council members and other citizens, "they felt good about it."
"I knew the criticism would come," he told Newsweek. "But knowing that I had some support, we decided to move forward with it."
The flags were removed "about 30 seconds after I signed the executive order," he said.
On Tuesday, Magee told WLOX that the flags will be "respectfully retired" and will be given to "the local Laurel-Jones County Library, or other agency that will accept it."
Magee's order follows decisions made by six counties and 25 cities in the state, all eight of Mississippi's public universities, all 15 community colleges and seven private institutions of higher learning in not flying the flag. Many of the cities adopted such orders back in 2015 following the killing of nine African American churchgoers by a white supremacist.
The conversation about Mississippi's flag has been reignited in recent weeks as protestors across the country call for police reform and recognizing and eliminating systemic racism following the death of George Floyd and other Black Americans following encounters with law enforcement. Protests have also seen the vandalism and tearing down of several statues connected to the Confederacy, and prompted calls for Mississippi to change its flag.
A recent poll conducted by the Mississippi Economic Council discovered that a majority, 55 percent, of registered voters in the state, are in favor of changing the flag. While lawmakers are still uncertain if the votes needed to bring forward a new bill to address the flag are possible, the presidents and chancellors of the state's colleges and universities, as well as several religious and business organizations have issued calls for the legislature to act.
Magee told Newsweek that he believes the calls for change are happening on a local level first and that the state's legislature should take charge in removing it.
"We had an election in 2001 and the voters decided overwhelmingly that they wanted to keep it, and I think the reason is because only 38 percent of the population is black," Magee said. "And it's going to take a majority of whites to vote to change it and I don't see it happening at the polls, so I think the legislature needs to change it now."
"The people didn't vote for [the flag] in 1894 when they adopted it, so I don't think the people should do it now, I think the legislature should do it," he added.
On Thursday, prominent collegiate coaches in the state, including the University of Mississippi's Lane Kiffin and Mississippi State's Mike Leach, both who were hired to lead the football programs at their respective schools late last year, joined Speaker of the House Phillip Gunn and other lawmakers to advocate for the state to change the flag.
"We removed the flag from our campus five years ago, so we've made it clear that it doesn't represent who we are at Ole Miss," Kiffin told ESPN. "Today is another big step in doing our part to move the state forward and ensure a more welcoming environment for everyone. This is extremely important to me and to our players. Time to change!"
Additionally, SEC Commissioner Greg Sankey announced last week that the conference would not hold any conference championship games in the state, unless the flag is changed. The NCAA later followed suit, banning any postseason events in Mississippi, including the baseball regionals and super regionals that are traditional moneymakers for Ole Miss, MSU and the University of Southern Mississippi.
Late Wednesday, Mississippi Governor Tate Reeves announced he would not stand in the way of lawmakers should they bring the issue to a vote, though he had previously said he would veto any measure that did not allow state residents to vote on changing the flag.
Reeves' Lieutenant Governor Delbert Hosemann announced earlier Wednesday that he supports adopting a new flag, as has Reeves' predecessor, former Governor Phil Bryant.