Black Music Matters: Why We Celebrate African-American Music Appreciation Month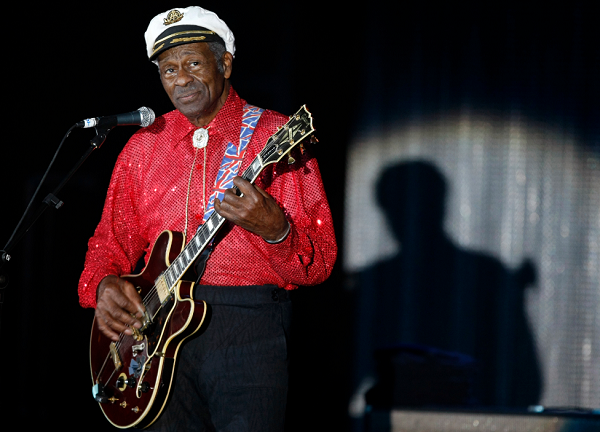 Long before Paul Whiteman, a bandleader, orchestral director, violinist and composer dubbed himself "The King of Jazz" back in the 1920s, Joseph Oliver, aka King Oliver, was pioneering the sound of jazz and Dixieland down in Louisiana with the syrupy sound of his cornet. In fact, it was King Oliver's melodic compositions back in the early 1900s that influenced the iconic and brassy sound of Louis Armstrong, who is considered one of the greatest trumpet players of all time.
Even Elvis Presley, who has long been revered as the King of Rock 'n' Roll, was heavily influenced by the sound and swagger of Chuck Berry, a guitarist, singer and songwriter who forged a style of rhythm and blues back in the 1950s that ultimately led to the creation of rock music. Elvis' own discography features a few songs originally composed and performed by Berry, including classics like "Maybellene" and "Memphis, Tennessee."
Just about every genre of music has, in some way, been touched and influenced by African-Americans. That's why in 1979, President Jimmy Carter proclaimed the month of June as Black Music Month.
The month-long observance, which was first inducted on June 7, 1979, was created to recognize and celebrate the historical influence African-Americans have had on the music industry and is intended to pay homage to the many artists, writers, songs and albums that have shaped American pop culture and the inspiring musical moments that have brought citizens—white, black and every other skin color—together.
The idea was initially sparked following President Richard Nixon's declaration of October as Country Music Month back in 1972. Although Black Music Month was effective in driving sales of music created by African-Americans—the month-long celebration was first launched with the slogan, "Black Music is Green"— the charge of artists (including Berry) and music mavens that petitioned Carter to proclaim the holiday celebrating black music brought forth an uplifting and unifying moment for people from all backgrounds.
Despite Carter's proclamation, an official presidential order announcing Black Music Month during the month of June wasn't signed off on until 2000 when the House of Representatives approved House Resolution 509, a decree that officially recognized the importance, study and celebration of African-American music.
Over the years, American presidents have continued the tradition of honoring Black Music Month, including Barack Obama, who officially changed the month-long holiday's name to African-American Music Appreciation Month in 2009.
Recently, President Donald Trump proclaimed the first African-American Music Appreciation Month of his tenure, honing in on the accomplishments and impact of artists like Berry, Dizzy Gillespie and Ella Fitzgerald.
"During June, we pay tribute to the contributions African Americans have made and continue to make to American music. The indelible legacy of these musicians who have witnessed our Nation's greatest achievements, as well as its greatest injustices give all Americans a richer, deeper understanding of American culture. Their creativity has shaped every genre of music, including rock and roll, rhythm and blues, jazz, gospel, hip-hop, and rap," the president said in a statement, released Wednesday.