Black Muslim Women Are Fighting Uphill Battle While Dating
They're female. They're Black. They're Muslim. And they are having a tough time getting married.
"In mosques across the country, imams—and other community leaders—are frantically fielding calls from anxious parents asking why their high-achieving, successful and religious daughters can't meet a Muslim man to marry," said Tahirah Nailah Dean, 29, a Black-Latina lawyer based in Oakland, California, who has been collecting data from single Muslim women around the country.
She has created what she calls an Isms Project to combat the racism/colorism/sexism/ageism factors that single Muslim women face. Last summer, she brought together a team of models, photographers, videographers and strategists to document what those problems look like for these women.
Even making oneself available for marriage in an Islamic culture where dating is not part of the lexicon is an enormous challenge.
"The concept of dating is haram or prohibited because it infers casual romantic relationships that aren't necessarily aimed at marriage, which is not what Muslims are allowed to do," she said. "It is not easy to meet someone in a mosque. Men's and women's sections are divided so it's not physically possible to mingle.
"Just last week, I went to a singles event hosted by a mosque in Santa Clara, [California]. Usually, Muslims don't do speed dating, but that group did it because they know how bad it is out there."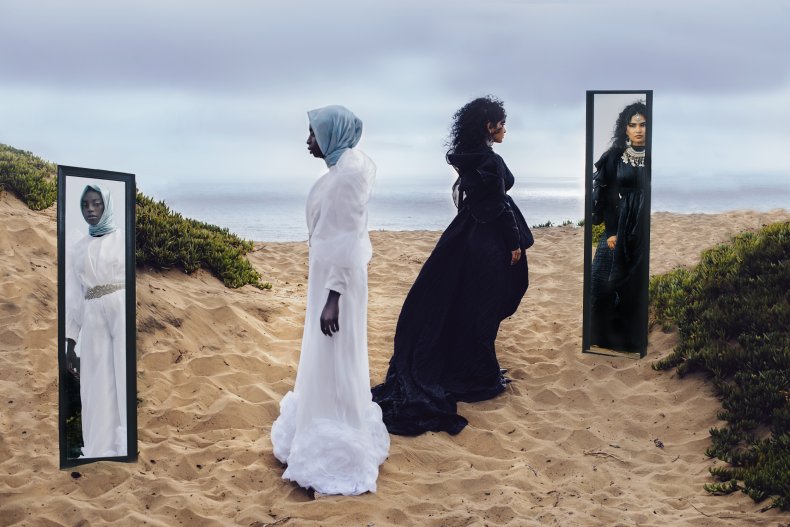 According to a 2014 Religious Landscape Study by the Pew Forum, Muslims score the highest at 45 percent—among 12 American religious traditions—in terms of never-married members. They are fourth from the bottom (after religious "nones," Buddhists and Protestants in majority-Black denominations) in terms of married adherents, at 41 percent.
Muslim men outnumber women by 55 percent to 45 percent, according to Pew, which ordinarily would make marriage a buyer's choice bonanza for Muslim women. But it's not.
Why? It's complicated. Islam allows men to marry outside the religion, but not its women, which narrows the latter's choices considerably. Moreover, there is an invisible hierarchy of desirable women, where men rank eligible females by skin color, age and education level. This leaves a large cohort of women—who are educated, older or Black—at the bottom resulting, says Dean, in a "Muslim marriage crisis."
"I went through a depression at ages 26 and 27 where I couldn't meet anyone," she said. "I wondered if it was me. I looked at other Muslim women in my social circle; successful doctors and lawyers who can't get married as well. I began doing mini-interviews with women and found the same three issues: Age, race and sexism over and over again."
Mosque leaders are running into this too.
Shahzad Younas, founder and CEO of muzmatch, a six-year-old London-based matchmaking app numbering 4 million members, says certain kinds of women are running into impossible barriers.
'Lack of Older, Educated, Ambitious Muslim Men'
"If I speak to religious elders, they talk of this marriage crisis regarding how Muslims get married and how they stay married," he said. "A common issue in the U.K. is this issue of older, educated, ambitious Muslim women struggling to find partners. There is a lack of older, educated, ambitious Muslim men."
Previously, "mosques used to matchmake; they had databases of single men and women and the mosques would do the introductions," he said. "But it was a dated model, and it's not happening anymore."
Historically, Muslim women have lagged behind all other religions—except Hinduism—when it comes to educating women, according to Pew. This is not true in the U.S.
Citing a 2009 Gallup poll that said 42 percent of American Muslim women have college and post-graduate degrees compared with the men at 39 percent, Dean said the higher education makes many Muslim women unattractive as marriage prospects.
South Asian and Arab cultures, she says, are especially guilty on this point.
"If a woman is well-educated or has a career, she's considered a threat," she said. "Too educated, too opinionated, too intimidating."
Muslim men heavily favor younger women, she added, because they are considered more fertile and less apt to venture outside the home. From her interviews for an upcoming book about Muslim dating and marriage, she came up with the age of 25 as a quasi-expiration date for single Muslim women.
A woman's superior education level should not be a turnoff, says Younas, in that the Prophet Mohammed's first wife, Khadija, was not only older than him but a successful businesswoman.
"A lot of our men fall short on following that," he said. "A lot of Muslim men want a wife who takes care of the home. The pool who want older career-minded women is very small."
The Most Insurmountable Barrier
Race seems to be the most insurmountable barrier. Because American Islam is quite varied and includes up to 77 different ethnicities, the typical American Muslim man can choose from Pakistanis, Iranians, Palestinians, Somalis, Afghanis, Indians, Indonesia, various African countries, along with Caucasian women.
In 2014, Christian Rudder, co-founder of the dating site OkCupid, said in his book Dataclysm that Asian men and Black women ranked at the bottom of peoples' searches. Moreover, those "least desirable" women get 25 percent fewer messages from prospective suitors than do other races.
This is no secret among South Asians. Pakistani-American filmmaker and actress Aizzah Fatima is tackling race in her upcoming Muslim-American romantic comedy Americanish by casting the Black comedian Godfrey as the love interest opposite Shenaz Treasury, the Pakistani female lead.
"We knew we wanted a Black guy for the role," Fatima said in an interview with entertainment writer Allison Kugel. "We need racism to end with our generation…and how do we do that? Let's create a film and put a Black guy as a romantic love interest for a Pakistani woman.
"There is so much internal racism. In mosques and Muslim community centers, and places like that, we won't accept Black people.… The religion absolutely does not discriminate. It's the culture that does."
Recently, officials at muzmatch surveyed its customers about racism and of the 417 people who responded, 74 percent—about 308 people—said race affected the matches they get.
They released some of the responses—from men as well as women—to Newsweek (with names redacted).
"My color is considered ugly," wrote a man from Central Africa.
"Me and a Pakistani sister hit on very well," wrote a man from the Caribbean, "and had some meetings to make sure we were compatible. After three months, she advised that she could not continue as her mother would disown her for marrying a Black man, so it ended."
A man from East Africa said that matches tended to be "going great until I told them I was from Eritrea."
A woman from East Africa asked the app to "have more articles about race, i.e., 'what not to say to a Black woman.' Terms like 'always wanted a chocolate queen,' etc., are so fetishizing and degrading especially when these men know they wouldn't be able to marry a Black woman."
A Tradition of Arranged Marriages and Chaperones
In a tradition that still uses arranged marriages and chaperones, many parents refuse to allow their grown children to date or marry someone of a different race. When asked how their parents would react if they married across color lines, "They would never speak to me again," a Pakistani woman wrote. "Perhaps disowned," wrote another Pakistani female. "Dead," wrote a Pakistani man. "Get beaten up with a chappal [sandal]" wrote a man from India.
To coincide with Black History Month in the U.K., which is in October, muzmatch released several videos to encourage matches among Blacks. One 25-minute video, "This is Love," featured several Black couples from different backgrounds. "Sara and Bilal," was a video on interracial marriage. (Bilal was a Black American; Sara was Egyptian.) A third video, "Are Muslims Racist?," featured a panel of four Muslims from varied racial backgrounds discussing racism in their religion.
Some comments beneath the video were telling.
"Most Arab parents doesn't allow their daughters to marry Black Muslim men," one man wrote. "I think racism is more serious in the Muslim world than the West. My best friend couldn't marry his Arab fiancée simply because he's Black. The Arab parents rejected him."
Dean ran into similar barriers when she fell in love with an Arab Muslim while living in Boston. His family nixed the match and as she continued to date, she was constantly coming up short because she wasn't South Asian or Arab, the two largest ethnicities in American Islam.
"When people emigrate here, they attend small mosques with people from their own country," she said. "Somalis will create their own mosques; so will the Pakistanis. They want to stay in their bubble and pass that mentality onto their children. The parents are influencing their sons to make the right decision, and if they don't, they will ruin their family relationships.
"Guys will say, 'Hey my parents aren't going to very cool with this.' Or they want someone who speaks their language who can relate to their mom."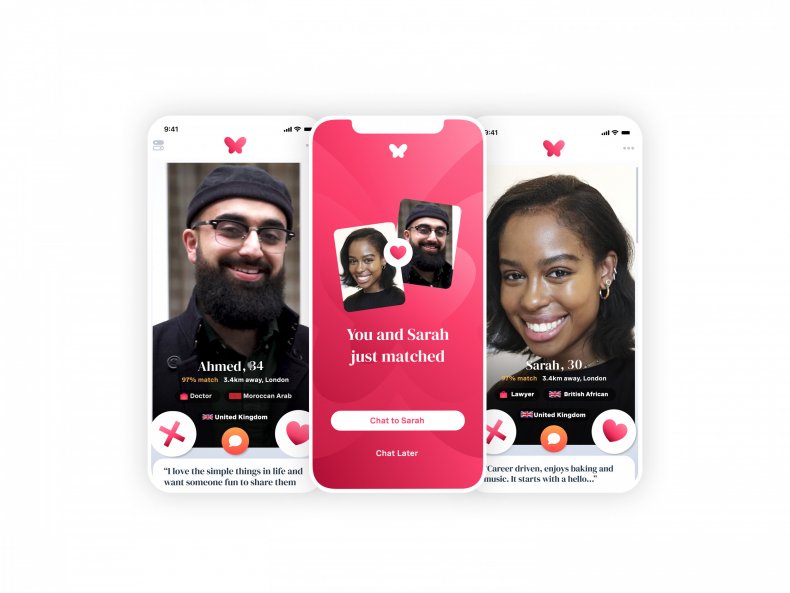 Kenyan-born Husna Abubakar, 30, a graphic designer in Pensacola, Florida, says that because her mother is Yemeni, she hasn't gotten some of the rejection that American-born Black women have experienced.
"Arab men—Saudi, Omani, Jordanian—gravitate toward me," she said. "I tend to get accepted in Arab spaces because of my Yemeni descent. I have it a little easier than my other sisters in Islam because I don't have the stereotypical African features, but it is tough. I have a child, and I am divorced."
A friend of hers from Mombasa, Kenya, is marrying a man from India, "and his family are in complete denial—they won't even acknowledge her," she said. "I steer clear of South Asians because I know their dynamic regarding Black folks."
She is relocating for work reasons to Dallas, a city where she hopes to find a greater choice of mates. She wonders if she would be remarried by now if she were not Black.
"I feel like the light-skinned women have it easier because in a lot of culture they are the epitome of beauty: the light skin, the soft hair," she said. "There is no way that Allah in his limitless power and might can't have someone out there that will meet what I need."
American Black Women Disproportionately Single
American Black women of all religions are disproportionately single, and a 2013 study by four college professors for the National Center for Family and Marriage Research revealed that seven out of 10 American Black women are unmarried and three out of 10 may never marry. Black men are more apt to marry someone of another race than do Black women, which further narrows the number of eligible men.
However, one-fifth of all America's 3.45 million Muslims are Black, which in theory should create a pool of candidates.
"With such a large population of Black Muslims, it might appear that we shouldn't have any trouble forming our own communities," Dean said. "But we are fragmented, too, and lack resources and social capital that the engineers and doctors found in the South Asian and Arab communities have.
"So, I think that plays into why we are more spread apart and try to find community within other ethnicities. More importantly, Islam teaches that we are all one ummah [community] so there really shouldn't be any self-segregation."
But there is, says Younas, to the point where women will label themselves as "fair" on their dating profiles to get more suitors.
"Stuff like that we try to remove," he said. "It's not appropriate. Racism Islamically is totally forbidden. In his last sermon, the Prophet, before he died, said, "There is no superiority of an Arab over a non-Arab, or of a non-Arab over an Arab, and no superiority of a white person over a Black person or of a Black person over a white person, except on the basis of personal piety and righteousness."