After numerous delays and slow but steady trickles of information, it's safe to say hype for Red Dead Redemption 2 is at an all-time high right now. However, according to a recent poll from Nielsen, Red Dead 2 isn't the most anticipated game this holiday season. That award goes to Call of Duty Black Ops 4.
Nielsen asked nearly 6,000 people their thoughts on 82 different games due to be released between Sept. 1 and Dec. 31 of 2018. Nielsen then calculated scores for each game based on consumer awareness, purchase interest and consumer ratings. The top-scoring games are as follows: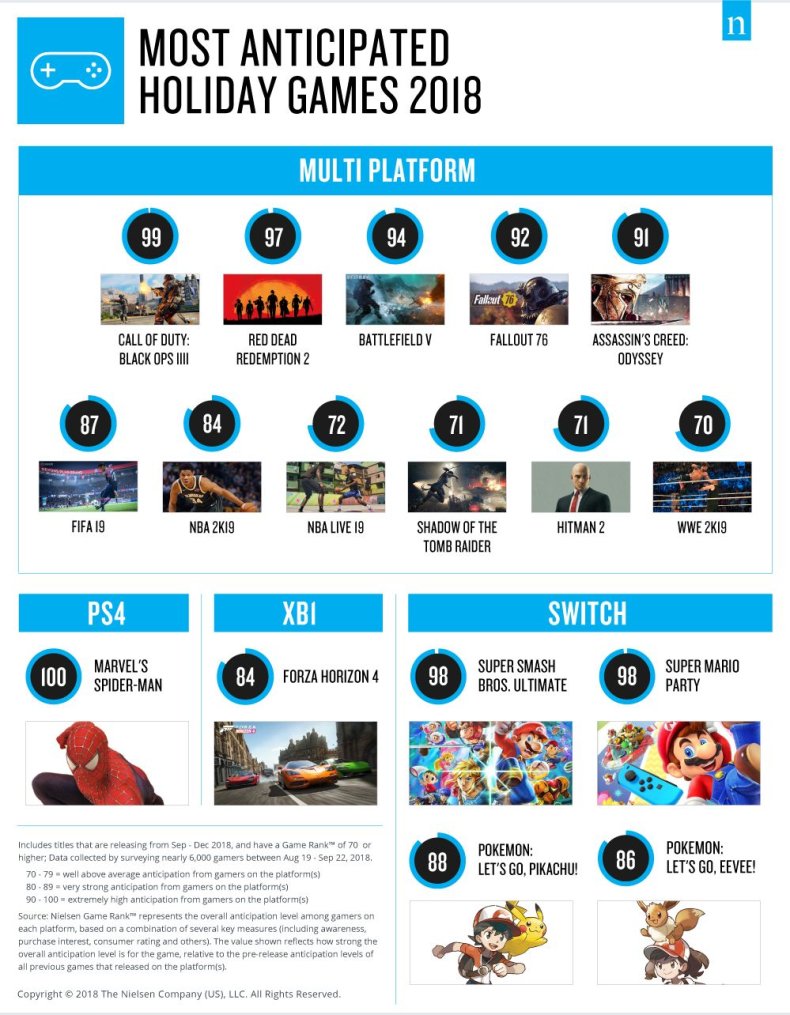 Leading the way is Call of Duty Black Ops 4 with a score of 99, while Red Dead Redemption 2 trails closely behind with a score of 97. Battlefield V, Fallout 76 and Assassin's Creed Odyssey also have scores above 90. The remaining games at the top of the list are mostly yearly installments of sports games, with the additions of Shadow of the Tomb Raider and Hitman 2 in the mix.
In terms of console exclusives, the biggest stand-out for PS4 is Spider-Man, while Xbox One has Forza Horizon 4. The Switch is the king of console-exclusive stand-outs with Super Smash Bros. Ultimate, Super Mario Party, and both versions of Pokémon Let's Go all scoring high marks.
Interestingly enough, no PC-exclusive or 3DS-exclusive games made the list this year. To be fair, the only major 3DS release is Luigi's Mansion, which is a port of the GameCube game of the same name.
So what do you think? Are you more excited for Black Ops 4 over Red Dead 2? What games are you looking forward to that didn't make the list? Let us know your thoughts in the comments section below.