'Call of Duty: Black Ops 4' Nov. 12 Update Reworks Black Market - Patch Notes
Call of Duty: Black Ops 4 has a new playlist update for November 12 that overhauls the Black Market as players know it. Gone are Supply Drops and randomized loot boxes, only to be replaced with more direct paths to buy just the items you want. The patch notes are more extensive than most serverside patches, so full free to get the full rundown below.
Call of Duty: Black Ops 4 November 12 Black Market Update Patch Notes
All Platforms
GLOBAL

Black Market

System Revamp

Reserve Cases can now be traded in for items in Blackjack's Shop through the new Pick-a-Weapon Bribe, Reserves Stack and My Deals offers.

Pick-a-Weapon Bribe

Regularly-scheduled bundle available in Blackjack's Shop and Reserves screens in the Black Market.
Allows players to trade in 50 Reserve Cases to unlock a weapon of their choice from a Crate that also includes two Reserve items, along with a bonus of five Duplicate-Protected Crates.

Reserves Stack

Rotating offer that always displays an item from Reserves that the player does not currently own, which can be unlocked by trading in two Reserve Cases.
Allows players to see Reserve items before acquiring them.
Refreshes on a regular basis to reveal a new item, and will refresh instantly after the current item on display has been acquired.

My Deals

Two new rotating offers that can be unlocked with Reserve Cases and will always showcase items that the player does not currently own.
Refreshes on a regular basis to reveal a new item, and will refresh instantly after the current item on display has been acquired.

Duplicate-Protected Crates

Reserve Crate purchases are now always Duplicate-Protected.

Create-a-Class

Addressed an issue that could prevent certain Weapon Charms and Death Effects from stay equipped after a match.
MULTIPLAYER
Featured Playlists

PS4/Xbox One

Stockpile (2XP)
Nuketown
Barebones Moshpit
Bolt-Action Barebones Moshpit
Mercenary Deathmatch Moshpit

PC

Stockpile (2XP)
Nuketown
Bolt-Action Barebones Moshpit
BLACKOUT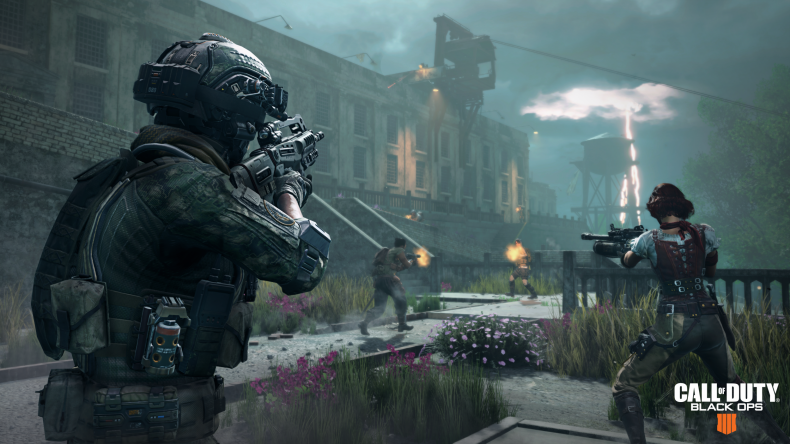 Duos Moshpit

New Moshpit of Duos-only Blackout modes with a maximum of 80 players on consoles:

Ambush Duos
Hardcore Duos
Down But Not Out Duos
Close Quarters Frenzy Duos

Alcatraz

Alcatraz Portal Quads replaces Alcatraz Portal Duos.

Contracts

Contracts will now properly line up with available playlists on consoles.

Featured Playlists

PS4/Xbox One

Duos Moshpit (Ambush, Hardcore, Down But Not Out, Close Quarters Frenzy)
Alcatraz Portal Quads
Quads
Solo

PC

Alcatraz Portal Quads
Duos Moshpit
Quads
Xbox & PC
GLOBAL
Black Market

New collection of rewards now available to earn in Reserves.
Rewards include the MicroMG 9mm SMG, Eye of Apophis melee weapon, Pentagon Thief Blackout character, and new Reactive Camos, weapon camos, outfits, Death Effects, Weapon Charms, Jump Packs, Gestures, and more.

ZOMBIES

Gauntlets

"An Ice Day in Hell" Gauntlet now available in "Tag der Toten".
Complete 30 rounds of new challenges for rewards at Tiers 10, 20, and 30.
Complete all 30 rounds without a single strike for an exclusive cosmetic reward.
PC
BLACKOUT
Optimization

Maximum player count set to 60 with auto-start set to 50 players on all core and limited-time mode playlists for faster match start times.
Maximum player count remains at 40 for Alcatraz playlist.

Playlists

Schedule now reflects three available playlists each week for improved matchmaking.
The main change for this late Black Ops 4 update is, of course, a totally revamped Black Market structure that almost completely removes the most randomized and frustrating elements of the previous incarnation. Through features like the Pick-a-Weapon Bribe, Reserves Stock and My Deals, players can essentially turn in varying numbers of Reserve Cases to get any weapon or item they wish. While it may take a little extra grind to meet those point thresholds, at least players are far more likely to get what they want from each purchase. Rotating storefronts have worked wonders for games like Fortnite, and we're seeing much of that logic on display in Black Ops 4 today.
This update arrives mere weeks after Activision officials said they would be reexamining Call of Duty's loot box structure in not just 2019's Modern Warfare but also several franchise iterations over the past few years. While Activision's own Overwatch popularized use of the loot box in 2016, the randomized monetization method has recently been under heavy scrutiny from governments domestic and abroad. The above-listed changes make Black Ops 4 more tolerable in the law of international markets and are generally better received by players. While this Black Market overhaul is still far from perfect, it's a huge improvement over the aggressive strategies Treyarch had employed before.
Call of Duty: Black Ops 4 is available now on PS4, Xbox One and PC.
Is today's Black Market update enough to save Black Ops 4? Have these changes arrived too late? Tell us your thoughts in the comments section!