Black Entrepreneurs Are 'Going Green' With Cannabis Companies
The marijuana industry is booming, and the resulting surge has also seen more Black-owned cannabis companies sprouting up in recent years.
Though lack of diversity remains a serious problem in the field, companies like San Francisco's MD Numbers provide some much-needed representation. These Black entrepreneurs and others hope to write a new chapter in the story of America's "war on drugs," which has disproportionately punished people of color.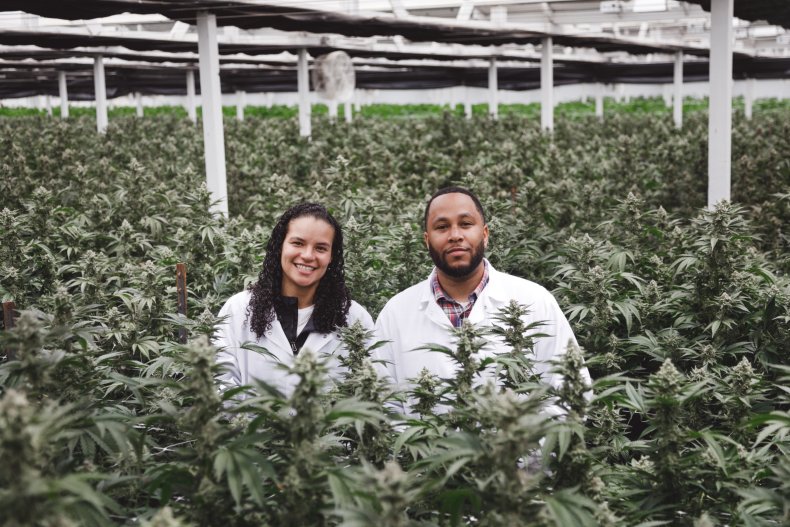 Right now, the medical use of cannabis is legal in 35 states with a doctor's prescription. Recreational use of cannabis is legal in 14 states, the District of Columbia, the Northern Mariana Islands and Guam, while an additional 16 states and the U.S. Virgin Islands have decriminalized its use. But even as more and more states ease marijuana laws, people of color still bear the brunt of drug policies that remain on the books. The American Civil Liberties Union found in a 2020 analysis that Black people are 3.64 times more likely than white people to be arrested for marijuana possession, even though Black and white people use marijuana at similar rates.
"The people that have been hardest hit or destroyed by the war on drugs happens to be the Black community, followed by the brown community," said Angela White, the Equity for Industry Program Manager at Success Centers. The San Francisco Bay Area-located Success Centers is a company that helps people from marginalized communities find the resources and learn skills for employment, or even start their own companies. White's position there is to specifically assist people in finding work in the cannabis industry.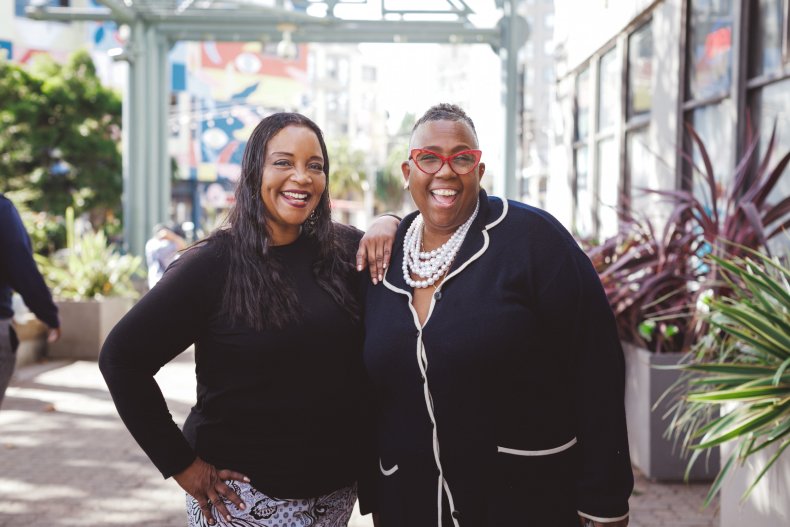 And, as mentioned above, it's a growing industry. While most sectors of the U.S. economy suffered due to the coronavirus pandemic in 2020, businesses associated with producing and selling cannabis proved to be a rare economic bright spot. According to data from the Leafly Jobs Report compiled with the consulting firm Whitney Economics, the amount of cannabis-related jobs practically doubled in number last year compared to the previous year, adding 77,300 full-time jobs for a total of 321,000. From a financial standpoint, Marijuana Business Daily's most recent Factbook on the industry estimates that cannabis' economic impacts could reach as high as $77 billion by 2022.
White explained that, with the ever-changing laws and shifting policies, it's difficult to understand how to even get started with opening a business related to cannabis—let alone how to maintain legal status. As a Black woman who worked in a medical dispensary herself years ago, she recognizes the importance of knowing "how the system works and what we need to do to get in here." She also noted it remains hard to get loans from banks for cannabis companies, and especially so for a person of color. That's where a service like Success Centers becomes important. It's also why Black entrepreneurs giving back to the community becomes crucial—even if it's just as role models for success.
Though those models exist, the number of Black-owned cannabis businesses still lags behind white companies. Few states maintain publicly available information on the racial make-up of the estimated 30,000 to 40,000 cannabis companies in the country, but according to the most recently documented findings by Marijuana Business Daily in 2017, only 4 percent of cannabis companies were owned by African-Americans. The publication, considered an authoritative voice on the cannabis business, also noted at the time of the study that the number of businesses with owners who identified themselves as minorities was around 19 percent. This number included not only the 4 percent who self-identified as African-American, but 5.7 percent who were Hispanic/Latino and 2.4 percent that were Asian. There were an additional 6.7 percent who said their race was "other," which could indicate that some people said they were of mixed race or were Black but not of African descent.
Nevertheless, there are companies looking to shift the ever-expanding industry from remaining overly white. More Black-owned cannabis businesses are opening throughout the country while others have enjoyed enough success to expand, some even during the pandemic. Some are cannabis producers like Colorado-originated Viola, or dispensaries like Massachusetts' Pure Oasis and Maryland's Mary & Main. Black entrepreneurs are also developing tech-centric cannabis businesses like Ardent, which just released the portable Ardent FX device that works like an "Easy-Bake Oven" for creating self-made cannabis edibles and tinctures.
"One thing that we pride ourselves on is not only being successful Black entrepreneurs, but being able to show others how we did it," said Marie Montmarquet, who, along with Allen Hackett, co-founded MD Numbers, a large, California-based cultivation farm, distribution and delivery company that had its most prosperous year to date in 2020. "We're making sure that we're not just participating as bud tenders, but really able to be owners in this industry that we've spent years fighting for and risking our lives for. Alan and I have both been to jail for cannabis before, so we definitely speak to this not from a perception, but a fact that we've lived."
Montmarquet and Hackett both discussed the importance of representation in helping inspire and inform other people of color to enter the cannabis industry. Also aiding in this mission are celebrities such as Mike Tyson, who started the cannabis company Tyson Holistic in 2016 and who is working on opening a luxury weed resort, and Jay-Z. The latter not only launched his own marijuana brand, Monogram, in 2020, but also set up a $10 million fund for minorities looking to start their own marijuana-related businesses, with investors like Rihanna, DJ Khaled and Meek Mill. In a recent interview with The Wall Street Journal, Jay-Z said of the fund: "I wanted to do something in a real, concrete way, where I do my part."
Perhaps the main obstacle to entering the industry is one that's common across all business fields: ownership. While places like Oakland's Oaksterdam University offer all manner of training for marijuana jobs, opening a business means renting or buying a building for a dispensary, or raising the substantial capital required for buying enough land to cultivate the valuable crops.
"When people find out that you want to start a cannabis business, the rent per square footage often triples," White said, describing the cost difficulties that exist in addition to securing bank loans. (While some rent increases may represent landlords seizing on the profitable businesses, there are also legitimate concerns for building owners about unpaid rent, should the ever-shifting licensing policies cause a cannabis operation to be shut down.) This is why White hopes that states will ease up the high taxes on growing cannabis, as well as provide more funding and grants for those trying to get started in the industry.
The cannabis industry itself has also become intrinsically tied to social justice. Andrew DeAngelo, a long-time leader in the legalization effort, founded the Last Prisoner Project in 2019, and recently told Newsweek that the nonprofit's "mission is to get all cannabis prisoners out of jail, their records expunged and help them re-enter into the workforce and society." He also noted that most of the money they've raised has come from cannabis businesses. One notable partner of Last Prisoner Projects is Justice Joints, a marijuana brand that claims to donate 100 percent of its profits to social equity and expungement efforts.
Anyone looking to support Black-owned cannabis companies can turn to Cannaclusive's comprehensive database. Cannaclusive, a group that works to promote diversity in the cannabis industry, keeps track of companies that are Black-owned, as well as those owned by other ethnic groups, women, people from the LGBTQ+ community and people with disabilities.
As Angela White told Newsweek, there are plenty of money-making opportunities for those who want to work in the world of cannabis. She remarked that sharing resources is a personal mission for many, including herself. "Cannabis doesn't have a color," she said. "Cannabis users don't have a certain color. It's a very diverse group of people, including people with ailments, and people who are using cannabis to actually survive. She's just such a beautiful plant, and she's just so warm and welcoming. She's about healing and unifying."