'Black Panther Challenge' Creator Launches 'Caucasian' Campaign Against Redskins Logo
The man who launched the Black Panther Challenge campaign has now taken on one of the most controversial topics in U.S. sports.
Frederick Joseph's target this time was the Washington Redskins name and logo, which has long been the subject of heated debate.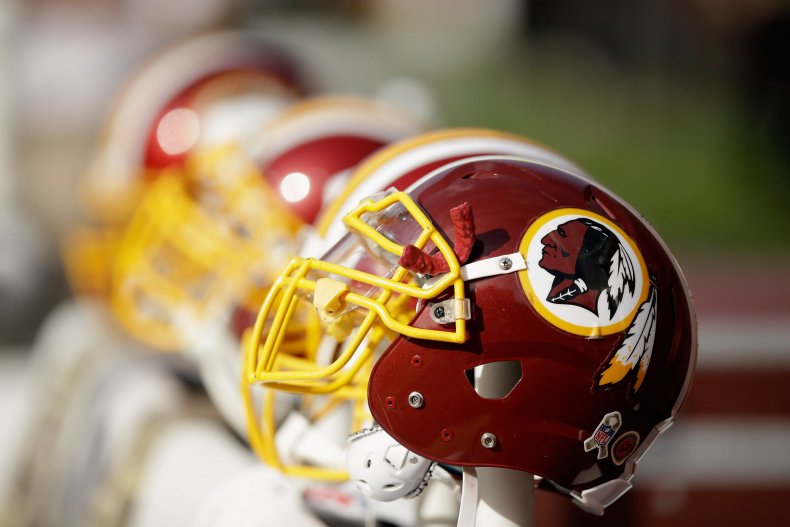 Joseph took to the streets of New York wearing a T-shirt featuring a mock-up of the logo, with the profile of a Caucasian man replacing the Native American that adorns the National Football League's franchise's logo.
The message was further enforced by the placement of the word "Caucasian" underneath the logo.
While the #BlackPantherChallenge campaign was intended to help underprivileged kids see the blockbuster Marvel movie (it raised almost $1 million), Joseph's newest campaign met with a different reaction.
Joseph detailed the response in a long Twitter thread he posted on Tuesday, admitting he was surprised by people being "as trash as they were." The stunt, which he said was intended to highlight the hypocrisy of racist logos met with insults by passerby who mistook the T-shirt for a real club item.
One white woman, he said, told him that wearing the "Caucasian" logo was disrespectful but that she found nothing wrong with the "Redskins" logo.
The subject of logos has been a long-standing issue in American sports. Aside from the Redskins, the Cleveland Indians and the Chicago Blackhawks also include references to Native Americans in their name and logo.
In January, however, the Cleveland Indians announced it would remove Chief Wahoo from its logo beginning in 2019, putting the Washington-based franchise under pressure to follow suit.
"Cleveland's decision should finally compel the Washington football team to make the same honorable decision," a statement from the Change the Mascot campaign in the aftermath of the decision read.
"For too long, people of color have been stereotyped with these kinds of hurtful symbols—and no symbol is more hurtful than the football team in the nation's capital using a dictionary-defined racial slur as its team name.
Dan Snyder, owner of the Redskins, quickly made it clear that he had no such intentions, and NFL Commissioner Roger Goodell said he did not expect Snyder to change his stance.
"Dan Snyder has really worked in the Native American community to understand better their perspective, and I think it's reflected mostly in a Washington Post poll that came out in [May 2016] that said over nine out of 10 Native Americans do not take that in a negative fashion, the Redskins' logo or the Redskins' name, and they support it," Goodell told ESPN's Mike Golic and Trey Wingo.