'Black Panther' as Best Picture? Disney Has High Hopes for the Hero from Wakanda
It has been less than a week since the 90th Academy Awards, but Walt Disney Studios is wasting no time preparing for next year's Oscars season. And by the sound of it, they have big plans—and big hopes—for Black Panther.
Ryan Coogler's film—which stars the likes of Chadwick Boseman, Lupita Nyong'o and Michael B. Jordan—opened February 16 and has shattered box office records. Earlier this week, it passed the $516 million mark to become the ninth biggest domestic release ever. (Watch out, Rogue One and The Dark Knight.) It has also made more than $930 million worldwide and found massive critical acclaim: it holds a 97 percent on Rotten Tomatoes and 88 percent on Metacritic. And it's the first Marvel movie since The Avengers to get an A+ grade on CinemasScore.
As great as all that is, Disney has another goal in its sights: Best Picture.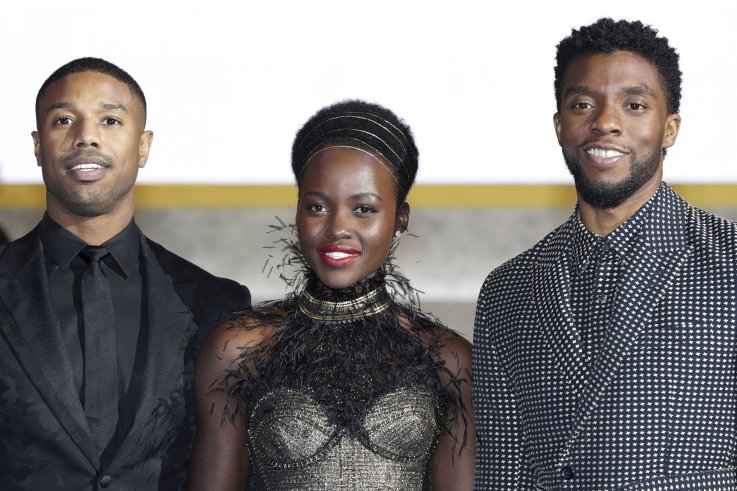 At an Oscars after-party Sunday, Deadline reporter Pete Hammond learned of Disney's intention to push for a Best Picture nomination for Black Panther. "A top Disney exec told me— flat out—that they would be campaigning not only Black Panther for the big prize but also the upcoming Mary Poppins Returns (from director Rob Marshall), which he was raving about, particularly for star Emily Blunt, who he says knocks it out of the park," Hammond reported.
Mary Poppins Returns, which opens on December 25, stars Emily Blunt as the titular magical nanny, a role that previously won Julie Andrews an Academy Award in 1965. The new film's release date puts it more in line with the idea of an "Oscar film," and the original was nominated for Best Picture in 1965.
Black Panther, however, is a different story. Films released in February typically don't get much Oscars love. (The Silence of the Lambs, released on Valentine's Day 1991, and Get Out, released February 24, 2017, are the rare exceptions: Lambs won Best Picture, Get Out was nominated.) And then there's the fact that no superhero film has been nominated in the top Oscar category. But if any film can break through, it's Black Panther.
Hammond also spoke with Dunkirk filmmaker Christopher Nolan, and the Oscar nominee predicted that Black Panther, at the very least, would receive a Best Picture nomination. Early predictions from critics also speculate Black Panther has a shot at securing nominations in other top categories, including Best Adapted Screenplay, Best Director and Best Original Song for Kendrick Lamar's "All the Stars," which features R&B singer SZA.
The 91st Academy Awards are scheduled for February 24, 2019, and a lot can happen between now and then. But if nothing else, the massive success of Black Panther has shown not to underestimate the hero from Wakanda.
'Black Panther' as Best Picture? Disney Has High Hopes for the Hero from Wakanda | Culture