'Black Panther' Succeeds As Urban Utopia: There Are No Cars In Wakanda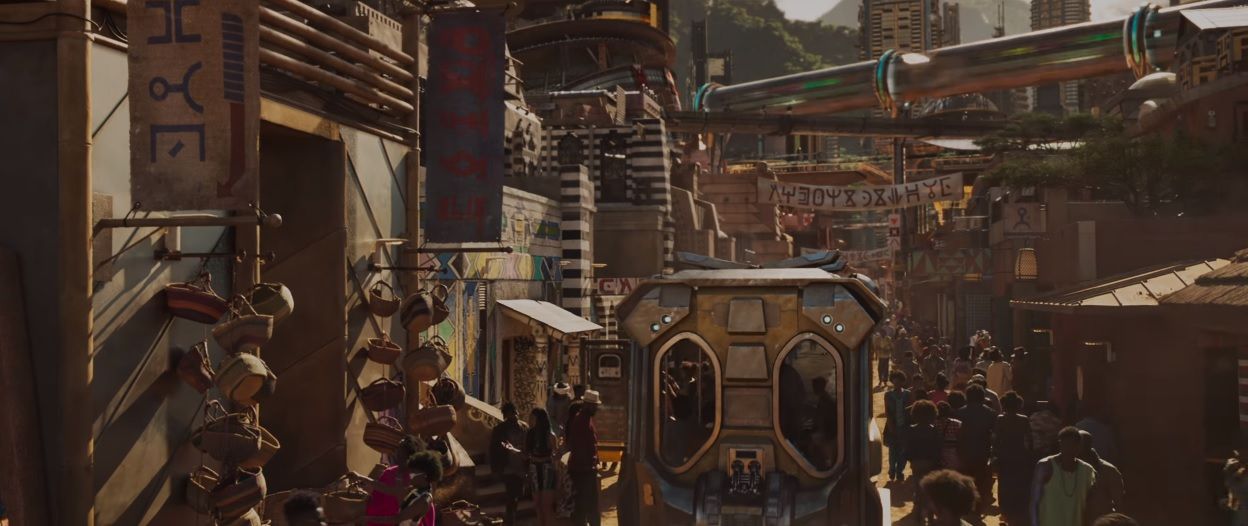 Update | Here's a Black Panther spoiler that won't spoil anything: Every American commuter who sees the movie is going to wish he or she was living in Wakanda.
Wakanda, of course, is the titular hero's utopian homeland in Marvel's latest—and (not stretching here) greatest—superhero film. Ticketbuyers and critics are loving the movie's action and political message, but the the film offers urbanites an even more compelling subtext: Our cities are better without cars.
In Wakanda, that means small shuttle buses; narrow, pedestrian-friendly streets that encourage browsing and conversation; and multiple monorails and elevated trains that look like a cross between Seattle, Chicago ... and the year 2550.
King T'Challa not only saved his African nation from a villain, he is saving his people from traffic, smog, lost productivity and rage thanks to his glistening mass transit systems and car-shunning streetscapes.
It's no wonder that urban design nerds are cheering the look and feel of Wakanda—especially those who leave the fantasy world of the theater and enter the cold (or, in summer, sweltering) reality of their decrepit local subway.
"If only Atlanta had Wakanda's great mass transit system," tweeted author Daren Wang, speaking for millions.
On Wednesday, former New York City Department of Transportation Commissioner Janette Sadik-Khan also tweeted her support for a Wakandan future, "Black Panther is one of the first movies to get urbanism right, with a transit-friendly, walkable Wakanda. The future will more likely have active streets, not just flying cars," she posted, linking to a classic nerd-chic piece from CityLab, that was headlined, "The Attainable Wonders of Wakandan Transit."
The story shrugs the inevitable shrug of the urban commuter: "Why can't real people have Wakanda-style transportation options?" But if Black Panther shows us anything, it's that we don't have to merely grouse; we can do better. We can watch as King T'Challa directs some of his nation's vibranium-mining riches to mass transit, so why are we not in the streets (watching out for cars, of course) to protest President Donald Trump proposed 13-percent cut in federal transportation expenditures after nearly a decade of mostly flat budgets?
We don't have vibranium, but there's no reason America can't have better systems that free us from the staggering death counts—37,461 people were killed in crashes in 2016—and misguided urban design and sprawl that stem from a car-centric culture.
"Wakanda ... pushes dense development (with a conspicuous lack of private cars) to its hidden interior," Laura Bliss wrote in the CityLab piece. "The U.S. is urban too, with more than 80 percent of the population living in urban areas. But the distribution of political representation, and hence the dollars, favor rural areas."
Black Panther isn't the only film that shows us that the future is car-free. Remember Americathon, the 1979 film with Peter Riegert and Harvey Korman? In that classic, people actually live in their cars, then bike to work—though it was played a bit as a post-apocalyptic thing (watch the opening to see Los Angeles freeways jammed with people instead of cars).
In Her, director Spike Jonze and production designer KK Barrett intentionally left the cityscape void of automobiles, creating functioning train systems that seamlessly and efficiently transport urbanites wherever they need to go (the first Hunger Games film presented the same transit utopia).
"We chose to avoid cars as part of downplaying technological hardware change," Barrett told Newsweek. "The story was focused on the software interacting with a human. ... Future technology ... would be distracting to our character's plight. Everyone is so hungry for what the future will be, they didn't notice we showed them with the 'present.'"
Granted, Barrett's choice was driven more by style than politics, but the result is the same: people want to commute in Wakanda or in the Los Angeles of Her and not in the cash-strapped underground hells in which we are currently imprisoned.
"The most revolutionary thing about Black Panther is its city," Charles Mudede wrote in The Stranger. "The whole idea of private transportation is foreign to this fictional society. If this black African capital has anything to share with the world, it's its city planning."
But Black Panther does not have to be fiction—well, except for the killer rhinos. Let's leave them in Ryan Coogler's imagination.
Story was updated to include a reference to Americathon, because, well, you never want to leave out Americathon. Also, the story includes a new interview with Barrett.