Fiancé Diving in Pacific Ocean to Find a Pearl for Engagement Ring Praised 
A video of a woman explaining how her husband chose her engagement ring has gone viral on TikTok with over 8.1 million views.
In the video, 24 year old Ivana Cook explains that she has always dreamed of a Tahitian pearl as an engagement ring, so her husband went to Tahiti to dive for a pearl.
The footage shows a man diving in a snorkel mask roughly a few meters down, pulling a cage up to the surface.
The caption reads: "Let's talk about actions speak louder than words."
Tahiti is the largest island in French Polynesia, the South Pacific archipelago. Tahitian pearls come from the warm waters there and grow only in the black-lipped oyster, and they are the only pearl to achieve black body color naturally.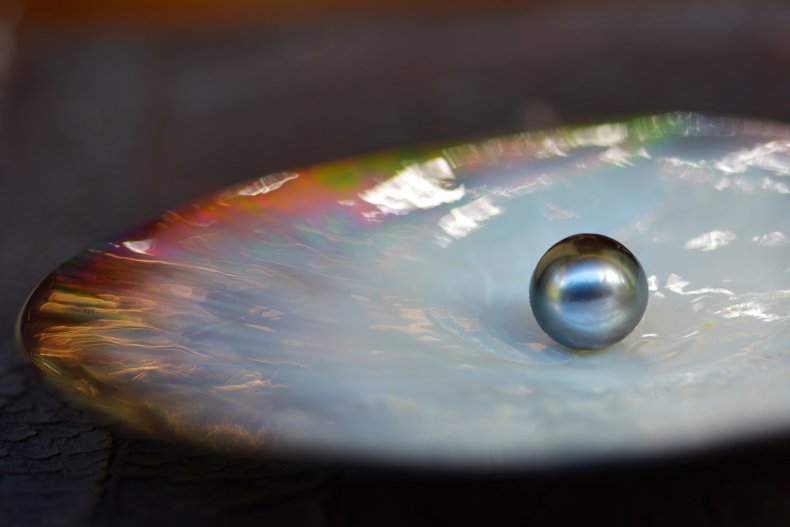 According to The Pearl Source, Tahitian pearls can cost from $500 to more than $25,000 depending on their size and quality, and they are considered to be the second-most valuable commercially farmed pearls in the world.
Newsweek spoke to Leon Rbibo, CEO of The Pearl Source, the largest importer and online seller of Tahitian pearls in the United States.
Ms Cook explains in the video that her husband went into the water to "dive for" her pearl in a romantic gesture. Mr Rbibo claims that this is where "fantasy and reality blends together," explaining that in reality "Tahitian pearls are cultivated deep in lagoons and require special divers who can hold their breath for many minutes to dive and retrieve the oysters from the cages they are stored in to grow pearls."
He goes on to explain that "the farmers in Tahiti raise some of these oysters that have pearls ready to be extracted and create a curated 'experience' for the tourist where they can go and retrieve the oyster themselves. The pearl that is found is not a rare pearl that was randomly discovered in Tahiti, it's a cultivated pearl that was intentionally 'found' by the man in this video."
Cultured Tahitian black pearls are a large business in French Polynesia and the controlled way in which they are bred is similar to how they would grow in the wild, but their production is more tightly controlled, meaning size and quality can be guaranteed, and they are more affordable.
In a follow up video, Ms Cook reveals the large black pearl ring, and claims that "pearls are actually super durable, especially when the are super old, and mine is actually 12 years. He got really lucky, because its grade A for circumference and imperfections."
"Even is this fell off even if it broke I would we're going to make it a tradition to take our daughters and sons in the future to go get their own pearls...so I know if I lost it, we'd go do it again."
Mr Rbibo says when purchasing pearls from any established and reputable farm in Tahiti, "the chances of the pearl cracking or scratching are highly unlikely. The chances of it falling off are not determined by the quality of the pearl but rather the mounting that is holding the pearl."
He goes on to say that pearls are gemstones and considered extremely durable, and comments that pearl in the video "appears to be approximately 11-12mm in size, which lines up with Ms Cook's claim that it is about 12 years old.
"The quality of pearl is determined by multiple factors, including shape, surface and luster. The shape of this pearl can be determined to be high quality in the video however, the luster does not appear to be in line with an A quality pearl, but there are no high resolution close up shots of the actual pearl that would allow me to conclusively determine that."
Cheyenne Oblivion said: "How many times a day do I need to be told I'm poor."
Renny commented: "Yess! I'm Tahitian and our pearls are definitely one of a kind! I have tons lol."
Everybodyhateslucy reacted: "My husband did the same! We both grew up around the ocean and it's all I ever wanted. So happy for you!!!"
Newsweek has reached out to Ivana Cook for comment.