Black People Should 'Exercise Caution' When Flying American Airlines, NAACP Says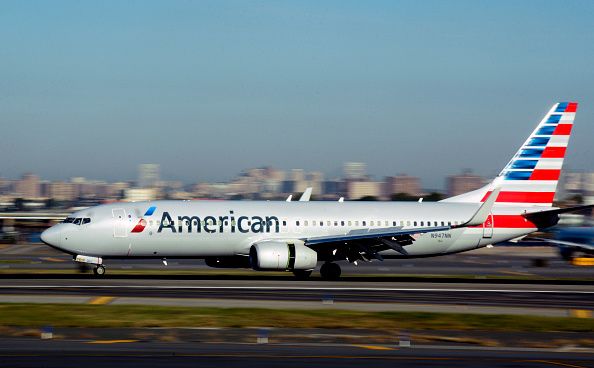 Black passengers on American Airlines are victims of a "corporate culture of racial insensitivity," the nation's leading civil rights group charged Tuesday as it issued a rare travel advisory about the "troublesome conduct" of airline employees.
The NAACP travel warning did not call out any other airline, but cited several instances that typify "possible racial bias on the part of American Airlines."
The group cited four allegations:
* A black passenger was asked to give up his seat on a flight from Washington, D.C. to North Carolina after he responded to some white passengers who were saying "disrespectful and discriminatory comments directed toward him," the group said.
* A black woman's seating assignment was allegedly moved from first-class ticket to coach while her white flying companion remained in their first class seat.
* On a flight to New York from Miami, the pilot allegedly ordered a black woman to be removed from a flight after she complained to the gate agent about the company changing her seat without her consent.
* A black woman and her child were removed from a New York-to-Atlanta flight after "she was asked that her stroller be retrieved from checked baggage before she would disembark," the group said.
The NAACP said the "pattern of disturbing incidents" has occurred over several months and was "specific to American Airlines."
In light of these confrontations, we have today taken the action of issuing national advisory alerting travelers—especially African-Americans—to exercise caution, in that booking and boarding flights on American Airlines could subject them disrespectful, discriminatory or unsafe conditions," the statement read.
American Airlines said it is committed to making sure all passengers feel comfortable.
"Our team members — a diverse community of gate agents, pilots, and flight attendants — are proud to serve customers of all backgrounds," said American Airlines spokeswoman Shannon Gilson. "Every day, American is committed to providing a positive, safe travel experience for everyone who flies with us.
"With that said, we understand there is more to do." Gilson continued, inviting NAACP reps to American Airlines headquarters to "meet with our team."
This is not the first time a civil rights organization to exercise caution when buying tickets or boarding flights from a specific airline. The National Council of Asian Pacific Americans others banned together to write a letter to Southwest Airlines urging the company to review their policies after they were accused of racially profiling Arab, Muslim and South Asian passengers.
The Council's letter was a response to Southwest Airlines removing a Muslim student from a flight from Los Angeles, California to Oakland, California after a passenger on the plane reported him for speaking Arabic during a phone call before the flight took off.
The NAACP's travel advisory is effective as of Tuesday and will last indefinitely, the organization says.