Conversations about racial disparities allow us to refine our national character, but one disparity has been met with almost absolute silence: the impact of abortion on minority communities. By Friday, a federal judge is expected to decide whether pro-life advocates can break that silence.
Although the phrase "Black Lives Matter" is emblazoned in permanent paint on Washington D.C.'s streets by order of the D.C. government itself, the same local government has prohibited pro-life advocates from painting the message "Black Preborn Lives Matter" in temporary paint. The D.C. government even allowed protestors to paint "Defund the Police" right next to its own public speech. Participants in an August free speech event cohosted by Students for Life of America and the Frederick Douglass Foundation were not only prohibited by police to paint; two were arrested for chalking our message on the public sidewalk.
Our organization received a permit this week from the Metropolitan Police Department, which notes that while a few pro-life activists are allowed to meet this Saturday, they are "not authorized or permitted to paint, chalk, or mark in any manner the street or sidewalk." The forthcoming ruling will further unpack whether the government in Washington D.C. can engage in viewpoint discrimination, effectively censoring some opinions while giving protections to favored speech.
"The right to free speech is for everyone—not just those in power," notes Alliance Defending Freedom attorney Elissa Graves, who is part of a team handling the case. "We are waiting for the court to step in and protect [pro-life activists] from further discrimination."
Washington D.C.'s viewpoint discrimination is particularly bewildering given the similarity of the two messages the district weighed in on: "Black Preborn Lives Matter" and "Black Lives Matter."
It seems like a single adjective—preborn—moves a phrase from celebrated to censored. But how can Black children, Black men, Black women and Black elderly people matter fully if their lives don't matter from the very beginning of their existence? A person's value should not be determined by location, income or age.
It's also possible that groups like Planned Parenthood—which, perhaps not coincidentally, are longtime fixtures in heavily minority cities like Washington D.C., New York City and Baltimore—have a vested interest in Black lives not mattering when they can be targeted for profit. Consider that in New York City more Black babies were aborted than born alive. This why Students for Life has been confronting corporate abortion in city after city.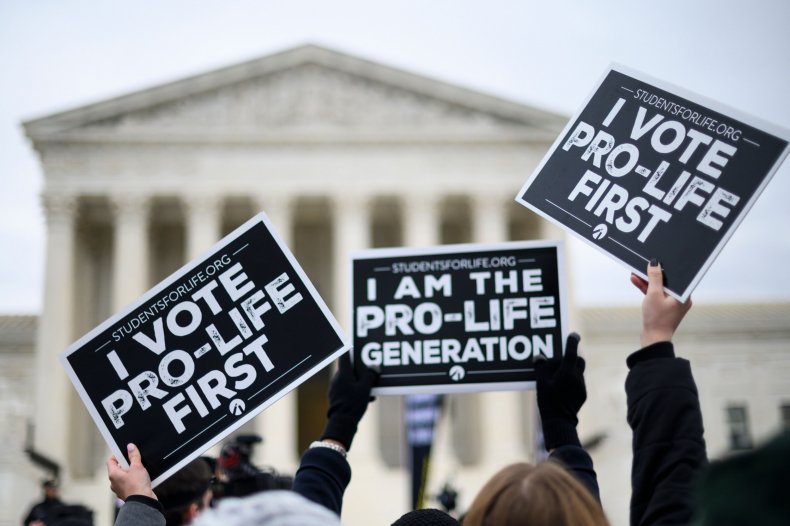 The nationwide loss of Black lives to abortion is extraordinary. While Black individuals make up 13 percent of the U.S. population, Black women undergo 38 percent of the nation's abortions. With the Black fertility rate well below replacement levels, there is no doubt that abortion violence is threatening the very existence of Black America.
Too many of our cultural and political leaders have either turned a blind eye to the lives of Black preborn children or taken an openly antagonistic position toward efforts to end abortion violence. Democrats have inexplicably condemned as "racist" the longstanding, bipartisan budget provisions prohibiting taxpayer funding of most abortions. President Biden's executive branch nominees boast extreme abortion views compared to the nuanced views of mainstream Americans. Take recently confirmed Health and Human Services Secretary Xavier Becerra, who has spent his career attacking pro-life Americans. Or Shalanda Young, who characterized funding abortions through Medicaid as "a matter of economic and racial justice."
And it isn't just government. Universities—once bastions of free expression and safe spaces to engage in the contest of ideas—now protect certain ideas to the exclusion of others, leading students to feel scandalized when their beliefs are challenged by the very existence of an alternate viewpoint on campus.
Consider the recent reaction to my (Toni's) planned speech "Is Abortion A Black Issue?" at Emory University. The speech was postponed after "Black women at Emory University School of Medicine" wrote an outraged letter to the school community characterizing my pro-life position—as a Black woman—as "sadistic, unjust, and detrimental." The authors felt so threatened by the very possibility of an opposing viewpoint on abortion in the Black community that they issued their scathing condemnation without even hearing what I had to say.
Viewpoint discrimination shuts down the very possibility of conversation. The consequent inability to discuss our ideas eliminates the possibility of finding common ground, leading only to division.
The issue here is constitutional fairness. Actors, artists, politicians and CEOs have the liberty under the First Amendment to voice support for abortion or omit preborn children from their activism. But governmental entities engage in unconstitutional overreach when they seek to bar pro-life citizens from expressing the position that all Black lives matter, that abortion is violence and that the Black preborn child deserves protection.
The rights of pro-life citizens to make such declarations are not eliminated just because there are those who don't want to say the same things. It matters that pro-life activists be allowed to paint on the streets of Washington D.C. just like BLM activists—not just because our message matters, but also because our freedom matters.
Kristan Hawkins is president of Students for Life of America and SFLAction, with more than 1,250 groups in all 50 states. Follow her @KristanHawkins and subscribe to her podcast, Explicitly Pro-Life. Toni McFadden serves as Minority Outreach and Healthy Relationships Director with Students for Life of America and is an international speaker and founder of the programs Pro-Life speaker and Relationships Matter.
The views expressed in this article are the writers' own.