Black Sailor Finds Noose Hanging From His Bed on Warship, Investigation Launched
The U.S. Navy has reportedly launched an investigation after a Black sailor found a noose hanging on his bed aboard a warship.
The sailor found the noose on his rack on the guided-missile cruiser USS Lake Champlain on January 26 last week, according to the San Diego Tribune.
The publication cited a navy official saying that a sailor based in San Diego has been removed from the ship and is facing an investigation after admitting to the Navy Criminal Investigative Service (NCIS) that he had left the noose there as a joke.
The official reportedly said the ship's leadership had been investigating the incident when the NCIS received an anonymous tip and launched its own probe.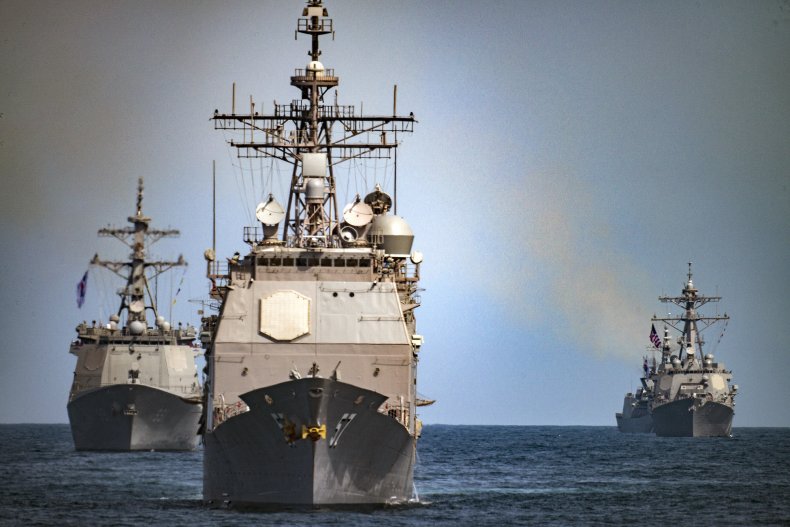 The Tribune's source reportedly said NCIS agents found this suspect after questioning crew members over the weekend.
Navy Surface Forces Pacific spokeswoman Cmdr. Nicole Schwegman told the publication that an object that resembled a noose was discovered although she made no further comment on the details of the case.
She said: "NCIS is investigating an incident aboard USS Lake Champlain (CG 57) where an object resembling a noose was found in a berthing area. The Navy takes all allegations of Sailor misconduct and racial discrimination seriously. Due to the ongoing investigation, we will not provide further comment."
The Tribune reported that no charges had been filed as of Tuesday and the planned trip to leave the city had to be postponed by several days due to the investigation.
It comes just as the Navy released its major report on race, diversity and inclusion among its ranks on Wednesday.
The inquiry from Task Force One Navy was launched last summer during the Black Lives Matter protests across the country.
The U.S. Naval Institute (USNI) said the task force announced 50 recommendations on how the navy could become a more inclusive institution on Wednesday.
Service officials said the report outlines suggested changes to recruitment processes and how to create more opportunities for women and minorities—especially in the officer ranks.
U.S. Chief of Naval Operations Adm. Mike Gilday said: "We stood up 'Task Force One Navy' to identify and remove racial barriers, improve inclusion efforts, create new opportunities for professional development, and eliminate obstacles to enter the Navy.
"We have fallen short in the past by excluding or limiting opportunity for people on the basis of race, sexual orientation, sexual identity, gender or creed. Our Navy must continue to remove barriers to service."