Black Teacher Praises Red Lobster Creator for Standing Up to Jim Crow
The late founder of Red Lobster was a businessman who refused to obey Jim Crow laws, achieving success and a special place in history among Black Americans.
That was the lesson provided by Black history teacher Ernest Crim III as part of his TikTok series, "Crim's Black History Field Trips." The Red Lobster edition was number 17 in the series and has garnered over 1.6 million views.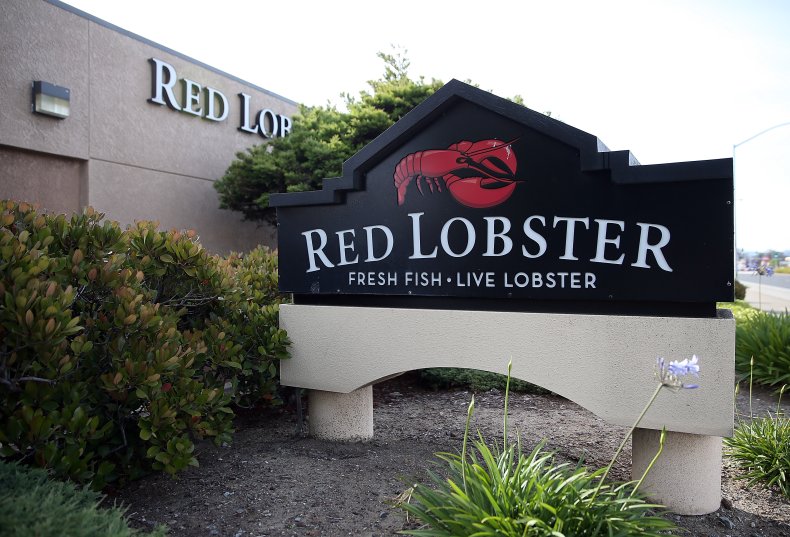 Crim stuck his head through his car window to reveal he is in the parking lot of a Red Lobster, which he says is "known for them cheddar baked biscuits and...red lobster."
But the restaurant should be known for its founder, Bill Darden, Crim argued.
Born in 1919, Darden opened his first restaurant, the Green Frog, in 1938 in Georgia amid the Great Depression. At the same time, racial segregation was widely occurring due to Jim Crow laws in the South from the end of Reconstruction to the mid-20th century.
"The Green Frog was opened in a state that enforced Jim Crow laws," Crim says in the TikTok. "But Bill refused to comply. He allowed his Black and white customers to sit where they wanted. So technically, as an outspoken public ally, he risked being lynched. But he survived and his business was profitable and lucrative."
In 1968, Darden, who used his profits from the Green Frog to invest in Florida-based chain restaurants and Howard Johnson properties, eventually opened the first Red Lobster restaurant in Lakeland, Florida. Rare reported that the location "was so popular that one month later he had to open another one to keep up with the demand."
Darden opened four more locations before General Mills got interested and offered to purchase the brand. Upon the buyout, it made Darden a company executive, leading to the opening of now-famous restaurant chains like Olive Garden.
Darden Restaurants, Inc. is currently headquartered in Orlando, Florida, and owns and operates numerous restaurant chains, including Eddie V's, The Capital Grille, Olive Garden Italian Restaurant, LongHorn Steakhouse, Bahama Breeze, Seasons 52, Yard House and Cheddar's Scratch Kitchen.
The restaurant group lost ownership of Red Lobster in July 2014. Darden died in 1994 at age 75.
"Wow. You can stand up for what's right and still be successful," Crim says at the end of the clip.
Comments on the TikTok video from African Americans express appreciation for the video and Darden, including some saying they are glad to know the history because they grew up with the restaurant.
"all those people who say 'it was a different time ppl didn't know better'--they knew better," one person said.
"I'm never trash talking red lobster or Olive Garden again," another commented.
Some used Darden's story from nearly 80 years ago as a commentary for today's world.
"Say that last part a little louder for all those companies that won't stand against racism," one commenter said.
"Love this vid at the end that statement let's not forget tho there was a many white brothers and sisters who died doing the right thing," another remarked.
Other videos in Crim's Black history TikTok series have explored ties between Rosa Parks and Little Caesars, Denny's and Jim Crow laws, and segregated cemeteries in Texas.