Nebraska Police Detain Black Teen Shoveling Snow In Mistaken Identity Case, Facebook Post Stirs Local Controversy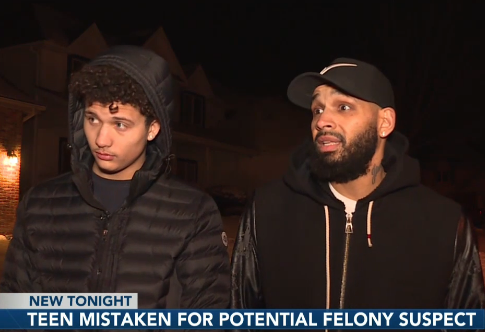 A black teenager in Papillion, Nebraska, was detained in a police cruiser by authorities as he walked house-to-house volunteering to shovel snow off driveways in what authorities are calling a case of "wrong place, wrong time."
Papillion police said they received a call from a woman who claimed a man was calling her names through her front door and was allegedly trying to break through her screen door using a brick Monday evening, WOWT-TV first reported. Police began canvassing the area looking for the suspect she described as "a black male in a dark, puffy winter coat." Investigators found Jamar Adams, 17, one block away in winter gear matching the description and footprints trailing back to the female caller's home.
A Facebook post from a man who had just paid Adams to shovel his driveway detailed the Monday incident, prompting police to explain how they'd mistaken the teen for a suspect in the nearby felony attempted robbery call. Adams's father, Jamar Adams Sr., told WOWT-TV police "improperly handled" their investigation.
The teenager told police he'd been ringing doorbells in the neighborhood and asking if residents wanted their driveways shoveled following a snowstorm earlier in the evening, WOWT's Anastasia Champ reported. "All I did was go up to the door and ask if I could shovel. I didn't touch anyone's door. I just rang the doorbell," Adams explained.
Adams was placed in handcuffs and placed in the back of a police car for more than 30 minutes as he explained the circumstances. A nearby neighbor posted details about the incident to Facebook, which police said helped to exonerate Adams.
"A young person of color, a kid really, was detained in front of my house by the Papillion Police Department last night," began the nearby male homeowner's Facebook post that sparked community debate. "I want to say right away, it appeared that they treated him with respect in their interactions and this post is not intended to slam the PPD. This kid came to my door and offered to scoop my sidewalk and driveway for me, and when I asked how much he wanted for it, he let me set the price. He was polite and got right to work. A few mins later my dog started barking at the window and I went to go see what was going on, and there was no sign of the kid and there was a police car sitting across the street. My first thought was 'hold on, it isn't going to be illegal to pay a kid to scoop your driveway is it?' So I put my coat on and went outside to ask the officer what was going on. As I approached the car I noticed that the kid was in the back seat."
Adams's father told the local Omaha news outlet he's thankful for the man's Facebook post: "I'm glad that he stepped up because a lot of people don't. They're scared to say stuff and post stuff to social media to let people know. I was glad that he did that."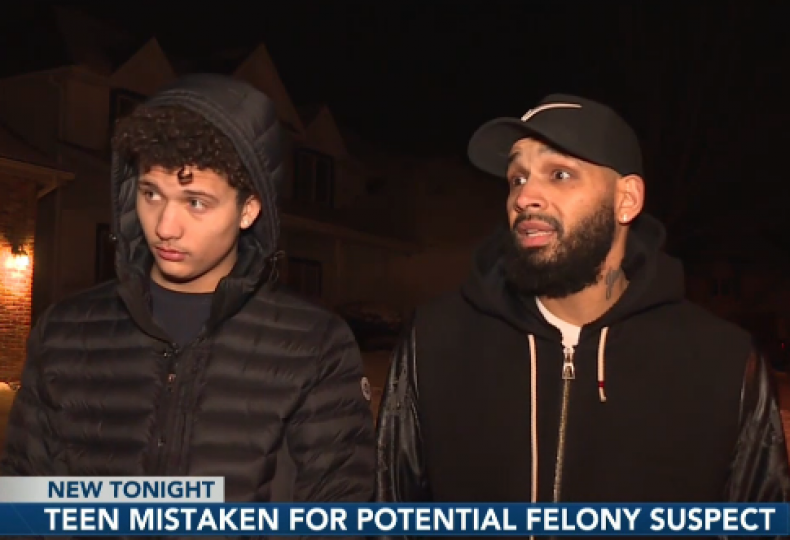 Police told the man an attempted breaking and entering was reported in the area and they'd simply followed the alleged suspect's footsteps to his house.
"[The investigation] was improperly handled [by police] because had they gotten out and properly investigated and saw the yard he was shoveling and talked to the neighbor, it would've ended there," Adams's father added.
Papillion Police Chief Scott Lyons explained there was no racial element to the investigation and responding officers followed protocol in trying to identify the still-at-large alleged suspect who was reported by the female caller nearby.
"[The] description we were given by the victim was a black male in a dark, puffy winter coat," Lyons said.
"I don't want this young man to have negative contact with law enforcement and feel like that's going to be the rest of his life because it's not," Chief Lyons said. "He did nothing wrong. He was at the wrong place at the wrong time, and we really appreciate the fact that he was very cooperative. He actually helped out a little bit."
Police spoke with Adams's family members and engaged with the Facebook post itself as Lyons said the incident could serve as a teachable moment on community interaction and how law enforcement is expected to respond to such calls. "I think it's very important for people to comment about their community, and I think it's a very healthy conversation when it comes to what police do and how we go about our business."
But Adams's father maintained police should have communicated with his son in a more proper fashion Monday evening. Commenters on Facebook concurred with Adams's father, inquiring about the potential racial elements that factored into a call about a generic "black male in a winter coat." Local residents on social media criticized how the police investigated the incident despite the homeowner's Facebook post describing the respect with which officers treated Adams.
"They could've communicated with him differently, then spoke with the neighbors, then make their decision before they decided to do the handcuffing and putting him in the back of the car and all that other stuff," he said.
Incidents involving people of color being reported by seemingly fearful white members of communities have garnered a particularly high amount of national attention in the age of social media. Last May, a white woman in Oakland called police on a black family's barbeque in an incident that infamously got her the label, "BBQ Becky." Another alliterative nickname for a racially-driven event occurred in October as a woman dubbed "Crosswalk Cathy" called police in Portland, Oregon over a black couple's parking job.
And a white woman in St. Louis gained infamy in October after calling police on a black man entering his own apartment complex.