Black Texas Cowboys on Horseback Protest George Floyd's Death in Viral Video
Protesters took to the streets of Houston for George Floyd on Tuesday, and a number of protesters were seen riding on horseback.
Videos of the protesters on horses spread across social media, with many users pointing out that at least one was sporting a shirt that read, "Black Cowboys Matter."
"A group of about 50 trail riders has arrived, with at least one man wearing a "Black Cowboys Matter" shirt," wrote Twitter user Jasper Scherer, a Houston Chronicle reporter.
According to a tweet by NBC News' Mike Hixenbaugh, the black cowboy protesters were part of a Houston urban trail riding club called Nonstop Riders.
"God I love Houston. An urban trail riding club, Nonstop Riders, has just rolled up to the downtown protest. Here's Marcus Johnson of Houston's Fifth award, fist raised in the air. 'We're here representing for all our black brothers and sisters,'" Hixenbaugh wrote with a picture of one of the cowboys.
"Cheers rose up from the crowd as these dudes rolled up. Clip-clip-clip-clop," Hixenbaugh said, sharing a video of the protesters.
Elizabeth Findell of The Wall Street Journal posted another picture of the cowboys with a caption that read, "Protest Texas style."
"A few dozen people now arriving on horseback to honor the life of #GeorgeFloyd at tonight's rally in Houston," Priscilla Thompson of NBC News wrote, sharing a video of the cowboys marching with their fists up.
Rapper Lil Nas X, who is known for his cowboy-themed music videos, responded to the black cowboys with a tweet that read, "The time has arrived."
The protesters gathered in the streets of Houston, where Floyd grew up, to show their support following his death last week. Floyd was arrested on May 25 in Minneapolis after he allegedly used a counterfeit bill at a local Cup Foods convenience store and was pinned down by Minneapolis officer Derek Chauvin, who kept his knee on the black man's neck for several minutes. Floyd died shortly afterward.
In a number of videos on social media showing the arrest, Floyd can be heard repeatedly saying that he could not breathe.
Four days later, Chauvin, who is white, was charged with third-degree murder and second-degree manslaughter, but protests surged across the country in opposition to police brutality against black Americans.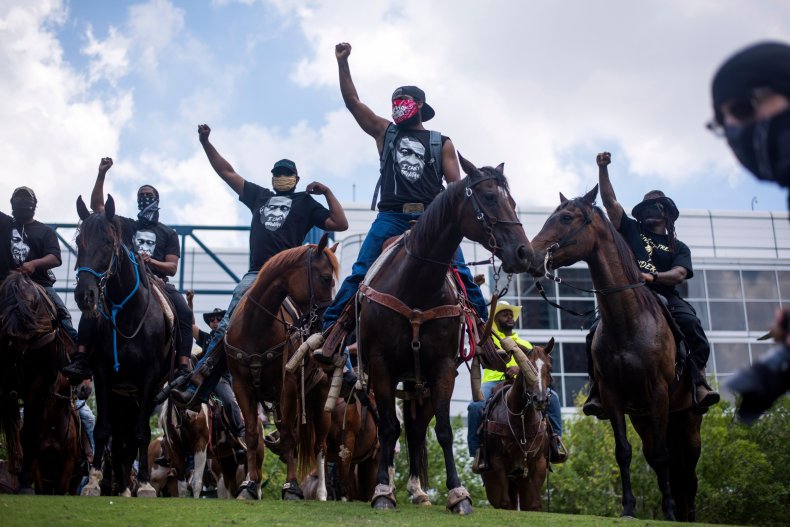 As some protests turned violent, many states were forced to impose a curfew or activate the National Guard to assist local police. On Tuesday, Texas Governor Greg Abbott became the ninth governor to turn down the use of federal troops to contain the protests, which President Donald Trump has proposed.
Newsweek reached out to Houston Mayor Sylvester Turner for comment on the Nonstop Riders but did not receive a response before publication.