The Bad News for Clinton out of South Carolina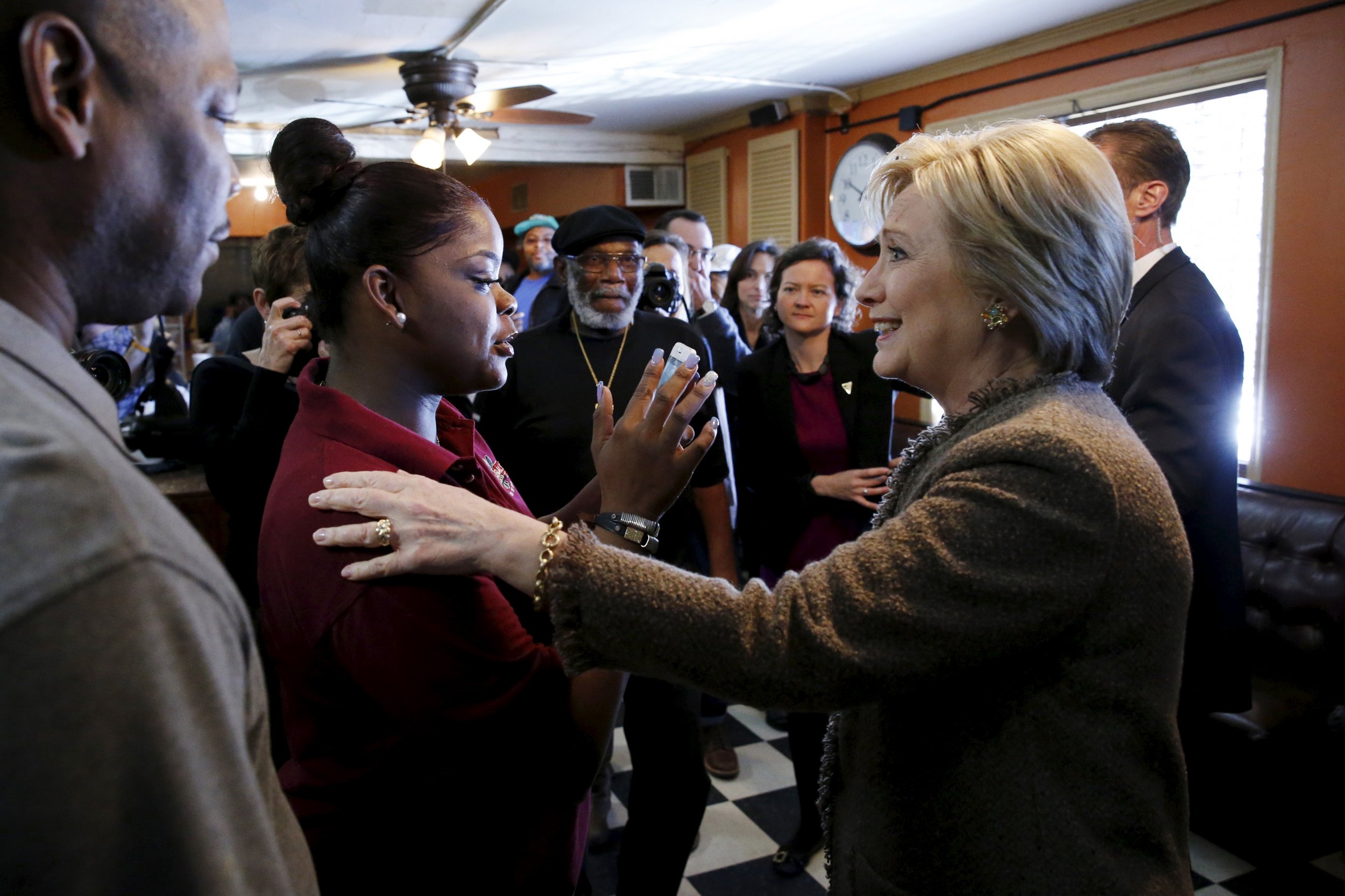 There's some bad news for Hillary Clinton amidst her dominating victory in South Carolina's "first in the South" primary Saturday. Clinton's pummeling of rival Bernie Sanders by 50 points overshadowed a worrisome data point for her campaign and the party come November: turnout among the state's heavily black electorate was down by nearly one-third compared to 2008.
Nobody expected the race between the white former secretary of state and white senator of Vermont to attract the same number of Democratic voters in the Palmetto state as the race between Clinton and Barack Obama eight years ago, when voters had the chance to make history by nominating the first black man for president. That year, more than 530,000 people voted in the Democratic primary, more than half of them African Americans.
But the 2016 Democratic nominee also cannot afford to see the kind of drop off in black votes that occurred in the 2010 and 2014 midterms, which saw Republicans surge into control of Congress. South Carolina was the first real test of how African American voters respond to the post-Obama era. And for Democrats, the outcome should come as a warning sign.
Although the exit polls showed black voters made up a larger proportion of the people voting in Saturday's primary (61 percent) compared to 2008 (55 percent), overall there were simply less people voting -- a lot less. The contest attracted less than 369,000 voters , down more than 160,000 from eight years ago.
That has major implications for Democrats' hopes in November. African Americans made up 13 percent of the presidential electorate in 2008 and 2012 and Barack Obama won more than 90 percent of that vote against a white, male Republican each time. That and a sizable edge with Hispanics helped the president offset double-digit losses among white voters and still win comfortably.
In all the polls leading into Saturday's election, Clinton held a sizable edge over Sanders, whose home state of Vermont is more than 90 percent white. Her double-digit lead in the polls, as well as the fact that Sanders virtually conceded the contest, spending most of the week campaigning elsewhere, may have dampened voters' motivation. In 2008, Clinton and Obama were running neck-and-neck and the emotions were running high. Former President Bill Clinton, Hillary's husband, seemed to suggest that Obama's campaign was based on "fantasy," which angered many black voters.
The drop off in number in 2016 also, however, appears to affirm warnings from some civil rights leaders, who say the candidates are still not connecting with black voters.
With Democrats' South Carolina primary and the 11 states voting on Super Tuesday, "we are going to begin to see the presence of people of color in big numbers at the polls," veteran civil rights activist Reverend Al Sharpton said Thursday in Washington, D.C. Speaking at the liberal think tank the Center for American Progress, Sharpton observed that "In the states that are going to decide the nomination and the general election, critical states like Florida, like Ohio, like Pennsylvania, like Michigan, all of those states have critical blocs of black and Latino voters. The question is whether they come out to vote and whether they stay on long lines to vote given impediments to vote."
For the Democratic campaigns relying on those voters, that means, "you've got to not only register them, you've got to inspire them."
Clinton has made a concerted effort to appeal to those voters, talking early and repeatedly about issues that are priorities to the black community. One of the first major speeches of her campaign focused on voting rights and Republicans' attempts to curb access to the ballot box. After an early faux pas last summer, saying "all lives matter" when talking about the #BlackLivesMatter movement, she's been outspoken about the need for criminal justice reform and problems of systemic racism. She was the first candidate to raise the Flint water crisis on the national stage, bringing it up during Democrats' Jan. 17 debate .
Yet her campaign has struggled to marshal the same enthusiasm that Sanders' supporters have shown, and certainly that Obama's coalition of supporters demonstrated four and eight years ago. Black voters could be her difference-makers on that front, but they're not there yet, even if they prefer her over the alternatives.
In Democrats' Nevada caucuses, which took place last weekend, turnout was down by about a third compared compared to 2008. And while Clinton won black voters by a wide margin, according to exit polls , there's dispute about how she fared with Latinos , who skew much younger in Nevada. Voters 44 and younger backed Sanders by a wide margin there, including many Latino voters -- entrance and exit polls suggest he won that Latinos thanks to the youth vote.
Republicans, in contrast, are enjoying some of their biggest turnout numbers in more than a decade. In 2008, for example, more than 430,000 people voted in South Carolina's GOP primary. The party almost doubled that number in its Palmetto State primary earlier this month, with turnout climbing to 741,000 . Voting has also been up markedly in the three prior primaries and caucuses.
That makes it all the more critical for Democrats to turn out their base in November. But Sharpton said in D.C. Thursday that Democrats still have a ways to go. In his interactions with voters around the country -- in person and those calling in to his radio program -- "people are saying that, 'I'm not hearing things that mean something to me, personally.'"
"'I wanted to make a statement with Barack Obama, I wanted to be there to elect the first black president, I wanted to be there to turn the country around, but what's is in it for me?' That is the challenge of this election," Sharpton said. Saturday's results suggest it will certainly be a challenge for Democrats. The multitude of diverse states -- Colorado, Texas, Georgia, Tennessee -- voting Tuesday will confirm just how big the challenge is.