Black Voices for Trump Kick-Off Live Stream: How To Watch President's Atlanta Re-Election Campaign Event
President Donald Trump is scheduled to spend the day in Atlanta with his Black Voices for Trump coalition and, while some events were listed as accessible on an invite-only basis, his Friday rally was slated to be open to the public and accessible to viewers online.
On Friday morning, Trump left Washington, D.C., for Atlanta, where he was scheduled to meet with supporters for a roundtable discussion followed by a fundraising event at The Whitley hotel. Both events that were closed to the press. The president was then scheduled to deliver remarks at the Black Voices for Trump Coalition rollout at the Georgia World Congress Center, which was open to the public and press.
While Trump performed better among black voters in 2016 than Mitt Romney did in 2012, he carried only 8 percent of the demographic's vote. In the 2020 election, the president will once again face an uphill battle for the historically Democratic voting bloc. An October poll conducted by the Associated Press-NORC Center for Public Affairs Research found that only 4 percent of black Americans thought Trump's actions as president were good for African Americans in general.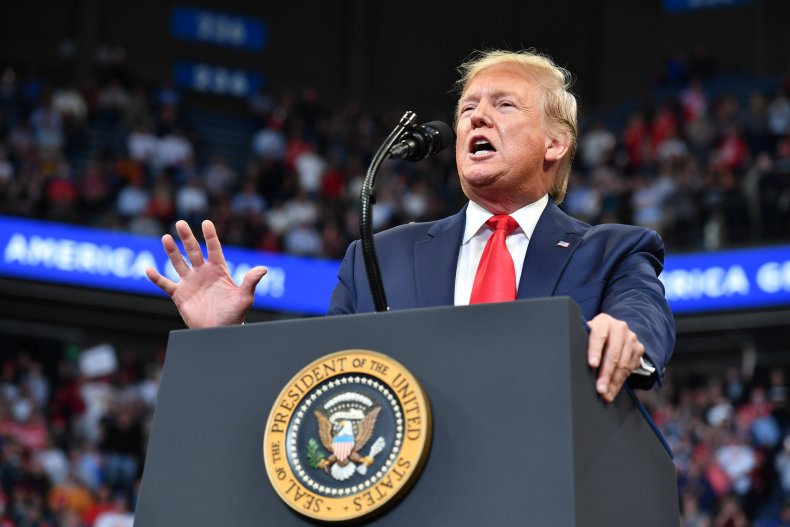 Trump has been accused of racism and specifically of anti-black sentiment multiple times during his presidency. Critics point to the derogatory language he was quoted as using to refer to African countries. He also faced backlash for his characterization of majority-black Baltimore over the summer.
Trump and his supporters, however, claim he's helped the black community by reducing unemployment and job creation.
"Black Americans have never had a better champion than President Trump," Katrina Pierson, Senior Advisor at Donald J. Trump for President, Inc., previously told Newsweek in a statement. "The Black Voices for Trump coalition will be a national effort to mobilize and empower Black Americans who support President Trump to help get the message of 'Promises Made, Promises Kept' into communities across America."
Trump's speech kicking off the Black Voices for Trump coalition is scheduled to begin at 3 p.m. ET on Friday and last about 50 minutes. Several outlets reported that Vice President Mike Pence will also deliver remarks.
C-SPAN will broadcast the event from the Georgia World Congress Center. Viewers can watch on their televisions on C-SPAN 1 beginning at 3 p.m. ET, or listen in by radio by tuning in to their designated local C-SPAN Radio stations. C-SPAN has also set up a live stream on its website.
Regional news outlet KXLY has also prepared a live stream on its website, scheduled to begin shortly before the president's scheduled appearance.