Majority of Black Voters Believe Voter ID Laws Weaken Voting Power: Poll
Half of African-American voters believe race relations in the U.S. have deteriorated within the past eight years, and more than 70 percent believe voter ID laws weaken black voting power, according to a new poll.
The poll, released on Friday by the African-American Research Collaborative, also found that half of black voters do not like either main presidential candidates, Democratic nominee Hillary Clinton and Republican nominee Donald Trump. Black voters also are significantly less enthusiastic about the 2016 election compared to the 2012 contest, which pitted incumbent U.S. President Barack Obama against Republican candidate Mitt Romney.
Published four days before the 2016 U.S. presidential election, the poll surveyed 1,200 registered black voters: 300 nationally and 300 voters in each of the following states: Nevada, Georgia and Pennsylvania. Those states were chosen due to their large black voter-age populations. In total, African-Americans make up 13.3 percent of the national voting bloc.
"One of the findings that we're noticing is that rather than signaling this post-racial America, what's been happening since Obama" is the perception that race relations have gotten worse and are "more evident in not-so subtle ways," Ray Block, political science professor at the University Of Wisconsin, said Friday. Nearly half of voters polled nationally said race relations have gotten worse in the U.S.; in Nevada, a full 50 percent of poll respondents said they felt this way.
However, relations between blacks and Asians, and particularly between blacks and Hispanics, were seen as much better than relations between blacks and whites, according to the poll.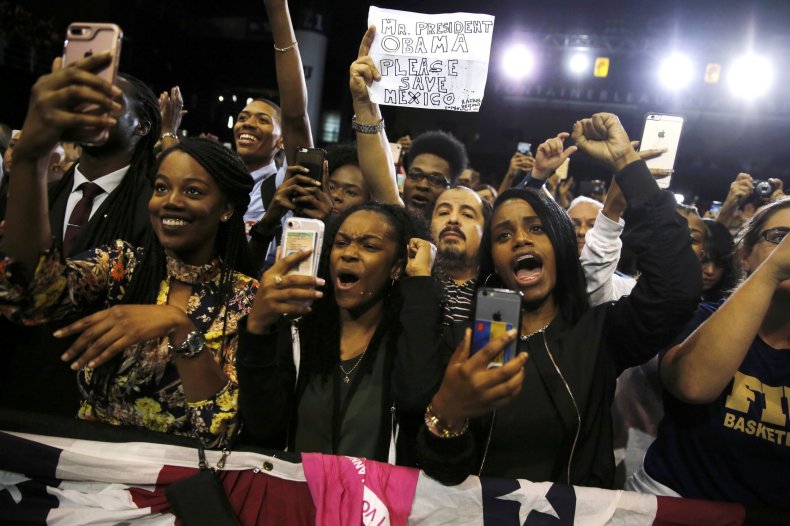 The poll comes amid threats of voter intimidation on Election Day from a number of right-wing groups, including neo-Nazis. Trump has repeatedly claimed that the election is "rigged" in favor of Clinton, and has called on supporters to "go and watch these polling places. Make sure it's on the up and up." On Thursday and Friday, a number of federal courts heard arguments that Trump and the Republican National Committee (RNC) are engaged in coordinated efforts to intimidate voters at the polls. A case in Pennsylvania will be heard on Monday.
"The African-Americans in our survey recognized that voter ID laws are attempts to limit the vote of racial and ethnic minorities," said Block. Seventy-one percent of national respondents agreed that voter ID laws weaken black voting power, rising to 78 percent of voters in Pennsylvania.
Nationally, 93 percent of black voters surveyed said that media coverage of police shootings of unarmed black men and women make them "want to vote to make sure we elect officials who will reform police departments across the country." Slightly fewer respondents—81 percent nationally—said seeing such media coverage makes them want to attend a protest or rally, or contact a public official.
First Lady Michelle Obama was identified in the poll as being the most trusted messenger for the black community. The public was asked to rank a number of people and entities on a scale from zero to 10on how effective they are at mobilizing the African-American community to take action on political issues. Michelle Obama, with a score of 7.88, was deemed the most effective, followed by her husband, President Barack Obama, the Black Lives Matter movement and black scholars and professors.
Both Michelle and Barack Obama have campaigned on behalf of Clinton over the past few weeks.
The black clergy, with a ranking of 5.68, were the least trusted entity, according to the poll. Among millennial blacks aged 18 to 33, and those aged over 65, the ranking of the top five trusted messengers (the Obamas, Black Lives Matter, black professors, and black elected officials) and the least trusted messenger (the clergy) was identical.
"Typically, conversations about millennials versus older blacks is about how different they are," said Block. "But there's a striking commonality" between both groups on who to trust.