Several voting rights activists are skipping President Joe Biden's speech on Tuesday in Georgia, stating he needs to do more to move legislation on Capitol Hill.
Cliff Albright, the co-founder of Black Voters Matter, told CNN's New Day that advocacy groups would have liked to see Biden use more of his power throughout 2021 to advance voting rights.
"We'd rather that the president stayed in [Washington] D.C. and perhaps delivered this speech to the Senate, to the Democratic caucus," Albright said. "They meet every Tuesday morning, he could have gone there and delivered the speech because at this point what we're saying is that we don't need another speech from the president."
Albright later added, "We don't need another speech. We don't need him to come to Georgia and use us as a prop. What we need is work. We're out working, too."
Biden will deliver remarks at the Atlanta University Center pressing for the passage of the John Lewis Voting Rights Act and the Freedom to Vote Act.
"The next few days, when these bills come to a vote, will mark a turning point in this nation," the president will say, according to an excerpt of his speech released by the White House. "Will we choose democracy over autocracy, light overshadow, justice over injustice? I know where I stand. I will not yield. I will not flinch. I will defend your right to vote and our democracy against all enemies foreign and domestic. And so the question is where will the institution of United States Senate stand?"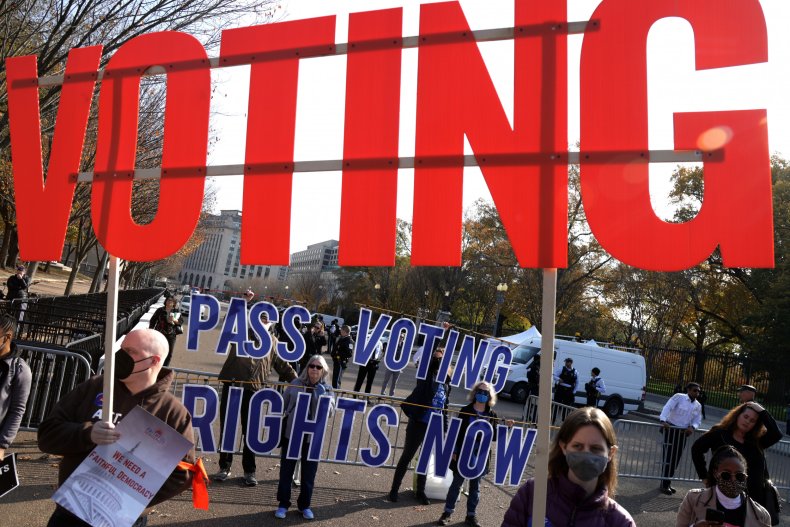 Along with the opposition from Black Voters Matter, former NAACP of Georgia President James Woodall told the New York Times that "we don't need any more platitudes."
Axios reported that political directors from the New Georgia Project, the Atlantic Labor Council, the Asian American Advocacy Fund and the Atlanta chapter of Asian Americans Advancing Justice will also not be partaking in Tuesday's White House events.
Stacey Abrams, a Georgia native who founded the voting rights organization Fair Fight and has been credited for helping flip the Peach State blue, won't be in attendance Tuesday. Abrams has said there was a scheduling conflict and expressed support for Biden on Twitter, writing "Thank you, @POTUS, for refusing to relent until the work is finished. Welcome back to Georgia where we get good done."
Rev. Leah Daughtry, the campaign manager of Fighting for Our Vote, told Newsweek that she understands the activists' disappointment.
"We're all frustrated with the fact that 50 senators are not even willing to have a debate on the issue," Daughtry said. "We all share the frustrations of wanting to see progress. You know, from my vantage point, the president is doing what he can do which is use the bully pulpit. He does not have a vote in the Senate, so he has the power of persuasion, the power of leaning on his colleagues—both he and the vice president—and that is what they have been doing. Whether it's in the public or not, that is what they've been doing is pushing the levers that they can push and today is just the next level of that."
Daughtry will be attending Biden's speech in Atlanta and said she expects "a very forceful argument for why the Senate needs to change its rules in order to allow voting rights to be considered separate and apart from the filibuster."
Other activists who are expected to be in attendance include Rev. Jesse Jackson, Rev. Al Sharpton, National Urban League President Marc Morial, the president of the National Urban League and NAACP President Derrick Johnson. Several members of Congress will also be with the president and vice president.
Senate Majority Leader Chuck Schumer has said that Democrats are considering rule changes to the chamber to pass voting rights legislation amid Republican opposition. Minority Leader Mitch McConnell on Monday blocked Schumer's attempt to set up majority votes on the elections bills.
Last week, Biden and Harris made the case for voting rights as they marked the first anniversary of the U.S. Capitol riot. The vice president remarked that the "American spirit is being tested" while Biden noted that sometimes "our darkest days can lead to light" and from "the brutality of Bloody Sunday on the Edmund Pettus Bridge came historic voting rights legislation."
Newsweek reached out to the White House but didn't receive a response before publication.
Update 01/11/22, 11:20 a.m. ET: This story was updated with more information and background.