Black Voters Prefer Bernie Sanders Over All Other Democratic Candidates, New Poll Shows
Senator Bernie Sanders has surpassed former Vice President Joe Biden in support from black voters, making him the most favorable candidate for that demographic, a new national poll shows.
The Hill/HarrisX survey has Sanders extending his lead in the 2020 Democratic presidential race after Tuesday night's debate—and with a 9-point advantage among black voters. Overall, Sanders saw a 6-point increase from last week's Hill/HarrisX poll, with 28 percent support among Democratic and Democratic-leaning independent voters. The poll was conducted between February 23 and 24 and had a margin of error of plus or minus 4.5 points.
Sanders continues to perform well and fortify his lead after the Nevada caucuses. He expects to have a strong showing in South Carolina's primary on Saturday and on Super Tuesday, March 3.
Terrance Woodbury, a Democratic pollster and a partner at Hit Strategies, explained to The Hill why Sanders has not been able to run away with his lead, despite doing well with minorities.
"While Bernie is beginning to put together an impressively diverse coalition that includes a plurality of black and brown voters, his inability to attract the same level of support from white voters, older voters, and from Democrats more broadly is the reason he seems to plateau around 30 percent in every poll."
Meanwhile, Sanders' continuing appeal to black voters, where Biden originally held a strong lead, gave him a 7-point increase with African Americans over results from the last Hill/HarrisX poll. Biden had a 10-point drop, which gives his campaign a new challenge.
While the former vice president did not meet expectations in Iowa and New Hampshire, he continues to bet on the upcoming voting in more diverse states, such as South Carolina.
Biden's 10-point dip among black voters contrasts with a 10-point increase for Mike Bloomberg. The former New York mayor's consistent stream of TV ads has earned him 20 percent support among black voters as he continues to hold on in the national polls despite less than stellar performances in the recent Democratic debates.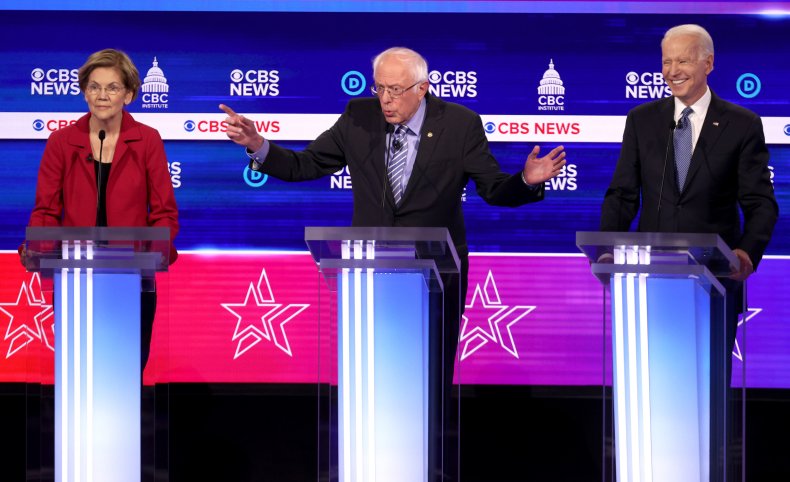 Speaking to CBS' Face the Nation, Biden commented on why his support with black voters has fallen to the benefit of billionaire candidates Tom Steyer and Bloomberg.
"I think a lot's happening in terms of the amount of money being spent by billionaires to try to cut into the African American vote," Biden said.
Sanders continues to be the clear front-runner for the Democratic nomination, with strong victories in the early-voting contests and solid debate performances fueling his polling numbers. A polling numbers average from FiveThirtyEight, however, shows Biden holding an 8-point lead over Sanders.