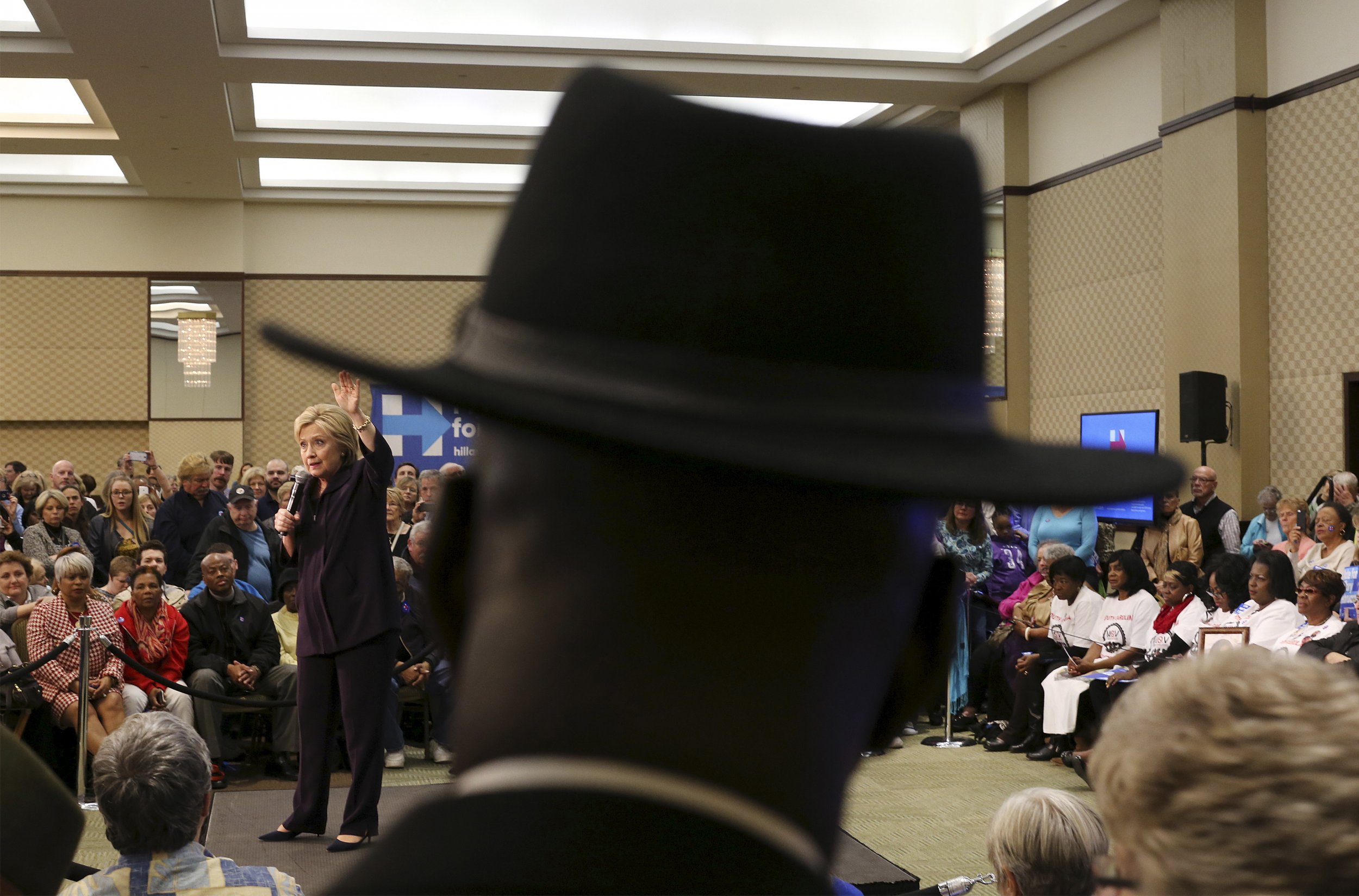 Here comes the blame again. A favorite topic every election, the political class is anxiously chattering about whether Black voters will turn out at the level the Democrats need in order to win. While signs are now pointing towards strong potential turnout among Black folks, the quick reaction by the political establishment has been to cite reports of lower levels of Black early voting to make their cliché, misplaced gripes seem original.
It's a classic refrain: those of us in Black communities have not been doing our part or pulling our weight. We hear it about Black people and politics, the economy or wherever the establishment needs an easy scapegoat for their own failures.
Many are already blaming Black voters for the possibility of Democratic losses, or results that may be too close for comfort. And we are all too used to the condescending message implicit in the attack: Black voters are unaware of how politics works and how important elections are, and only turned out in satisfactory numbers in 2008 and 2012 because of Barack Obama.
That is not only unfair, it is entirely inaccurate.
When Obama was elected in 2008 and re-elected in 2012, he did indeed win with a record turnout among Black voters. In fact, in 2012, Black voter participation eclipsed white voter participation for the first time in history.
But rather than being isolated incidents, these impressive turnouts are part of a steady rise in Black voter participation, dating back to the 1993 Voter Registration Act. This solid trajectory of increasing Black voter participation, of course, is rarely interesting to the political class. Yet, when there are signals of a potential dip in Black voter participation, political pundits and operatives are quick to blame Black communities, looking for answers by maligning the character of Black people and Black culture rather than considering key factors that influence voter turnout for any political constituency.
The problem isn't actually Black communities. The problem is our political establishment—those who approach each election cycle without genuine concern or understanding about Black people.
To prevent any setbacks in the steady increase of Black voter participation, the political establishment needs to make three clear shifts in how it does business: investing in Black voter engagement and infrastructure between elections; making real progress on the needs and issues that Black people have consistently voiced as critical; and ending the historic pattern of Black voter disenfranchisement and suppression, which continues to interfere with the single most important freedom guaranteed by citizenship.
So what would this look like?
Firstly, investing in voter engagement programs and political constituency-building between election cycles means giving Black-led engagement and mobilization efforts a chance to take off.
Thankfully, there were some that saw the need in 2016 and provided some initial support. For example, with few resources, my organization Color of Change PAC—the PAC arm of the nation's largest online racial justice group—launched #VotingWhileBlack, a first-of-its kind Black voter engagement program that is motivating Black voters by engaging them on the issues that impact their daily lives.
Our work in this year's election grew out of our involvement in the 2016 State's Attorney primary race in Chicago, where we found that exposing the corruption and moral failings of the incumbent, and promoting the progressive approach to criminal justice by the challenger, Kim Foxx, motivated Black people to vote in an election that, in general, few people of any background get involved in. (Cleveland and a few other counties have recently won similar victories in their DA races as well.)
We ran an experiment in Chicago, and the results flipped the conventional wisdom on its head: it turns out that voters can, in fact, become very motivated by concrete issues if they are meaningful and tied in an authentic way to candidates.
We launched #VotingWhileBlack this fall, and it is a much larger voter contact and mobilization program. We are using new texting-based technology, targeted voter guides, text-a-thon events, social media campaigns and more to engage Black people with the issues we know matter most to our communities, and are genuinely motivating with respect to the race for President and other down ballot races. We have targeted specific counties—in Ohio, Florida and Texas—where district attorneys have demonstrated racial bias, as well as key national Senate races in Pennsylvania, North Carolina and Florida, where wins could prevent the Senate from coming under the control of far-right politicians.
To date, #VotingWhileBlack has reached more than 1.5 million Black voters. Just imagine what programs like this could accomplish with deeper investments, broad-based involvement from across the political establishment, and long-term, committed infrastructure to drive engagement in local elections every year.
Secondly, politicians must demonstrate a real commitment to meeting the needs of Black communities, and actually deliver on policy rather than merely pandering to Black voters in election-year stump speeches.
At this point in our country's history, it is unimaginable that the Republican Party could become a political home to a significant swathe of Black voters. But the Democratic Party cannot rely on the toxicity of today's Republican Party to drive Black voters to the polls.
If Democratic candidates want Black voters to cast ballots for them, they must stand up and do the right thing on policy, in between elections: making criminal justice reform and accountability a reality, ending job discrimination, fighting environmental racism, refusing to take part in the scapegoating attacks on Black culture, and investing in Black communities through education, housing and more. When the next election comes around, Black voters should be hearing about results, not just more promises.
Yet, more accountable politicians and stronger engagement programs will be limited in their impact if our country does not quash, once and for all, the shameful, ongoing effort to deny Black voters our freedom to vote.
No fewer than 14 states have new voter ID laws for the 2016 election. These laws, pushed by Republican-controlled state governments, have a disproportionate impact on communities of color, especially Black voters, often by design. For example, the American Civil Liberties Union finds that nearly 25 percent of Black citizens—compared to only 8 percent of white citizens—lack the government-issued photo ID that many of these laws require voters to have (even though, as the Washington Post has found, the same states passing these laws also make it difficult for Black people to get the very government-issued photo ID they need to vote).
Local authorities have also closed or moved polling stations—again, mostly impacting areas where Black voters live. In North Carolina, almost a third of early voting sites have moved since 2014, usually leaving white people unaffected but hurting Black communities. One study showed Black voters there will have to collectively travel almost 350,000 extra miles to get to an early voting site, compared to 21,000 extra miles for white voters.
And that's not even taking into account racially motivated felony disenfranchisement laws, voter intimidation of the sort that some accuse Trump and the RNC of proudly touting (a federal judge ruled on Sunday that Republican campaign activities do not amount to voter intimidation, despite allegations from Democrats), and other tactics. Such efforts represent a clear and deep injustice.
Our parents, grandparents and great grandparents fought not only for the freedom to vote, but also to ensure that the votes of all Black people would be meaningful—not just counted, but heard. We need politicians, and a political culture, who will honor those sacrifices and decry these attacks on our freedom with fierce outrage, at the same level as we do for threats to reproductive freedom, climate change denial, unjust wars or any other moral outrage.
At the end of the day, it's not Black voters who are failing our political system; instead, it's our political establishment that's failing Black voters.
If our country's political class wants to encourage the steady increase in Black voter participation, the kinds of investments that must be made are quite clear—as they would be for any constituency—and they will pay dividends that benefit all Americans, bringing much-needed reforms around important issues like policing, education and the economy. It is high time the political establishment recognizes the all-important fact: Black political power is a critical factor for our collective success as a country.
Rashad Robinson is spokesperson for the Color of Change PAC.