'Black Widow': How to Watch Scarlett Johansson's Marvel Movie Online
Black Widow made us wait a year but she's finally arriving in movie theaters this week to lead her own Marvel movie.
Scarlett Johansson reprises her role as Natasha Romanoff in Black Widow, which is out in theaters and online later this week.
If you can't wait to see what the latest Marvel Cinematic Universe movie looks like, here's all the details on how and where you can watch it first.
'Black Widow' Release Details
Black Widow was originally due to be released in May 2020 with an exclusively cinematic release but after the pandemic delayed its launch and changed the forecast for box office figures, Marvel and Disney agreed to give it a simultaneous release in movie theaters and on the streaming service Disney+.
Black Widow will now be available to watch in the United States from Friday July 9, 2021.
Disney+ subscribers will need to pay for Premier Access to watch the movie online. Other movies such as Mulan and Cruella have been launched on the service with Premier Access at an extra cost of $29.99.
To subscribe to Disney+ it costs $7.99 a month or you can pay for an annual subscription of $79.99, saving you almost 20 percent across the year.
Disney+ as a service has confounded expectations, reaching the same number of followers in 16 months as Netflix did in 10 years.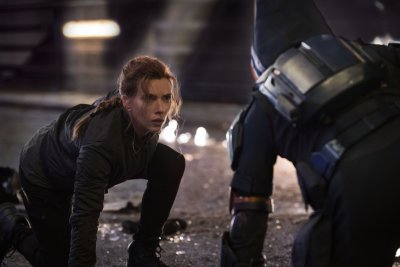 Who Stars in 'Black Widow'?
Scarlett Johansson of course returns to the MCU for Black Widow. This movie marks the ninth time that Johansson has appeared in the MCU as Agent Romanoff.
The story picks up after the events of Captain America: Civil War which sees Black Widow on the run and leads her to confront people from her past.
Florence Pugh (Little Women) makes her MCU debut as Yelena Belova, a sister figure to Romanoff who also trained as a Black Widow in the Soviet program, the Red Room. Pugh is also set to reprise this role in the upcoming Disney+ mini-series Hawkeye which features Jeremy Renner and Hailee Steinfeld as leads.
David Harbour (Stranger Things) plays Alexei Shostakov. His hero persona is the Red Guardian which is a Russian super-soldier, an equivalent of Captain America. Alexei acts as a father figure to Romanoff and Belova.
Rachel Weisz plays another Black Widow, Melina Vostokoff. A mother figure in this makeshift family, Melina also trained in the Red Room and is now one of the scientists tasked with running it.
Other actors joining the cast of Black Widow include O-T Fagbenle (The Handmaid's Tale) as Rick Mason, Ray Winstone (The Departed) as Dreykov and William Hurt (A History of Violence) returns as Thadeus "Thunderbolt" Ross.
The movie is directed by Cate Shortland (Berlin Syndrome) and written by long-time Marvel collaborator Eric Pearson (Godzilla vs. Kong)
Black Widow is available to watch in cinemas and on Disney+ with Premier Access on Friday July 9, 2021.