Black Widow is finally coming to cinemas and Disney+, kicking off the Marvel Cinematic Universe (MCU) Phase Four. Scarlett Johansson's standalone movie has been long overdue, with coronavirus restrictions seeing it delayed several times.
In most Marvel movies the post-credit scene gives away hints and clues about upcoming films, TV projects, sparking some crazy fan theories.
However, given it was the end of an era with the last MCU movie, Avengers: Endgame, there was no post-credit scene.
This was also due to the dramatic nature of the movie's ending, which would have been less impactful if a post-credits scene was present.
We break down whether there is an end-credits scene in Black Widow, as it kicks off the franchise once again.
There are some major spoilers for Black Widow ahead.
Is There An After-Credits Scene in Black Widow?
There is a Black Widow end-credits scene, but the credits do look a little different from usual.
While most Marvel movies will include a graphic credit sequence, usually using art to depict some of the big events in the show, Black Widow is quite different.
Instead, it goes straight into the long credits, making some fear there will be nothing to greet them.
However, sit tight as there is a post-credits scene right as the film closes.
In it, Yelena Belova (played by Florence Pugh) goes to visit Natasha Romanoff's (Johansson) grave.
This makes it clear the post-credit scene has jumped forward in time, taking place after the events of Avengers: Endgame, where Natasha died.
As she is laying plants and toys on Natasha's grave, a woman begins blowing her nose, feigning upset at Natasha's passing.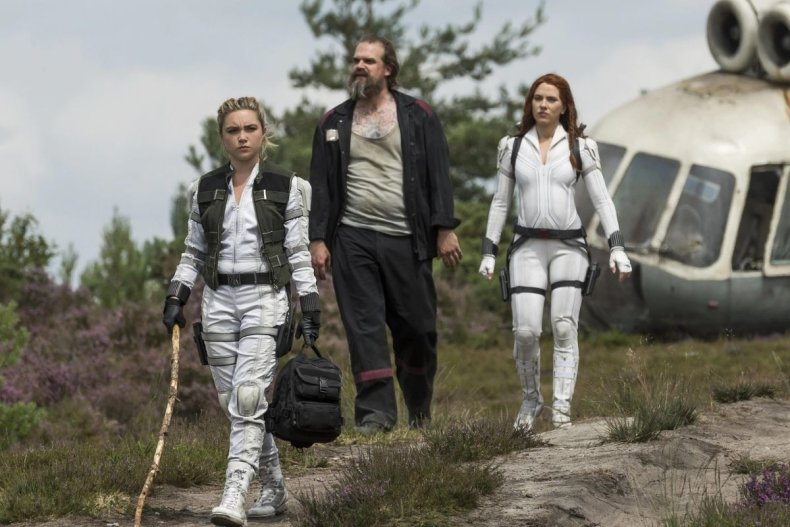 It is Valentina Allegra de Fontaine (Julia Louis Dreyfus), who appeared briefly in The Falcon and The Winter Soldier to recruit John Walker after he is stripped of his Captain America mantle.
In their quick conversation, it is made clear between the events of Black Widow and Avengers: Endgame, Yelena has been working for Val as an assassin of some kind.
Val gives Yelena her next target, telling her it's one she should enjoy, given it is the person who "killed your sister."
Yelena is then given an image of Clint Barton (Jeremy Renner) A.K.A. Hawkeye.
Fans will remember in Avengers: Endgame how Barton went off the rails after his family was taken in the Snap.
He began life as a killer but was saved by Natasha, who eventually sought him out to help The Avengers reverse the Snap.
Then, the pair went to retrieve the Soul Stone, for which one of them had to sacrifice themselves.
Barton, believing his sins were enough to see him die, volunteered, but so did Black Widow, and the pair fought for the opportunity to die to save the world.
Knowing Barton had children to return to, Natasha ultimately sacrificed herself, leaving him to return to The Avengers.
Their actions were successful in the grand scheme of things, but Yelena will likely want some answers and is expected to appear in the Disney+ series Hawkeye, airing in late 2021.
The post-credit scene will link those TV series, despite COVID-19 changing the order of their release dates when it forced Black Widow to be released after The Falcon and The Winter Soldier, rather than before.
One thing the film and its post-credit scene did not do is connect these events to the future movies, or the introduction of new characters such as Shang-Chi and the Eternals.
This is likely due to it being set after Captain America: Civil War, and instead reminding us of the family created in The Avengers rather than the new characters forging ahead in subsequent movies.