Black Woman Beaten by L.A. Pro-Trump Protesters in 'Disturbing Images'
A Black woman was beaten and pepper sprayed in a violent attack during a pro-Trump demonstration in Downtown Los Angeles on Wednesday.
Berlinda Nibo, 25, said she was walking home near the protest when she was harassed by some of the demonstrators.
"I'm walking by and they're yelling at me because of my color, calling me the N-word calling me the B-word, saying, 'All lives matter, Black lives doesn't matter,'" Nibo told CBSLA.
The young woman said she yelled back and the crowd began following her before the exchange became violent.
"They're asking me who I voted for and asking me if I'm a Trump supporter. I'm telling them no I'm not a Trump supporter and I don't care, just leave me alone I'm trying to get home, Nibo told FOX11. "I turn back and notice that there's a mob of about 40 Trump supporters just walking behind me. They're following me and just shoving me around."
Nibo said of one of the demonstrators smacked her in the face. "And then all of them start trying to jump me, and then people jump in," she added.
Witness and freelance photojournalist Raquel Natalicchio concurred with Nibo's recollection of events.
"When they started pushing her around, this other woman that was a Trump supporter came up to her and ripped her wig off," Natalicchio said. "Obviously, at that point, she began to try to defend herself."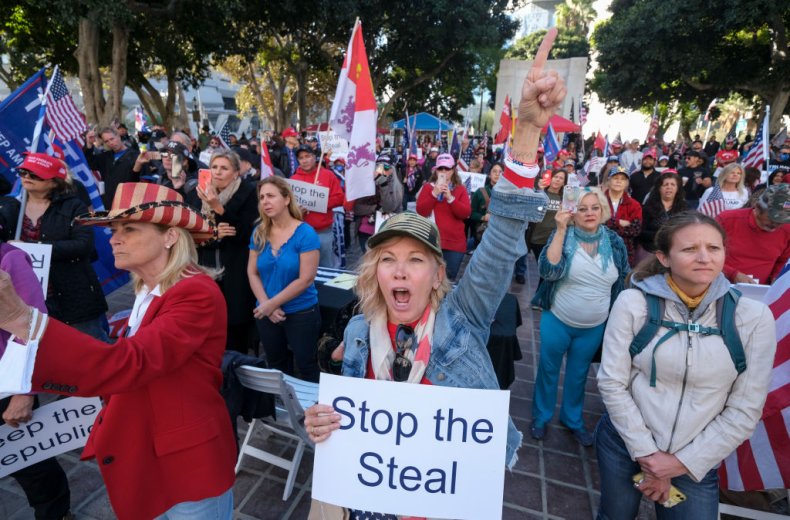 Natalicchio shared a snap of Nibo in distress and in the embrace of a man with a red beard immediately following the attack.
"This woman was walking home. She lives just two blocks away from LA City Hall where a Stop the Steal MAGA Rally was taking place," Natalicchio wrote over Instagram. "As she walked through the crowd of unmasked Trump supporters, they began to yell, asking her if she had voted for Trump. She said no, flipped them off and kept walking and talking on the phone.
"A mob of at least 20 Trump supporters circled her and all began screaming in her face and pushing her between each other. One woman reached over and tore off her wig while calling her a 'n*** b***.'
"Men holding flag poles began beating her alongside others who were punching her. At one point a Trump supporter grabbed her from behind, restricting her ability to defend herself, as she continued to get maced right in the eyes."
Natalicchio said police were "right behind" her at the time. "Not one officer stepped in," she added. "It took two bystanders and myself dragging her out and running over to the police line for safety."
Nibo said it was strangers who came to her rescue, including the man pictured holding her from behind in a number of photos now posted online.
"The gentleman who had his hands around me was trying to help me out. The entire time he kept whispering in my ear don't move they're trying to kill you ... they're trying to kill you," Nibo told FOX11. "If not for him stepping in at that moment, these people would have literally tried to kill me."
In response to the photos circulated on social media, many identified the man holding Nibo as a sales representative working at a Southland Toyota dealership.
Toyota later released a statement, saying the actions in the photos were "inconsistent with Toyota's guiding principle of Respect for People".
"While Toyota dealerships are independently owned and operated entities, we can confirm this person is no longer employed by any Toyota dealership," the company added.
However, in an interview with NBC4LA, Nibo maintained that the man holding her from behind was trying to help her.
"That guy, I call him my hero because that guy picked me up, was whispering in my ear telling me 'you're OK, I got you. I have your phone, you're OK. I'm going to get you out of here these people are trying to kill you.'"
Nibo has since contacted Toyota in a bid to reinstate the man's employment, according to NBC4LA.
The LAPD declared the demonstration an unlawful assembly and six arrests were made—three on suspicion of carrying unpermitted items while attending a public demonstration, two on suspicion of failing to disperse and one for resisting or obstructing an officer, officials said.
"We are aware of disturbing images of an incident that occurred during yesterday's protest in Downtown Los Angeles," the force said in a statement on Thursday, adding that the woman was identified and interviewed by the LAPD.
"Based on her statements and other evidence, a hate crime/battery report was taken. The individual seen in the images with his arms wrapped around her—per the victim's statement—was determined to be a Good Samaritan that helped her get away from the hostile crowd, by carrying her to safety."
The LAPD said it is continuing to investigate and encourages any witnesses to come forward.
Newsweek has also contacted the LAPD for comment.