Woman Placed Confederate Flag on Mississippi NAACP's Martyr's Grave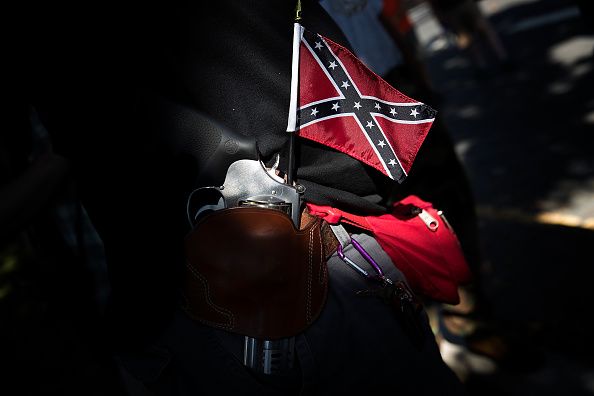 A Confederate flag was placed on top of a local civil rights leader grave in Mississippi on Tuesday.
The flag was placed on former NAACP leader Vernon Dahmer's grave by an unidentified black woman, Mississippi's Clarion-Ledger reported. Witnesses told the publication that the woman had the flag draped over herself along with a red noose around her neck in Hattiesburg, Mississippi, on Tuesday. The woman who placed the flag on Dahmer's grave allegedly told residents that the noose around her neck represented the blood of Christ, and the Confederate flag represented suppression.
"It sounds like she's trying to make some kind of political statement," Dahmer's son, Dennis Dahmer, told the Clarion-Ledger. "I'm not sure what that statement is. I don't know if she is a supporter of the Lost Cause [whose following romanticized the "Old South," while often revising its history], or maybe she sees my dad's death as part of suppression, but that's speculation on my part."
Vernon Dahmer was one of the co-founders of the Hattiesburg, Mississippi, chapter of the NAACP. Dahmer, along with the Student Nonviolent Coordinating Committee (SNCC) organized a voter registration movement to help register African-American voters in 1964 despite death threats, according to the SNCC website. On January 9, 1966, he announced on a radio show that he would offer to pay the poll taxes fee for anyone that couldn't afford it. The following day, the Ku Klux Klan firebombed Dahmer's farm, killing him.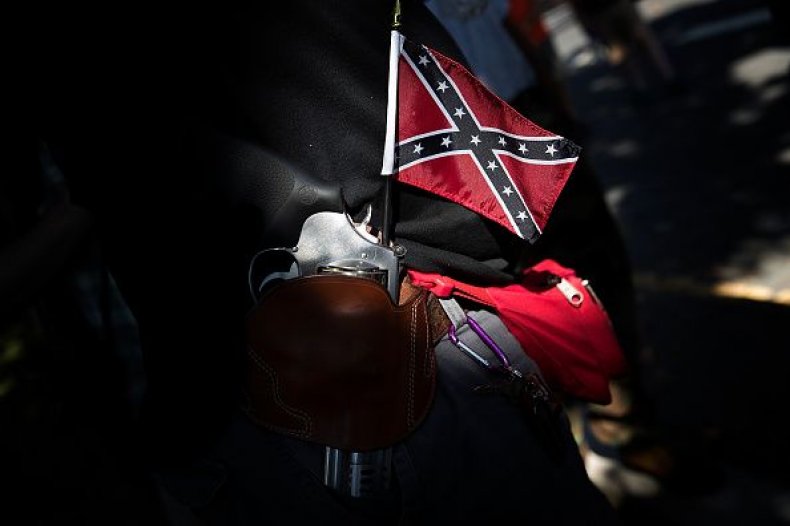 The woman who placed the Confederate flag on Dahmer's grave was later identified as Claudia Bivins, CNN reported on Wednesday. Bivins told CNN that she and her seven-year-old grandson went to Dahmer's grave after voting in the Mississippi runoff election on Tuesday. She told CNN that she would visit Dahmer's grave on Election Day, and she and her grandson had laid the Confederate flag over his grave, along with peppermint and olive branches. To Bivens, the olive branches represented that Dahmer was a champion and the peppermint symbolized healing.
"As I laid the rebel flag down across Vernon's grave, I told my grandson what it represents—our hope that racism and hatred would die," Bivins said. "That it would be killed at the root of our hearts, minds and souls."
Dahmer's son, Dennis, was not happy with Bivins's demonstration, despite her good intentions.
"Even if she had a positive intent, I wish she hadn't done that," Dennis told the Clarion-Ledger. "I wouldn't encourage anybody to use anybody's grave for any kind of political statement."
Bivens's action had come just a day after Republican Cindy Hyde-Smith defeated Democratic opponent Mike Espy, who is African-American, in the runoff election on Tuesday. Hyde-Smith became the first woman to be elected to Congress from Mississippi despite the national attention she received for her racially charged comments. Earlier this month, Hyde-Smith told a supporter that "if he invited me to a public hanging, I'd be on the front row." She defended her comment and said she was joking and claimed that her remark had been "turned into a weapon to be used against me."