Black Woman Dragged Down Stairs of Sports Bar in Viral Video Prompts Outrage
Video footage of a young Black woman being dragged down the stairs of a Washington D.C. sports bar has emerged, prompting protests and a boycott of the venue involved.
Keisha Young, 22, was dragged down a flight of stairs inside the popular Nellie's Sports Bar by a security guard who reportedly believed the woman had brought a bottle of alcohol inside the establishment on the Saturday night of June 12.
Video of the incident, taken by a bystander inside the bar, was shared to Instagram by Young's mother on Monday.
"I DO NOT PLAY WHEN IT COMES TO MY DAUGHTER YO!!" Tammy Young wrote alongside the 54-second clip. "YOU SEE HOW YOUR SECURITY GUARDS DRAGGING MY DAUGHTER DOWN THE F***N STEPS AND YES MY NIECE AND NEPHEWS JUMPED IN TO SAVE HER YOU WILL BE HEARING FROM MY LAWYER."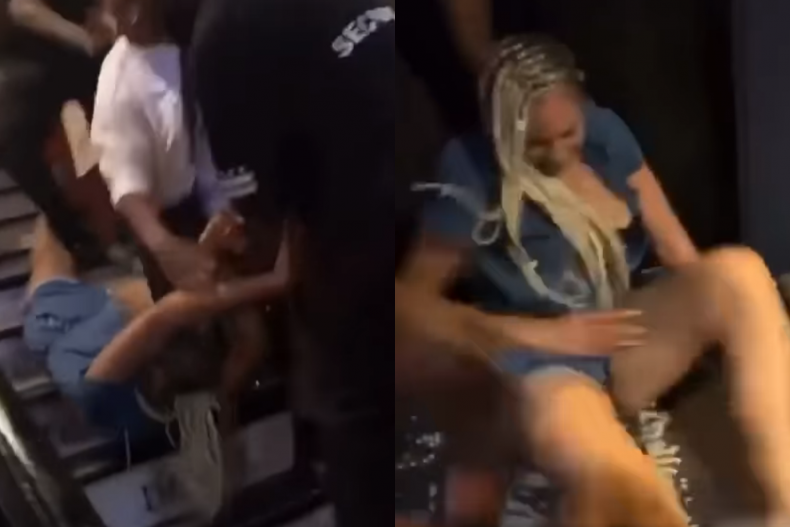 Tammy Young later confirmed to Newsweek that the family has sought the advice of an attorney based in Washington D.C.
Keisha Young, who says she is a college student at Morgan State University, in Maryland, said she went to the bar to celebrate Pride festivities and was "dragged by the security guards for no reason."
"I lost my glasses, iPhone, shoes and my clothing were ripped off. My body aches and I am bruised up," she wrote in a GoFundMe page set up to help with legal expenses and medical bills. "I am aching all over my body, I can't walk straight because my hip is in pain. I've been struggling to sleep this whole situation got me anxious."
Young said she felt "humiliated" after "being assaulted by a black man who should be protecting me."
After footage of the incident quickly garnered attention online, a crowd gathered outside the bar the following Sunday evening while #BoycottNellies and #NoPrideForNellies trended on social media.
Multiple videos shared across social media showed dozens of people holding up banners while shouting "justice for Keisha" as police surrounded the area.
One of the protest organizers, NeeNee Tay, said Young was targeted by security in a case of mistaken identity.
"A security guard took it upon himself to take Keisha by her hair and drag her down the steps and throw her out of the club," Tay said in a video filmed outside the bar.
Speaking to Complex, Keisha Young said the incident escalated after "an altercation in there."
"They were trying to get some other people out because somebody else brought a bottle in there. Somehow I got mixed up in an altercation because I look like somebody else and I got hit and dragged down the steps," she said.
Nellie's Sports Bar responded to the unrest in a statement posted to Facebook on Monday.
"We were incredibly upset and disturbed to see the unfortunate event that took place at Nellie's last night," the venue said. "We are undergoing a full investigation of the situation. At Nellie's we foster an inclusive and safe environment, so events like this are completely unacceptable to us."