Video: Black Woman in Her 70s Racially Abused on Ryanair Plane, and Then Told to Move Seat While Attacker Stays Put
A video posted on social media showing a woman being racially abused after she had taken her seat on a plane has prompted questions over how the airline handled the incident.
The 77-year-old woman had taken the aisle seat on the Ryanair flight FR9015 from Barcelona to London on Friday when a man in the window seat appeared to take exception to her being his neighbor. A male flight attendant tried to calm matters and asked the woman if she wanted to sit somewhere else, to which she initially refused.
Then the man sitting by the window yelled, "Don't talk to me in a foreign language, you stupid ugly cow!" in reference to her Jamaican accent, before calling the woman "ugly black bastard." A male passenger behind her intervened by telling the man to stop.
The incident was filmed by fellow passenger David Lawrence, who uploaded it to Facebook where it has been seen over two million times. Lawrence told Newsweek he was unhappy with the airline's response which he described as "absolutely incompetent and unprofessional. Ryanair doesn't care."
The woman's daughter told Huffington Post that she had taken her mother, who is a Windrush Generation migrant who came to the U.K. from Jamaica in the 1960s, on holiday to mark a year since the death of her husband.
"I know that if I was behaving like he was, or any other black person for that matter, police would have been called and we would have been kicked off the flight. Mum's really feeling upset and very stressed about this situation, on top of the grief she's already experiencing. As for me, I'm upset about the whole thing too. The fact that the passenger wasn't taken off the plane and how the situation was dealt with," she said, referring to her mother as Mrs Gayle, without giving her full name.
Ryanair flight staff have been criticized for not kicking the man off the flight and for making the woman move seats instead of the man.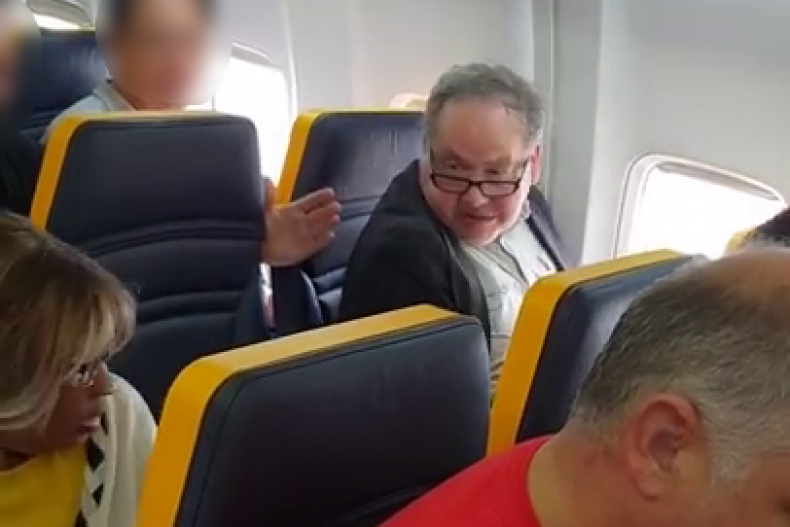 Britain's shadow transport MP Karl Turner tweeted: "He should have been removed from the flight and handed over to the police."
Scottish MP Stuart McMillan tweeted: "He should have been removed from the flight and handed over to the police."
Another Scottish MP Margaret Ferrier said: "Racist male passenger should have been put off flight before it departed. Flight attendant incapable of responding appropriately."
Meanwhile, prominent BBC radio presenter Jeremy Vine weighed in by saying that the airline had "to explain how this man's disgusting racial abuse of the black lady in the seat next to him ends up with HER being asked to move. It is beyond belief."
In a statement, Ryanair said it had reported the matter to the police in Essex, U.K. "We operate strict guidelines for disruptive passengers and we will not tolerate unruly behavior like this. We will be taking this matter further and disruptive or abusive behavior like this will result in passengers being banned from travel."
Essex Police said on Sunday: "This incident, which we were made aware of this morning, is believed to have taken place on a plane at Barcelona Airport. Essex Police takes prejudice-based crime seriously and we want all incidents to be reported. We are working closely with Ryanair and the Spanish authorities on the investigation."