'White Customers Only': Black Woman Says She Wasn't Allowed to Eat at Waffle House in Alabama
A woman was reportedly denied entry to a Waffle House in Pinson, Alabama, because of the color of her skin. Jacinda Mitchell took a video last week that showed the doors to the establishment were locked, but that there were white people inside. It led Mitchell to conclude she was refused service because she was a person of color.
"They have the door locked and they have customers in here, and they're saying that they're closed. The customers are eating and they happen to be white customers only, and I am an African-American," Mitchell said in the clip. "They have people that they're serving, but they're telling me that they're closed."
Pat Warner, director of public relations and external affairs for Waffle House, said the company is investigating Mitchell's allegations.
"We have launched an investigation to gather all of the facts. Waffle House is a welcoming place for everyone, and we are fortunate to enjoy a very diverse and loyal customer base who we do our best to serve every day," Warner said in a statement to AL.com Thursday. "The employee involved should not have locked the front door at all and should have certainly opened the door for the customer when she arrived. We will get the facts and take appropriate action quickly."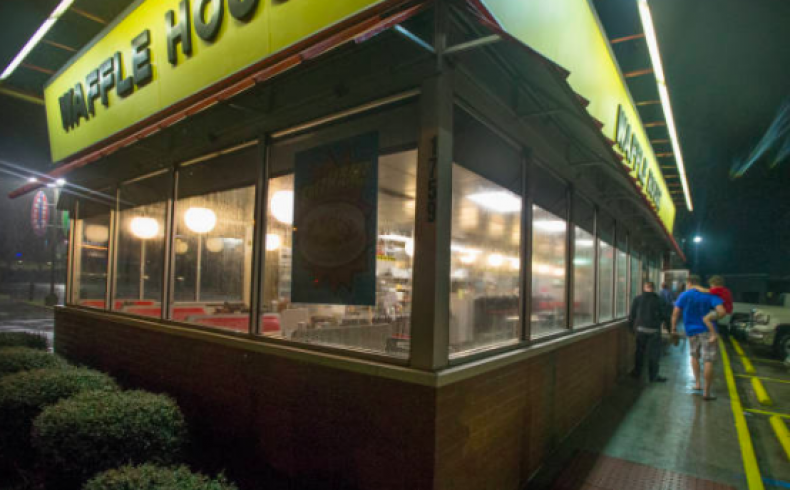 Mitchell apparently being locked out of the restaurant was the third time this month Waffle House came under fire. Chikesia Clemons was arrested on Sunday after she allegedly refused to pay for plastic utensils at a Waffle House in Saraland, Alabama. Video footage showed three white male police detaining her. At one point, her top went down and her breasts were exposed. Prominent civil rights attorney Ben Crump said at a press conference Wednesday that law enforcement "choked" and "brutalized" 25-year-old Clemons during the arrest. She charged with disorderly conduct and resisting arrest.
On the same day, four people were killed and several otheres were injured when suspected shooter Travis Reinking opened fire at a Waffle House in Nashville. Reinking reportedly suffers from "mental health issues," Metropolitan Nashville Police Chief Steve Anderson said Monday. A motive for the attack was unknown. He was charged with four counts of criminal homicide, four counts of attempted homicide and one count of having a firearm while committing a dangerous felony. He is scheduled to appear in court May 7.