Where Are the Black Writers? Only 35 Percent of TV Shows Employ People of Color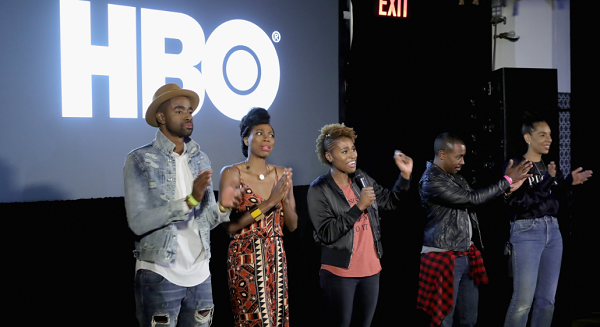 Hollywood lacks diversity—just turn on the TV and you'll immediately notice the few people of color in prominent roles.
As white as most networks' cast rosters are, though, they're wildly diverse compared to TV writers' rooms. Black people are woefully underrepresented among the ranks of staff who develop characters and plotlines.
A new report released Wednesday by the organization Color Of Change found only 35 percent of TV writers' rooms during the 2016-2017 season employed black people. And of those 35 percent of writers' rooms with a black person on staff, only 5 percent employed an actual TV writer who was black.
The nonprofit civil rights advocacy group investigated credits of 234 original, scripted comedy and drama series from 18 different networks and found that 65 percent of writers' rooms across the TV industry had no black writers on staff while only 17 percent of the writers' rooms had two or more black writers working.
AMC is "the worst on overall inclusion," but both CBS and the CW were said to have a "black problem" because of the few numbers of black people on staff.
The report, titled, "Race in the Writers Room," highlighted shows like Queen Sugar on the OWN network and HBO's Insecure, which are known for hosting diverse writers' rooms and fostering ethics of inclusivity across their shows.
However, the organization still found only 13.6 percent of shows led by a white showrunner—no matter the network or series—had two or more black writers on staff. Yet every series led by a black showrunner still employed several white writers.
"The outrageous level of exclusion in writers' rooms has real-life consequences for black people, people of color and women," Rashad Robinson, Color of Change's executive director, said in a statement. "Hollywood executives make decisions every day about who gets hired. Their exclusion of black showrunners and writers results in content—viewed by millions of Americans, year after year—that advances harmful stereotypes about black people and creates a more hostile world for black people in real life."
The organization gave suggestions as to how TV execs could beef up the diversity in writers' rooms by implementing public hiring goals based on inclusion and called on influencers in the industry to work with networks to help foster change.
More than likely the changes would need to start at the executive level after Variety found that 90 percent of showrunners in the 2016-2017 TV season were white, and of that 90 percent, 80 percent were white men.