We Should Talk About That Tyler Perry Cameo on Kenya Barris' '#blackAF'
Throughout the first season of Netflix's newest series, #blackAF, show creator and star Kenya Barris tackles an array of culturally relevant topics that his family encounters as they live as unfiltered and unapologetic black people in their posh Los Angeles neighborhood.
Barris, who appears as a fictionalized version of himself, grapples with ideals like white gaze—or, rather, the perceived judgment white people place on black people's penchant for extravagant purchases—and the lack of praise black fathers receive in comparison to black mothers, or mothers in general. The character's wife, Joya, played by Rashida Jones, also has her strifes as a biracial mother of six kids, who struggles with understanding her own mixed-race identity and her place as a lawyer turned-stay-at-home-mom.
Although the messaging of each episode's underlying themes is sometimes muddled between the jokes and the main character's inherent narcissism—it's hard to focus on Kenya's argument of how slavery upended the black family by separating husbands from their wives and children when he's doing a poor job of spending time with his own kids—there are a few great moments on the show when the writing, comedy and acting all come together to drive a point home.
Such is the case in the fifth episode of #blackAF, which raises the question of why some black people are so against critiquing black art, specifically television and film.
It's an age-old debate on the double standard of black creators: There are those who ridicule uninspiring cinema on the basis that it doesn't uplift the black community or spark change in society's perception of black people. Others argue that black people shouldn't criticize the work of their peers at all—whether low brow or high brow—simply because there isn't enough of it, and criticism could prevent other blacks from having the opportunity to make more valuable projects.
In the fifth episode, Kenya attempts to get to the bottom of the debate and hear from black creators themselves on why black people are either comfortable or uncomfortable sharing their critiques. So he pays a visit to Tyler Perry, whose work is often at the epicenter of debate, to get his opinion.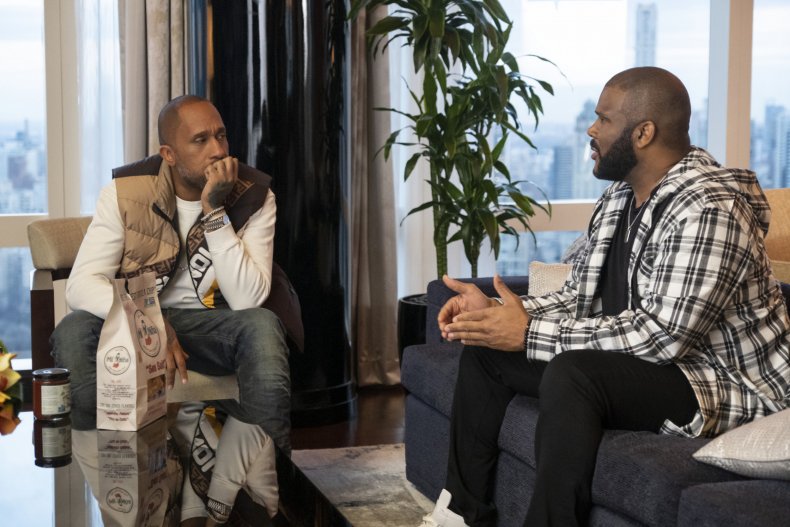 Perry appears more agitated with Kenya helping himself to a $35 bag of chips than he is with the opinions some people have had about his work. "Let me just tell you about them tomatoes," Perry says referring to the rating website Rotten Tomatoes, "I don't f**k with them."
"I don't give a damn about a rotten, fresh—none of that means s**t to me," he continues, adding later, "I super-serve my niche. We speak a language, we're talking, we know each other, we get it. There's a lot of times I see s**t that wins Oscars and I be like, 'What is this s**t? I walked out halfway through.'"
It's a beautiful scene, really, watching Perry boldly proclaim that it doesn't matter how crass people think his movies and shows may be because he's making stories that he cares about. "I'm telling the stories that I come from and that's why they're winning, because people are recognizing themselves in these stories," Perry says.
He adds: "I'm talking to us. That's why millions of people are watching my shows every week. That's why people keep showing up to see the movies to No. 1. I'm talking to us, connecting to us."
Despite Barris' long list of Hollywood friends, the series doesn't include very many cameos other than this particular episode. So Perry's appearance as himself comes as a welcome surprise. And while the subject matter may have been somewhat touchy for them to broach, Barris—who's known Perry for many years now—said the filmmaker was on board with from the very start.
"Tyler is my brother, mentor and friend," Barris said in a recent interview with TV Guide. "We do different things, and he is way more successful than I am. When I called and told him what we wanted to do, he was down."
He added: "Tyler does something a lot of people like. Who are we to say the people who enjoy his work are wrong? It should be, 'We need Tyler. We need Shonda [Rhimes]. We need all the voices. Tyler knows his s**t, and let me tell you, the stuff on the cutting-room floor—about his mother, his aunts, being homeless to where he is now—will make you cry."