Meet the Cast of '#blackAF,' Kenya Barris' F-Bomb-Filled New Netflix Show
What do we know about Kenya Barris? Well, if you've watched any episode of the Emmy-nominated series black-ish before his departure from ABC in 2018, then you know what he's capable of as an acclaimed TV writer, producer and creative extraordinaire. If you've seen the 2017 blockbuster Girls Trip, then you're aware that he can co-write a pretty great movie, too.
And while the campy, family-friendly black-ish has served as a loose, fictionalized glimpse into his world as a black family man and father raising well-to-do kids in a well-to-do and predominately white neighborhood, we don't really know all that much about him.
That will soon change when Barris debuts perhaps his most unfiltered creation yet: the new series #blackAF, set to debut on Netflix on Friday at 3 a.m. ET.
The eight-episode series follows a model viewers are already acquainted with: It's based on his life as a father-of-six, and looks at his relationship with his biracial wife and the couple's untraditional approach to marriage, parenting, race and culture. However, #blackAF is a much grittier depiction of his world as a Hollywood tastemaker—and perhaps the most unorthodox dad on the block, riding in his orange Ferrari and allowing his kids to drop f-bombs freely.
The biggest difference between #blackAF and Barris' other projects is primarily the fact that—for the first time ever—he's starring in the show as a fictionalized version of himself. And the series' potty-mouthed, existentially frustrated patriarch, dressed to the nines in Gucci sweatsuits, unreleased Jordans and a gold chain, is a far cry different from the buttoned-up dad figure that black-ish fans are acquainted with.
The characters on #blackAF are vastly different than those we've seen from Barris before, and they mirror the reality of his actual family a lot more closely. Get to know a little bit more about the cast and characters of Netflix's #blackAF below.
Kenya Barris
Kenya Barris plays a fictionalized version of, well, Kenya Barris, a 40-something mastermind behind award-winning shows like black-ish, grown-ish, mixed-ish and America's Next Top Model. In the writers' room, he's the head honcho, although on the show he spends more time lamenting how annoying his family is than he does actually writing anything. He's monotone, sarcastic, and very self-involved. Even when he plans a lavish family vacation to Fiji, which they travel to in a luxury private jet, he can't let a moment go by without making it all about himself.
"You guys see this? We out here. Big things in these streets. Ok, go f**k myself, I guess," he says when literally no one praises his efforts as they board the plane.
He loves his children, but he's not the typical dad. He doesn't remember their birthdays, and if he has to take over as coach of his son's little-league team, he's really only doing it to one-up the other dads. (And of course he's wearing booties on the field—he can't risk ruining his expensive sneakers.)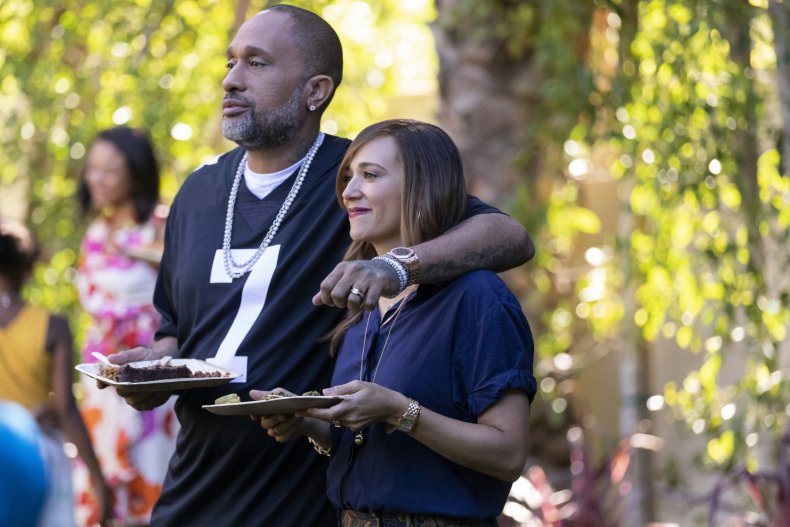 Joya Barris
Rashida Jones co-stars as Joya, the matriarch of the family. An author-in-the-making, she'd want me to emphasize the fact that she is a lawyer—although she stopped practicing law several years ago to take care of the six kids she shares with Kenya. Perhaps not as materialistic as her husband, she's not one to pass up the opportunity to stand out, either. Why bring some orange slices to little-league practices when you can rent out a whole smoothie truck? (Yes, that's something Joya actually does.) She adores her children and worries that they don't embrace their blackness enough, which likely stems from her own insecurities about being biracial.
Jones is no stranger to comedy, although the door-knocker earrings that Joya wears is plenty more flamboyant than the dressed-down ladies she's portrayed on shows like Angie Tribeca, Parks and Recreation and The Office.
Drea Barris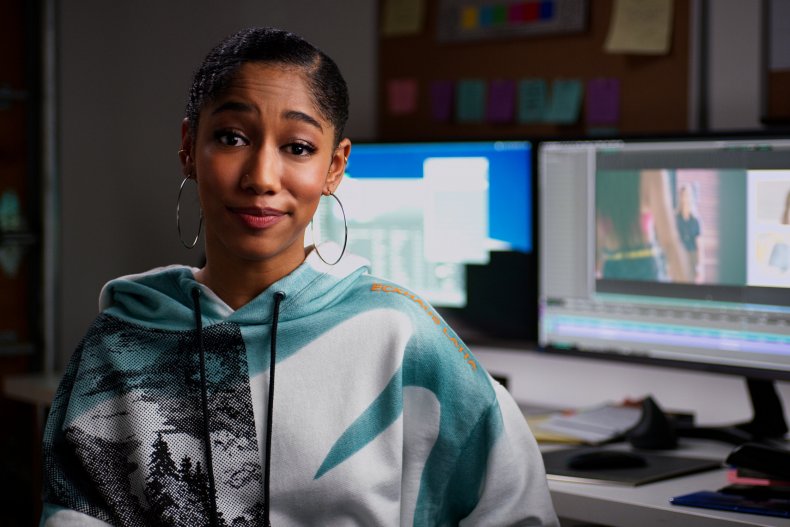 The show's narrator is the Barris' second-oldest daughter, Drea, played by Iman Benson. #blackAF is shot as a documentary directed by the teen, who's hoping to use the family video in her application to NYU Film School. She's perhaps the most modest of the Barris clan and doesn't seem to be nearly as concerned with money as everyone around her. If it were up to her, she would've filmed the documentary on her Galaxy, if her dad hadn't dropped a cool $50,000 on camera equipment.
Benson's breakout role was as Tia on the short-lived ABC series Uncle Buck. She's also appeared on drama series like Station 19 and Suits.
Chole Barris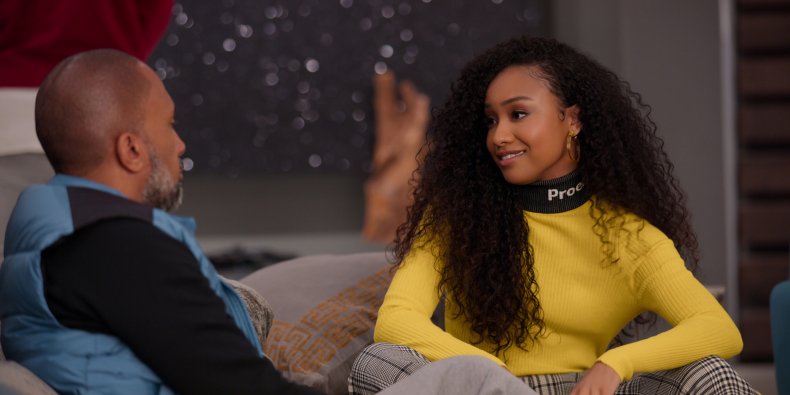 Genneya Walton plays the eldest of the Barris children. Although she is currently in film school, her heart's not in it. It's one of the many things that she clashes with her father about—along with her boyfriend, who is too nice and too meta for Kenya's liking, and her purple hair.
Before landing a role on #blackAF, Walton was best known for her role on the teen series Project Mc².
Izzy Barris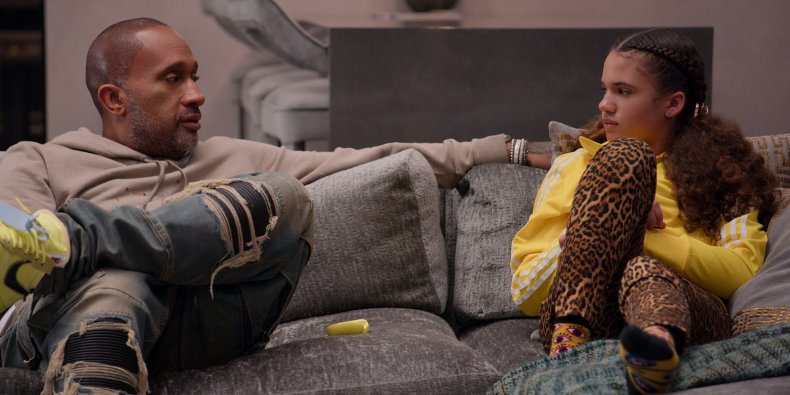 Played by Scarlet Spencer, Izzy is the third child. Kenya's sarcasm definitely trickled down to his youngest and most angst-ridden child, who spends much of her time ignoring her family. (She prefers her noise-canceling headphones over their constant bickering.) When she does speak though, it's usually regarding her plans for world domination.
#blackAF will mark Spencer's second rendezvous with Netflix. She previously appeared in the streaming service's feature film, Bright, starring Will Smith.
Papa Barris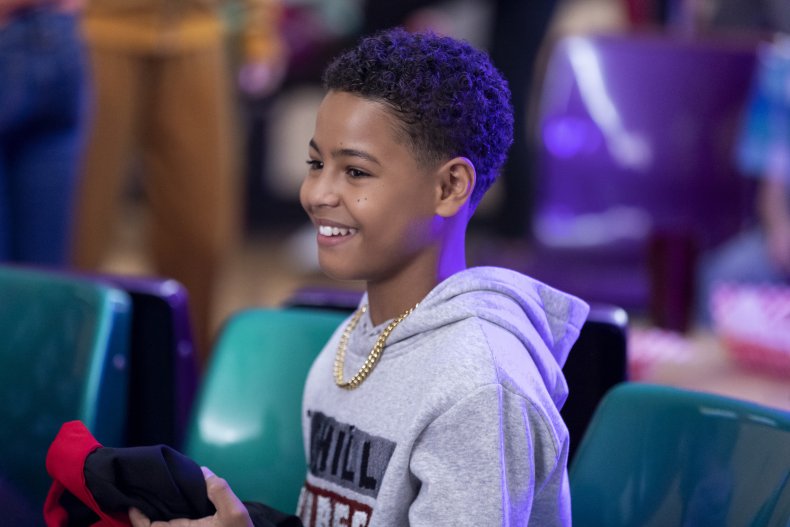 Justin Claiborne plays the lovable and sweet-natured Papa. His siblings (and his parents) tease him for being "soft," but he's just sensitive and in tune with his feelings. Who wouldn't cry when the whole class forgets to wish you a happy birthday after eating the cupcakes your mom brought in for the celebration? Definitely the most cautious of the Barris children, he proves himself to be tougher than everyone thinks during an epic family vacation when he gets the bright idea to set a stolen golf-cart on fire. (Long story.)
This is Claiborne's first big role. He's had minor parts in Marlon and black-ish.
Kam Barris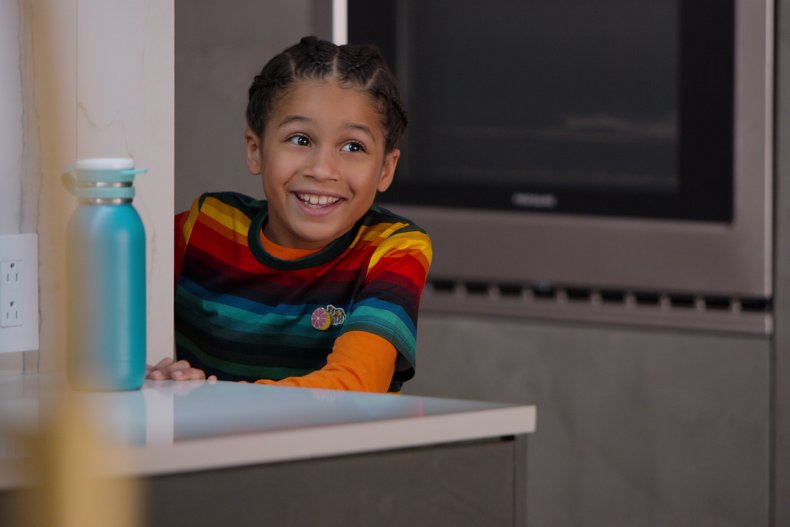 Ravi Cabot-Conyers is Kam, the fifth Barris kid. Mischief seems to follow him everywhere he goes, and his siblings often accuse him of being a habitual liar even though, in some cases, he's totally accurate about his bizarre claims—like, for instance, when he tells Drea that a teacher named Ms. Lady fell out of a building. It's just like a big sister to think he was only trying to get out of going to school.
#blackAF will mark Cabot-Conyers' first big role, following appearances in the 2019 films Justine and Ode to Joy.
Brooklyn Barris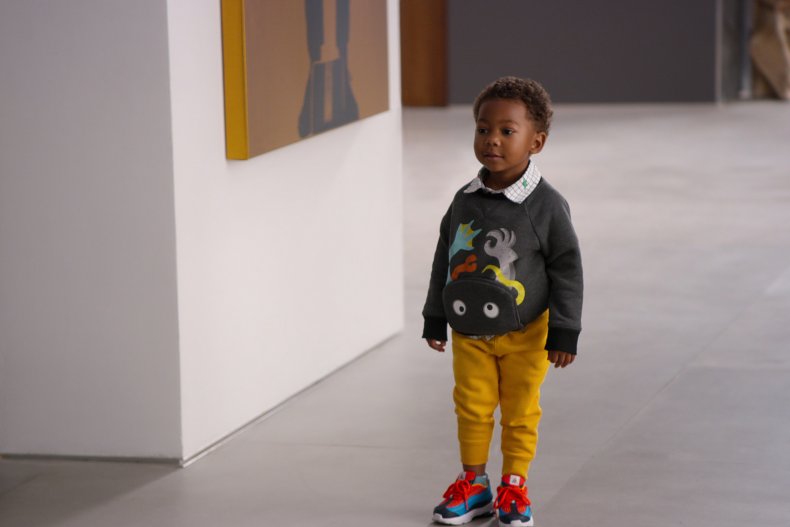 Richard Gardenhire Jr. plays the adorable baby Barris, who does a great job of telling his parents when he's used the bathroom. "Mommy, I s**t myself!" he says proudly in his first scene. It's also worth mentioning he's "the only likable Barris" in the family, according to Drea.
This is Gardenhire's first role.